Family-owned IGA to open in Brewster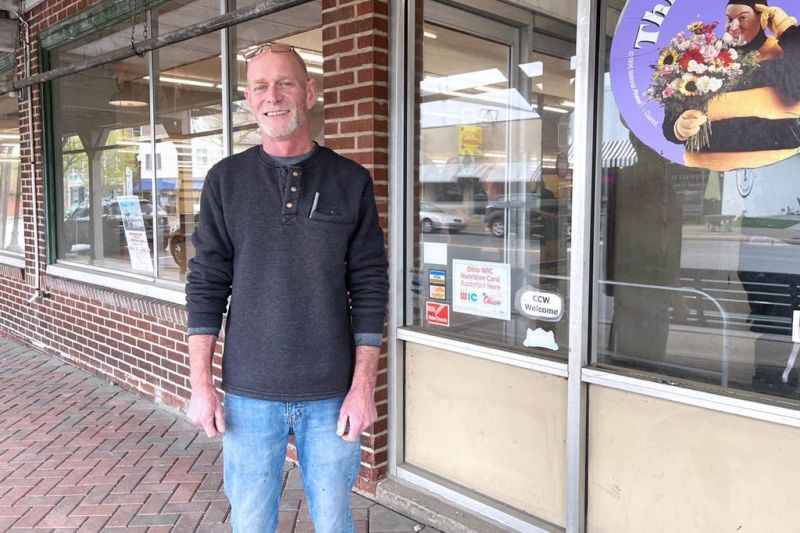 He may be a new face in town, but he's an old hand at the grocery business. Dave Foutty and his family are opening an IGA in the former Belloni Foods building on Wabash Avenue and Main Street in Brewster.
The Foutty family has owned and operated quite a few supermarkets in Northeast Ohio for more than 40 years including the Rittman IGA. The Foutty family tries to keep the hometown feeling in the grocery business.
"This isn't our first rodeo," Foutty said. "We've been at this for 43 years, and we've never come to a community and had such an outpouring of support. The people here in Brewster have been going crazy on our Facebook page, and we haven't even opened the doors yet."
Foutty is taking over a building the Belloni family had occupied since building it in 1925, although the family had been in the grocery business for 114 years before having to close up shop.
"This is an amazing old building," Foutty said. "I never realized there was a basement, and when you go down there and Buzz (Marion Belloni) tells you the history, you can see where the original store was located and where he built on to add a drugstore and 300-seat movie theater the Catholic church rented to have church back in the day. At one time there was a barber in the basement and a dentist upstairs."
Besides its history, the building is sturdy. "The condition is tremendous for the age of it," Foutty said. "Basically, all the work we're doing is cosmetic."
Foutty said when the store opens, it will have been completely repainted and will have a new decor package. "We felt like the store needed freshened because it has been the same for a long time, so we're just updating it."
Familiar faces return
Foutty said several former Belloni employees will return to work at the new Brewster IGA. "I want to give them their jobs back for those that need it," he said. "And I think when a customer comes in, to see familiar faces is important."
Foutty hired Dave Yoder, the former store manager, and Greg Madzia, the butcher at Belloni Foods.
"This will allow us to expand the meat department and to have a full-service deli," Foutty said.
Belloni Foods had moved to prepackaged deli items, but Foutty wants to do more.
"I feel like we could have a really nice hot foods department. Restaurants are limited here in town, and for seniors it's hard to cook for one person. So I'd like to have some type of prepared meal or hot food options," Foutty said.
Foutty is expanding the produce department as well. "Every morning someone will be here to cut fresh fruit and make fresh salads," he said.
Getting ready to open the doors
Employees and volunteers from the wholesaler Foutty uses are cleaning and stocking shelves, but Foutty is unsure when the store will open. The original goal was to welcome customers mid-May. However, Foutty said he is facing more red tape than he thought he would, some of which is due to the age of the building.
Whenever it does open, the Brewster IGA will bring the convenience of hometown grocery shopping back to Brewster. Foutty hopes the store will become a valued part of the Brewster community.
"We just want to give the community something that, first of all, shows our commitment to the community and then gives them something they can be proud to call their supermarket," Foutty said.