GentleBrook expands to Holmesville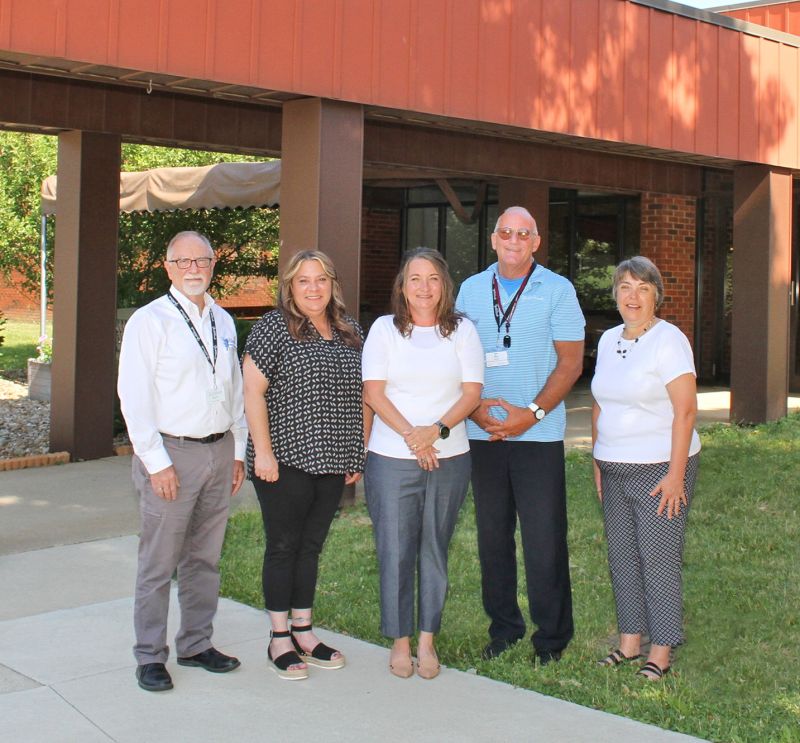 When The Holmes County Board of Developmental Disabilities was looking for an organization to operate its adult day services program in Holmesville, they wanted a financially stable company with a track record of providing quality services. The board chose GentleBrook, a not-for-profit, social purpose enterprise with a vision of connecting people and community through services and business opportunities.
"In 2014, Medicaid visited the state of Ohio and did not like that fact that County Boards of Developmental Disabilities were providing case management and day services to adults. They viewed this as a conflict of interest," said Marianne Mader, superintendent at Holmes County Board of Developmental Disabilities. "As a result, all County Boards of DD in Ohio had to step away from providing adult services. Holmes DD, through a request for proposal process, sought a provider to assume responsibility for providing programming for adults. Our goal is to provide training, socialization and, most of all, community engagement to enhance the lives of these challenged yet gifted and giving members of the community."
After a visit to the Hartville campus, Mader found GentleBrook was the obvious choice. GentleBrook in Holmesville opened Tuesday, July 5 and serves more than 50 individuals with various degrees of developmental and/or intellectual disabilities.
"Along with a mother of a child with disabilities, I met the Hartville staff, toured the campus and knew right away this was the fit for us," Mader said. "We saw the quality and breadth of their programming, how everyone was engaged, and how the facilities were clean and well cared for. We wanted the same for our community."
Since 1982, GentleBrook has provided residential and day service support for seniors and those with intellectual and developmental disabilities in several facilities in both Coshocton and Stark counties.
"We believe that all human life is a sacred gift that is most fulfilled in community with others," said Norm Wengerd, CEO of GentleBrook. "In addition to residential services, GentleBrook offers day support services to adults with disabilities and their families, like our greenhouse where individuals spend their days working and learning and a small animal farm where participants learn to care for the animals."
GentleBrook believes everyone has gifts to offer. Their goal is simply to bring people together.
"We form partnerships with churches and local professionals where volunteers support our endeavors," Wengerd said. "We love opportunities to expand the GentleBrook family."
Ric Brown, vice president, intellectual and developmental disabilities services, GentleBrook, said that GentleBrook provides social and recreational services like crafts, music, theater and more but also prevocational and vocational programs where participants learn skills and get paid for their work.
"As part of the Vocational-habilitation Adult Day Support Community Integration Program, for eligible participants we take groups of four adults into the community where they are supported by community members and many work and get paid," Brown said. "Some volunteer, but they are learning and hope to eventually do more. The goal is for everyone to gain some level of independence."
All the services that are provided by GentleBrook are aimed at increasing the skills and independence of each participant, no matter their starting point in terms of functionality.
"Everyone comes to us at a different impairment level from moderate to profound on the developmental scale," Brown said. "We provide meaningful activities through a person-centered approach. It's not about what we want. It's about what the individual wants for themselves and their family wants for their loved one."
The greater community plays a large role in the programming offered, and GentleBrook and the team strongly believe they are here for the community as much as for the program participants.
"We have three great purposes," Mader said. "One is for individuals with disabilities to have a place to go to be with friends, learn skills and become more independent. The second is to offer families a respite from the full-time care that a family member with disabilities can require. The third purpose is the investment in this community that the tax dollars make while supporting our mission. We are introducing Holmesville to a population that has many strengths and gifts to offer, and we are very proud of that."
For more information on GentleBrook or volunteer opportunities in Holmes County, call 330-674-0227. In Coshocton County call 740-545-6366.