Hometown Coffee and Pastries could pop up anywhere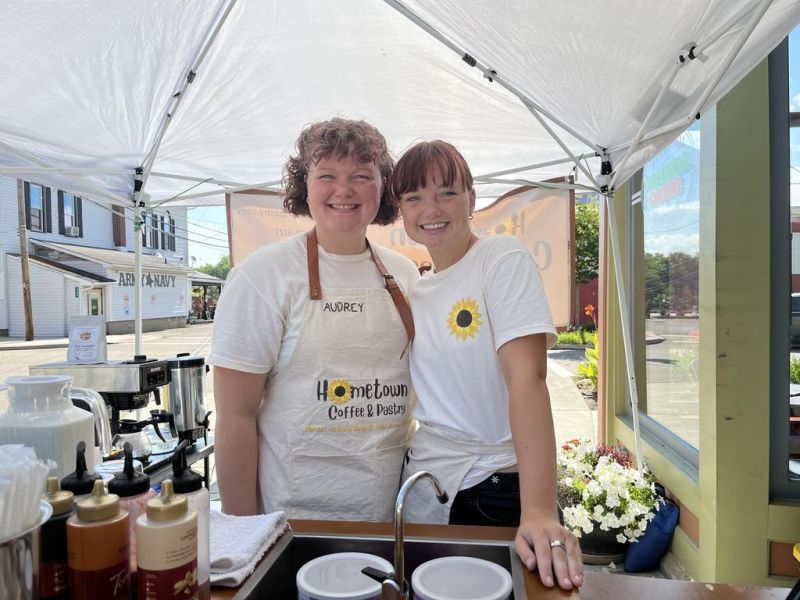 There's another new business in Lawrence Township, but you actually may find it just about anywhere. Hometown Coffee and Pastries is a mobile coffee shop started by Audrey Ernst of Bolivar.
On Aug. 12 Ernst was on the sidewalk in Bolivar outside Haven Shala, a new yoga studio above Sublime Smoke. The 21-year-old has already appeared with David Moss on the New Day Cleveland morning show, launched a website and leased commercial kitchen space.
Ernst has one year of college left before she earns a BBA in Entrepreneurship at Kent State University.
"I started making pastries just for fun when I was in high school," Ernst said. "I liked bringing them to school and parties and just giving them to family and friends."
Ernst said she never drank coffee until she entered college. "As you know, college students survive on coffee, so I developed of love of coffee too," she said.
In addition to a passion for coffee and pastries, Ernst said she fell in love with the idea of having her own mobile business.
"I feel like there's just so much flexibility with a mobile business as opposed to setting up a brick and mortar," Ernst said.
Getting started
Ernst said she was able to purchase a commercial coffee car and a trailer to haul it with money she made and saved during high school and early college.
"I received help through micro-grants offered through Kent State's partnership with LaunchNET. The description on the KSU website, LaunchNET is a foundation that invests in organizations and institutions that foster entrepreneurship, create jobs and promote economic activity in Northeast Ohio," Ernst said.
She said in the beginning she took her scratch-baked pastries to a few farmers markets and vendor shows in the Tuscarawas County area.
"By going to those, you start to meet other people who have food and other businesses that are mobile," she said. "I found a big sense of community with these kinds of businesses, a lot like what you find among the downtown shops in Bolivar. But with a mobile business, your community can be so much larger and widespread."
A recipe for success
Ernst has already built a following for her baked goods, ranging from scones and cookies to cake pops. "Out of all the cookies I do, the most popular seem to be the snickerdoodles," she said.
Ernst plans to grow her business by focusing on private events such as wedding receptions, baby showers and other parties. "I can set up anywhere to serve guests, and it's a really fun addition to whatever you have going on," she said.
Ernst said she can tie her baked goods and beverages into the theme of the event, as she did for the Haven Shala opening, offering iced chai latte and a variety of hot teas.
For now, though, she also is doing pop-up community events. "In September I'll be at the Canton Carnival of Wheels on the Stark State campus in Canton," she said. "I think it's important to continue to do things like that to help get my name out there."
About that coffee
Ernst said she settled on the brand of coffee to serve during the research phase of developing her business plan. "For my hot drip coffee, I get my beans from M&H Coffee Roastery in North Canton," she said. "Mike and Hanna Moyer, the owners, went above and beyond when helping me. Not only are they wonderful people, but their product is ethically sourced and high quality."
To find out where Hometown Coffee and Pastries will pop up next, follow the company on Facebook.