Hot-diggity: Kenny Miller is now Berlin's hot dog king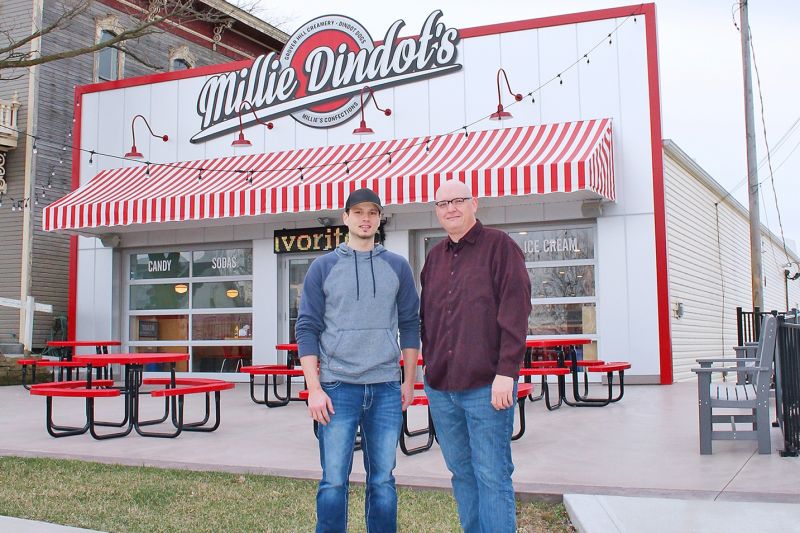 All Kenny Miller was looking for when he approached Michael Mast about the store vacancy in Berlin beside the Pomerene House was to set up a gourmet hot dog stand out in front of the store.
What he got was a whole lot more.
Mast and Miller found they had two things in common, one being their love and appreciation for great gourmet hot dogs, the other being the idea of creating a slice of nostalgia where families and guests could enjoy basking in the glow of a relaxing atmosphere.
"We shared the same passions," Miller said of Mast. "Even before Millie's I approached Michael about adding a gourmet hot dog stand in the alley outside, and ironically he said that was what he had in mind for inside the store."
Upon discovering their mutual love of fancy hot dogs and their desire to create a unique experience for Berlin, Miller and Mast became partners and Millie Dindot's was born. Mast spent a year transforming the Berlin building, and together they brought to life Millie Dindot's, featuring hard-to-find candy, gourmet hot dogs, vintage sodas, over 30 flavors of ice cream in a shop built around celebrating family, flavor and fun.
However, even before the store opened to the public, Mast was forced to turn his attention to a different kind of endeavor. His wife Bridey was diagnosed with cancer.
"It was a tough year for us. We focused on our faith and worked hard to stay positive, and it paid off," said Mast, whose wife has now been declared cancer-free. But with the challenge came the opportunity for Miller to take full responsibility for Millie Dindot's. On Jan. 1 of this year Miller and his father Raymond took sole ownership of the shop.
"When we first talked about it, I had to make sure that Michael and Bridey felt good about giving up something they'd worked so hard for, but once I did, I jumped at the opportunity to take the reins," Miller said. He also commented that everything Millie Dindot's was designed to be will continue as they maintain the store's tribute to days gone by.
"Nostalgia is a great thing," Miller said. "We want people to come in, hang out and have a great time. I love that element of the store, and it's important that the vibe carries on. We've learned a lot over the past year, and we are excited about building on this great atmosphere for families and guests moving forward."
While the theme of Millie's remains the same, Miller said they will continue to tweak the menu, which in addition to their massive hot dogs, now includes shrimp tacos, flatbread pizzas, and mini corndogs. He also is in the process of looking at healthier options including adding juices and smoothies to their offering. It would complement the already unique and tasty menu. Earlier this year he added an extensive beef jerky section to the store, and is further entertaining some healthier options like snack mixes and nuts.
"I love a challenge. I love talking to people, and I am passionate about everything that Millie's entails," Miller said. "Eating healthy is a passion of mine, so that has been something that I've wanted to add that would be unique in Berlin," Miller said. "We have some other options in mind to appeal to locals and tourists alike."
Be sure to stop by Millie Dindot's in Berlin to experience family, flavor and fun at its finest.

Millie Dindot's is located on Main Street in Berlin and can be found on the web at www.milliedindots.com and on Facebook.