How Walnut Creek Foods is making life better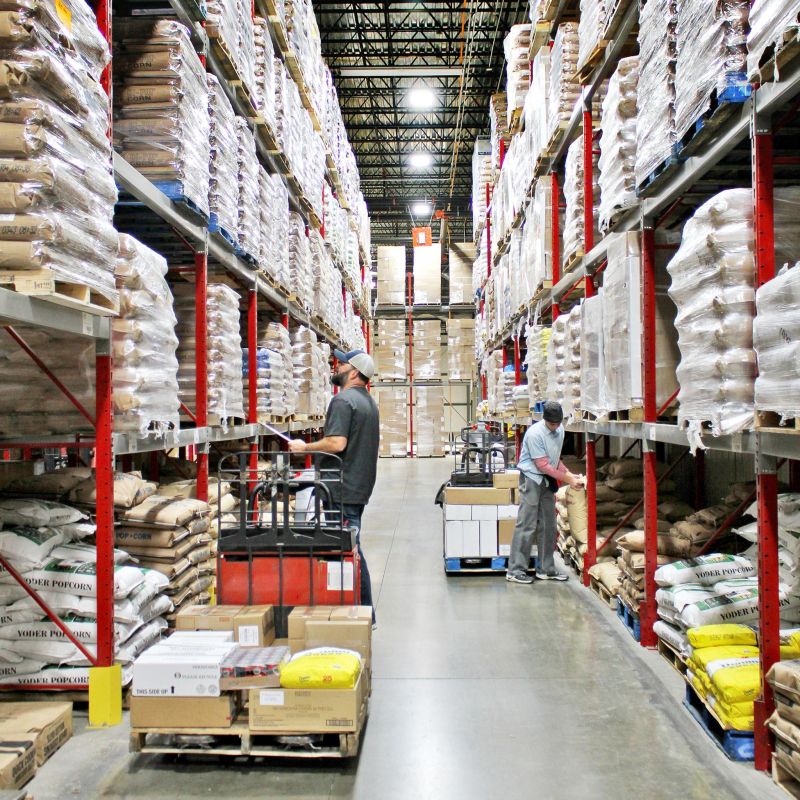 Already one of America's largest food distributors that serves the Amish and Mennonite communities, Walnut Creek Foods continues to grow. The company recently expanded its Holmes County distribution center and acquired a distributor in Wisconsin.
"We are in the food industry to make life better for each other and those less fortunate," said Julian Coblentz, chief operating officer and vice president of distribution and business development. "Part of making life better for our customers is to continually expand our product offerings. Our success is dependent on our customers' success, so we focus on doing what is necessary to help them succeed in the marketplace."
Most tourists and locals are familiar with the company's Walnut Creek Cheese retail stores in Walnut Creek and Berlin, but Walnut Creek Foods also operates a food manufacturing division in addition to its distribution division that delivers about 3,500 items to more than 2,000 stores in 15 states.
"We focus on cheese and other dairy products, meats, baking ingredients and baked goods, beef jerky and beef sticks, as well as candy, nuts and snack foods," Coblentz said. "We primarily serve family-owned stores in rural areas, focusing on communities with an Amish and Mennonite population. Stores trust doing business with us, and consumers trust our Walnut Creek Foods brand."
Food distribution, Coblentz said, is driving Walnut Creek's rapid growth.
"We're in an unprecedented period of growth," he said. "Our local warehouse expansion has allowed us to hire more employees — which impacts our community — and add additional products to our offerings. Our recent acquisition of Cloverdale Warehouse — which has distribution centers in Wisconsin and Missouri — allows us to increase our footprint out west, and it also gives us access to a couple different product lines that customers have been asking for. It's a good fit because we already were bringing in a lot of items from Wisconsin, and now we can carry even more. And we can continue to deliver some of the staples – like flour and butter – at competitive prices."
Coblentz said the company is actively looking at more expansion opportunities for next year including an expansion of their manufacturing building to allow for continued growth of items made in Holmes County. Part of the expansion will be in the company's organic and natural foods lines, he said.
"Distribution has always been our primary focus," Coblentz said. "However, having our own manufacturing and retail operations has helped our distribution be more effective. We always strive to treat others the way we want to be treated. Since we also do manufacturing and retail, we have a better understanding of how to treat the manufacturers and retailers that we work with."
Although Walnut Creek is in the food industry, Coblentz said the company's real business is people.
"Our story is remarkable because our people are remarkable," he said. "We know that our business will only grow to the extent that our people are willing and able to grow. We are excited about our future because we love to see our people grow."
The Walnut Creek Foods story began with company president Mark Coblentz, a pickup truck and a slide-in refrigerated box in April 1977. Mark Coblentz picked up a local cheese route with an assortment of 20 products and a list of about 60 potential customers. By 1984, the business expanded from a couple refrigerated truck beds and a shed to its first warehouse in Walnut Creek. A retail store opened on-site.
"Back in the 1990s, we grew quickly through several significant acquisitions," Julian Coblentz recalled. "For the past 20 years, we have grown organically, gaining business by daily serving our customers."
The acquisition of Snyder Foods and Holmes Distributing expanded the business in 1994 and 1995.
In 1996, Walnut Creek Foods opened its Berlin retail store and Uncle Mike's Beef Jerky was acquired in 1998.
You can visit the Walnut Creek Cheese retail stores at 2641 State Route 39, Walnut Creek, and 4727 US 62, in Berlin. You can find more information at WalnutCreekCheese.com or WalnutCreekFoods.com.