Improving on excellence: Trail Tire expands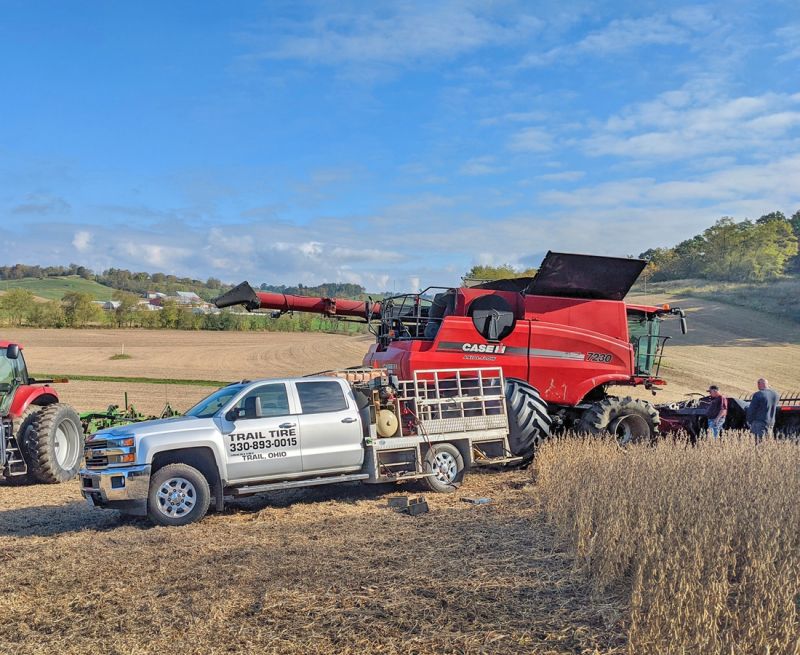 Service to customers and service to God are the keys to Trail Tire's success, said Dirk Visser, Jr., owner of the Dundee tire and repair center.
After starting the business 10 years ago, Visser expanded his shop by 12,000 square feet three years ago and was in the midst of another 12,000-square-foot expansion this summer.
"We've been successful because we serve the Lord and we do what's right when we work with our customers," Visser said. "We know that people get ripped off too much and it's hard to find good service with integrity, so we are sure to say what we do and do what we say. Honesty and integrity are what makes us stand out. We've built up a trust in the community, so people know they can send their daughters, grandchildren and their grandmothers here, and they're not worried about it because they know how they're going to be treated."
Trail Tire is a true family business that includes five of Visser's seven children, he said.
"I started this business on the property I live on because it was an opportunity to be here at home to raise my family and teach them how to work with people and serve God," he said.
Trail Tire is a lot more than a tire shop that specializes in tires for passenger cars and commercial vehicles and equipment, Visser said.
"We do vehicle service, alignments and brakes," Visser said. "We can fix tires on anything. We cover the full scale of tires and have a very large inventory. Most shops carry only about 25-30% of what's out there. We service all types of tires and have a large inventory. We have a large service crew with 22 workers, which will be increased to 30 when our expansion is completed in the fourth quarter."
The shop's massive inventory includes passenger, farm, commercial and industrial tires, which allows Trail Tire to offer competitive prices on brands like Michelin, BFGoodrich, Uniroyal, Bridgestone, Firestone and Goodyear. The shop does computer spin balancing, flat tire repairs and tire rotations.
Trail Tire's skilled service technicians are happy to diagnose passenger car problems, Visser said.
"Bring in your vehicle and we'll go over it thoroughly and investigate the problem," he said. "We inspect for wear items like brakes and tires and provide estimates so our customers can decide what they want to do. It might be something they don't need to fix right away, or maybe it's a safety issue that needs to be addressed. It's usually a one-day turnaround when people drop off their vehicles."
For commercial applications, Trail Tire recently began to offer press-on forklift tires.
"It's a mobile unit that we can take to industrial and commercial sites to replace forklift tires," Visser explained. "It makes repairs quicker to reduce downtime for our customers. Last year we also added foam filling for repairing flats. Another thing we do to reduce our customers' downtime is install loaner tires on commercial and agricultural equipment like skid loaders. That lets our customers keep running while we're repairing their tires. Nobody else I know of does that."
The expansion will increase Trail Tire's service bays from five to 12.
"To celebrate our expansion, we'll be running some specials — like discounts on tires and services — from mid-October through the middle of November," he said.
Trail Tire is located at 2394 County Road 168 in Dundee. You can get more information by visiting TrailTire.net or TrailTireOH on Facebook. You can call the shop at 330-893-0015.