KIKO opens new Dalton office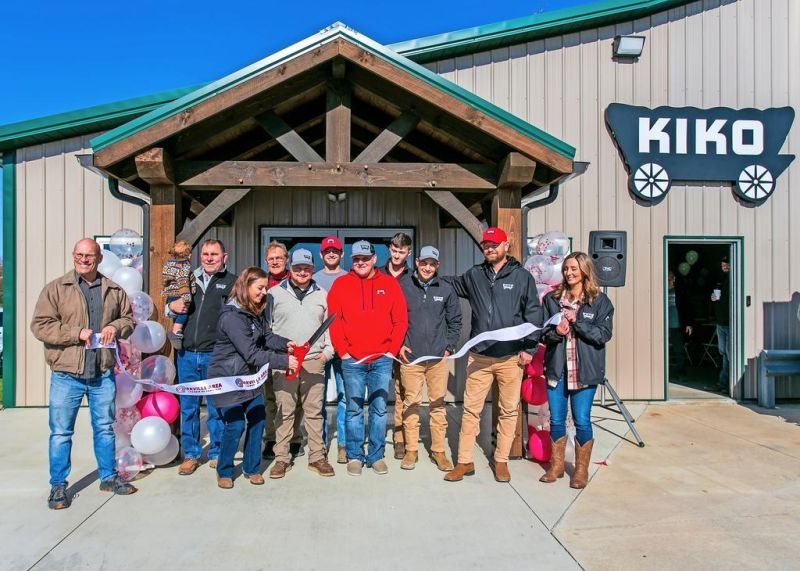 The Wayne County KIKO team with KIKO Realtors, Auctioneers and Advisors recently opened a new office in Dalton at 19 N. West Lebanon Road.
KIKO celebrated the opening with the Orrville Area Chamber of Commerce at a ribbon-cutting ceremony with food and the Blend of Grace coffee truck. The new Dalton office solidifies a commitment to serving all of the community's real estate and auction needs. With a history now spanning five generations, KIKO has grown from a small family business to an industry with the capacity to serve clients as real estate advisers across the region, specializing in selling farmland, residential and commercial real estate, agricultural equipment, classic cars, industrial machinery, firearms and more.
KIKO was established in 1945 by Russ Kiko Sr. and has been a family-owned and operated company for the past 78 years. Russ Kiko Sr. chose a covered wagon to represent the company's role as pioneers in the auction industry. KIKO's headquarters is based out of Canton, with a satellite office in Dover.
The Wayne County KIKO team is led by Peter Kiko Sr., a third-generation auctioneer with the Kiko family who moved to North Lawrence in 1987 and then a few years later purchased a farm in Dalton, where he still resides with his wife Joanie. His success in Western Stark County and Wayne County for the past 36 years has been driven by his desire to help others in the community and treat his clients like family.
The Wayne County KIKO team includes four out of five of his children, Kristen Kiko (realtor/auctioneer), Pete Kiko Jr. (realtor/auctioneer), Jake Whitacre (realtor/auctioneer) and Lana Shelley (realtor); his grandson Scott Kiko (fifth generation, labor crew); and Tom Hoffman (labor crew), Andrew Rehm (auctioneer), Jarod Limbach (labor crew), Ryan Yoder (realtor/auctioneer) and Joe Yoder (auctioneer).
Follow The Wayne County KIKOs on Facebook, Instagram and TikTok.