Street tacos are the right recipe for Bolivar pub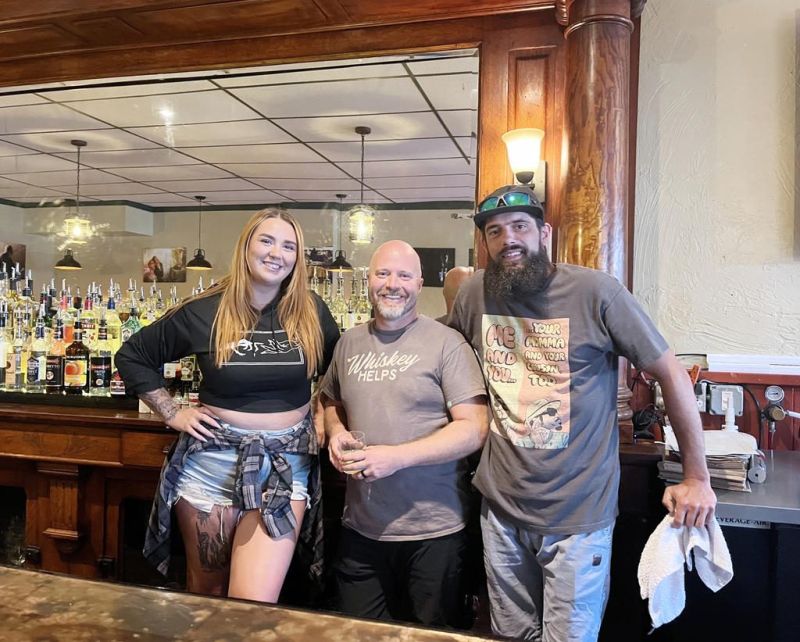 A new taco and margarita bar in Bolivar is one of the most recent establishments to open during the 2023 business boom in Lawrence Township. El Albatross opened in August at 156 Canal St. SE in a building with a storied history.
Zack Salapack, who opened Sublime Smoke in Bolivar nearly a decade ago, bought the former Rocky's Tavern when it went up for sale after the pandemic, unsure about exactly what he wanted to do with it.
"My wife Amy and I were talking about the things we really love, which are dive bars and tacos," Salapack said. "We hit on the idea of street tacos, which can be a little played out, but we tried doing my version of street tacos."
Salapack held a couple of soft openings before officially opening, which allowed him to fine-tune his taco and cocktail recipes. "I wasn't happy with the feedback. I even said, 'I wouldn't drive out of my way for these tacos,'" he said.
A second soft opening yielded better feedback, and El Albatross was born. The name might seem a bit odd, but Salapack explained how it came to be. He was refinishing the bar top with rolled copper and epoxy and was having trouble getting the glue to dry due to a leaky roof and other issues.
"At one point I just said, 'This place is like a freakin' albatross around my neck,'" referencing "The Rime of the Ancient Mariner" by Samuel Taylor Coleridge.
Salapack said he added the El in front in honor of his children, Evelyn and Luke.
More about the bar
"For us, the bar had to be the centerpiece," Salapack said of the antique bar, which was likely part of the original building. At some point the bar top was covered by a laminate, but rolled copper and epoxy were placed over top the laminate.
"We did it ourselves, even the patina," Salapack said of the 36-foot-long bar. "We wanted to keep it a bar but update it. There's a lot of history here, and I didn't want to just erase that."
John Graef of Bolivar recalled when the bar was called the Canal Lounge and was owned by his parents, Harry and Jeanne, along with his uncle Dick and aunt Juanita Graef. "I worked there when I was about 12 years old," he said.
The bar remained the Canal Lounge under several owners until it became Rocky's sometime in the 1990s. Before that, Graef said the place was Linhart's in the 1920s and Marburger's later on. It also was owned for a short time by Bill and Marie Rex, who ran it as a restaurant until moving across the street, where they opened Marie's Bakery, now the Canal Street Diner.
A simple menu
El Albatross features a menu of chips and salsa and a variety of tacos in double-stacked corn and flour shells, along with sides like black beans, pickled cabbage and jalapenos and occasional specials like Mexican street corn.
The cocktails and spirits are notable for their rarity in the area. "We carry some of the tried and true whiskeys, but my whole philosophy is to have stuff other people don't," Salapack said.
Margaritas are made with Viva Agave, which is tequila that can't be called tequila because it doesn't come from Tequila, Jalisco in Mexico, much like champagne can only be called champagne if it's from a specific region in France.
Other signature cocktails are made with spirits like Novo Fogo, an aged Brazilian rum, and Heroes, a vodka produced at a veteran-owned distillery. Beers include Mexican brews like Modelo and Pacifico but also old standards like Budweiser and PBR.
Salapack said he decided to restrict entry to the bar to people age 18 and over, which some people in the community didn't understand at first.
"We're very family-friendly at Sublime, and there are a lot of family-friendly establishments in the area," he said. "But I don't want customers to have to worry about the language they use or the songs that play. So maybe consider it a date night thing and get a sitter for the evening. I'm hoping it will be an advantage for me to be the place where adults go."
Salapack earned a degree in hospitality management from Ohio State University. He was a few courses shy of being able to apply to med school, where he planned to become a surgeon, when he realized it wasn't what he wanted to do.
"I always loved food, cooking with my mom and going out to eat as a little kid," he said. "So it was a long route, but here we are."
El Albatross is open Wednesday through Saturday from 4-9:30 p.m. More information can be found on Facebook.