Lynn Drive-In honored and recognized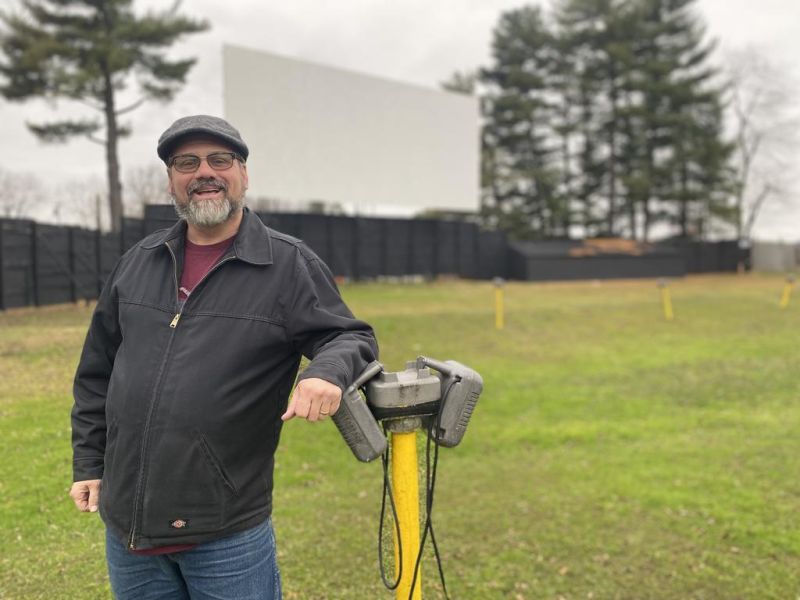 When Richard Reding's grandfather first took ownership of the Lynn Drive-In Movie Theatre in Strasburg, some of the first cars to nudge into the parking spaces were 1957 Chevys.
The theater has remained in the family since, and today it is the oldest operating drive-in theater in Ohio and the second oldest in the world.
Reding travelled to Columbus on Dec. 15 for an Ohio Appalachian Heritage Luncheon, where the theater was honored and recognized. Reding spoke briefly about the business, which has been showing movies at the same location for 85 years.
"There are 23 drive-ins left in Ohio," Reding said, "all family-owned businesses. The thing about an authentic American drive-in movie theater like this is that it's different every night — different audience, different weather. It always feels different every night."
Reding has been operating the theater since 1993 when he returned from upstate New York to do so.
Reding believes the Lynn's location may be a factor in its longevity. "Of course, we're at the gateway to Amish country, and that brings a lot of visitors to the area. But there isn't much to do in the evening for those visitors, and the Lynn became a source of entertainment close by," he said.
The Lynn Drive-In Movie Theatre has seen serious challenges in recent years, due to changes in the film-distribution business model and the COVID-19 pandemic.
"There were new challenges for us because of streaming services," Reding said. "It's easy to see the convenience of watching a movie whenever you want in your home. But we are a part of many people's summer checklist. You go to the beach, you have a picnic, you go to the park and you see a movie at the drive-in."
Despite hurdles tossed in its path, the Lynn continued to remain open and thrive, right up until the 2020 season when the pandemic closed all such entertainment venues across the state.
"We were able to open again in May of 2020," Reding said, "but there were no new movies being released because the indoor theaters remained closed. We showed classics instead of new releases for 2021, and this year we were able to offer new movies. 'Jurassic World: Dominion' and 'Minions: The Rise of Gru' were big hits."
The Lynn has added a flea market to its mix, open every Sunday from 6 a.m. to 1 p.m. from April through October.
"It's something for morning people," Reding said.
Movies for people at night and the flea market in the morning. There are no permanent setups, so every week is different.
"We are the drive-in theater for a lot of communities over a wide area," Reding said. "This is the last one before you get to Lancaster, Ohio. We love the families who join us, and we're glad to be able to entertain them. We are a part of the collective memory for many generations of families. There's a little sense of adventure, an authentic slice of American pie."
Reding pointed out lower ticket prices than at major indoor outlets as a further advantage to choosing the drive-in.
The historic speakers mounted on poles for each car are still functional, but Reding said, "You want to use an FM radio to pull the sound in. The old speakers are mono only, so you get a much better experience from bringing the sound into your own radio. Some people bring boom boxes with them also."
Movie fans won't go hungry. The concession building offers everything from popcorn to hamburgers.
Having grown up around the Lynn, Reding has many great memories. "When there were like three channels you could get on television, the drive-in was a main source of entertainment. I remember seeing 'The Blues Brothers' 21 nights straight when it came out. I remember the Disney classics, which were in re-release every few years. There was this excitement when my dad would turn on the neon lights for the night and put on the preshow music. He always had Steely Dan or something going."
2023 will bring some big titles including "The Super Mario Brothers Movie" early in the season.
The Lynn Drive-In Movie Theatre is open April through October at 9735 state Route 250 NW in Strasburg.