Miller's Creamery a delicious addition to downtown Millersburg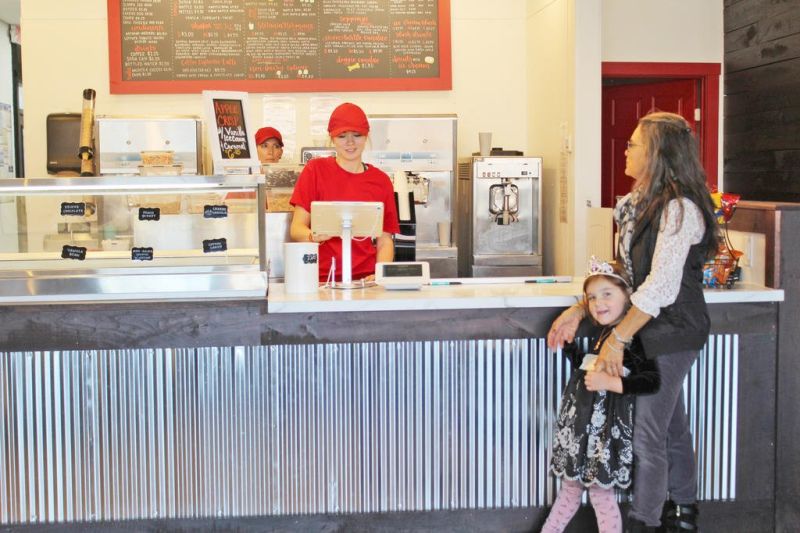 Miller's Creamery, the newest eatery in downtown Millersburg, opened Oct. 26 to rave reviews. The restaurant is located on the corner of Jackson Street and Washington Street in a historic storefront that was most recently occupied by Coshocton Driving Training.
The owners of Miller's Creamery, Tom and Marilyn Wengerd and Bruce and Anna Davison, spent seven months renovating the building. They kept some of the original features, like the exposed brick wall and tin ceiling, and installed new wood flooring and light fixtures. It's an appealing combination of modern vintage and drugstore soda fountain complete with white and red interior.
"It's going good, pretty steady flow for the most part. We'll be participating in the Chocolate Walk on Nov. 16," said Haylee Davison, the daughter of the Davisons who manages the business with the help of 14 employees. "We're the first Miller's Creamery franchise. The original family-owned restaurant opened July 2003 in New Philadelphia. A second location was added in downtown Dover in May 2015."
Miller's Creamery serves an array of flavors of homemade sherbet and ice cream that change with the seasons. They also make their own caramel corn. Other menu items include milk shakes, sandwiches and more. The store has a freezer filled with a variety of ice cream cakes for any occasion.
Hours are 11 a.m. to 9 p.m. Monday through Saturday with sandwich specials on weekdays.