Newest eatery adds color and gourmet pizza to Berlin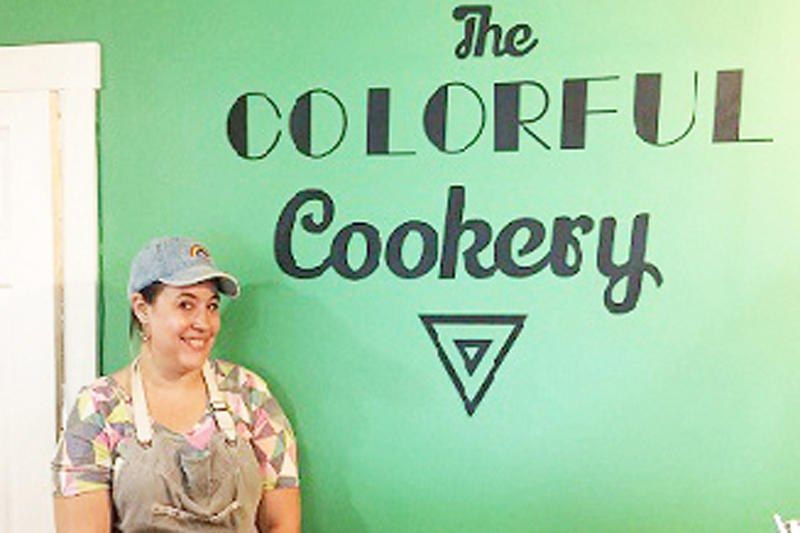 The Colorful Cookery recently splashed onto the downtown Berlin scene, and both its food and decor lend vivid hues to the rolling vista of Amish country.
Wooster resident Heather Sheeter opened the food stand last month in the village's oldest building, built in 1817, and offers gourmet pizza and bubble waffles filled with ice cream. While the establishment is carryout only, outdoor benches offer both visitors and locals a place to relax with lunch or a treat amid a day of tourism or work.
Inspired by the food trucks and street vendors increasing in popularity across the country, Sheeter envisioned a similar but stationary venture. Her artisan pizza is available by the slice, and the waffles are whipped up on demand.
"It's grab and go," Sheeter said.
A hungry customer could alternately order a whole 10-inch pizza by phone or text, with choice of toppings, and pick it up just 15 minutes later. In addition to customized pizza, Deluxe, Caprese and the meat-laden Carnivore also are available. But the House Specialty most highlights Sheeter's creativity: honey-barbecued pulled pork, mozzarella cheese and jalapeno-cilantro coleslaw swirled with Sriracha ranch sauce.
Sheeter develops her recipes based on experience and research into current tastes. She crafts her pizza dough and waffle batter from scratch, using fresh ingredients purchased locally when possible. She purchases her cheeses from Walnut Creek Cheese and her ice cream from Mudd Valley Creamery in Walnut Creek.
"I believe that fresh, quality ingredients are crucial to good food. I buy them daily," Sheeter said. "Besides, I have no storage space."
Lydia Troyer picked up a slice of pizza and a bubble waffle on a recent lunch break. "I work here in town, and I'm so excited about this place. The pizza is fantastic, and I'm addicted to the waffles," Troyer said.
A bubble waffle is made from a sweet batter and features crispy bubbles rather than the square indentations of traditional waffles. Customers may choose from three versions — Peanut Butter Chocolate, Candy Craze and Whipped with Berries — or they may design their own with vanilla, chocolate or a seasonal ice cream. They then select toppings such as crushed cookies, candy-coated chocolate, sprinkles or nuts. The confection is drizzled with raspberry, chocolate, peanut butter or caramel sauce. Special waffle and pizza concoctions are frequently offered.
Owning her own eatery was Sheeter's lifelong dream. She has always loved feeding family and friends. Beginning in her teens, she managed various pizza parlors and bakeries and subsequently managed the dietary department at a nursing home.
"I almost didn't go to college because I wanted to continue in food service," Sheeter said.
But the Apple Creek native earned a B.S. in nursing after graduating from Waynedale High School. The food business continued beckoning to her, but her plate was full with working as an R.N. and raising, with husband Justin Sheeter, their two children.
When a longtime friend, Briana Shultzman, who had for years urged her to take her talents to Berlin, told Sheeter about the available space, she felt it was time to take the plunge.
"It was scary," Sheeter said, "but once I decided to do it, it all just came together."
With the help of family, particularly her father, Chuck Reamsnider of Apple Creek, she renovated the space and within months hung an open sign on the door.
"I couldn't have done this without them," Sheeter said. "And I am so grateful for Justin's support and encouragement."
Shultzman has operated her boutique, Beeyond 1817, in the front of the building for the past four years.
"Heather's place is a great addition to town. So many people have said they love having this quick option, and the pizza is the best around," Shultzman said. "I think Heather is really going to reach an extended demographic."
The Colorful Cookery is located on the east side of the dark red structure and is accessible via a pedestrian alleyway. An aqua-blue door and potted flowers welcome patrons into a cheery space. Sheeter maintained as much of the room's historic integrity as possible, including what is believed to be the original wood-plank floor.
Sheeter follows all guidelines recommended as a result of the coronavirus pandemic. She limits the number of guests, and floor markings facilitate social distancing. She sanitizes the counter after each transaction, wears gloves when handling food and wears a mask.
The colorful facade recently attracted a family from Alaska. Searching the country via RV for a place to settle down, the mother stopped in with one of her young sons, leaving the other two outside with her husband.
"This looked like a really unique place," she said before exiting with several slices of pizza and soft drinks. "We may be back in for those waffles."
"I named the place to reflect the colorful food, as well as my motto," Sheeter said. "Life should be lived in color."
Check out The Colorful Cookery's Facebook page at www.facebook.com/colorfulcookery. Located at 4829 E. Main St. in Berlin, it is open every day except Sunday and Thursday from 11 a.m. to 5 p.m. Orders may be phoned or texted to 330-464-7448.