Restaurateurs and customers adjust to a new dining normal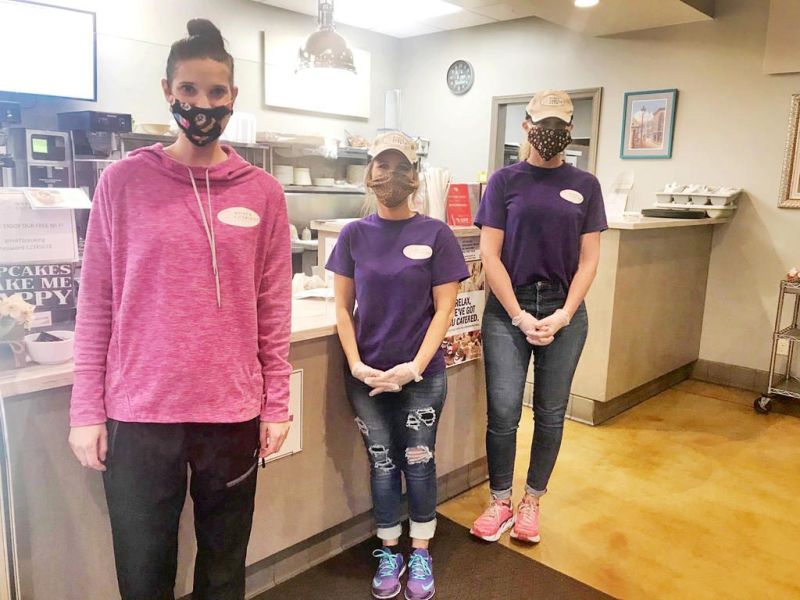 Dee's Restaurant in Dover has a large dining room and a large parking lot, both of which were always filled to capacity for breakfast and lunch most days before state restrictions forced a shift to carryout only in March.
Like many others in the area, Dee's is working to find a new normal in the restaurant business, as they slowly reopen for customers.
Each operation is quite different, and each is planning a reopening schedule and protocols around their and their customers' needs. Some will wait to reopen until later in the year, well after restrictions have been officially lifted.
Dee Barnes, owner of Dee's restaurant, looked out at the new patio dining area, completed before the lockdown. It was March 15, the first day such spaces could be opened for sit-down diners. "It's been pretty good so far," she said. "I don't expect it to be a big rush."
Barnes said the shift to carryout only was a major transition. "We'd not done anything like that on any kind of scale, so we had to figure all that out," she said.
Perhaps a dozen customers came out for the traditional menu at tables outdoors under a sunny sky that first day.
"We'll be ready for full service May 21," Barnes said. "We've always been careful to keep things clean, and we've really been sanitizing things while we've done carryout, for our own safety as well as customers'. We will continue to be careful to keep things clean and sanitized."
Barnes said what won't change is the menu, which will have the same popular offerings as before. She said her hope is every area restaurant will be able to eventually reopen. "There's competition yes, but I hope everyone is able to get back up and going again. You don't want to see anyone close," she said.
Tony and Rachel Montero, owners of Mustard's at The Wine Rack in New Philadelphia, are allowing plenty of time to plan, letting the May 21 date go by. "We're not planning to open right away," Tony Montero said. "We'll wait until we're comfortable with doing so. Our guidelines are in place for a safe reopening, but we'll see how things go."
Two other popular downtown New Philadelphia restaurants, Michael's and Gavin's on the Square, have doors still marked "closed until further notice." We were unable to reach either for further information.
Stephanie Gordon, speaking at What's Cooking Cafe in New Philadelphia, said the restaurant was ready to go with plans in place. "We're marking off every other table as unavailable," she said. "We won't be able to accommodate any large parties, certainly no larger than 10."
Gordon said What's Cooking has remained steadily busy with carryout items. Patio seating also is available outside. "Once we're full inside, customers will have to wait outside for seating," she said.
Gordon said the restaurant has always been careful about sanitizing everything, and they have stepped up their efforts in that regard. New acrylic barriers at checkouts also are in place.
Ron Rosenthal has found some new success through the state-mandated shutdown with three of his four local restaurants: Hog Heaven in Columbia and New Philadelphia and The JNG Grill in New Philadelphia. A fourth, also in New Philadelphia, Venue, carried a menu of items he didn't feel would hold well enough for carryout. It reopened on schedule on May 21 with distancing restrictions in place.
"We're ready to go," Rosenthal said. "We're setting up tables to keep people the correct distance apart and have outdoor seating available. The patios are already busy. Our customers are very much ready to get out and eat with friends again, and that's evident. Once the interior and patio are full, customers can wait outdoors or in their cars until a table opens up, and we will call them. They can also do call-ahead seating."
Reservations are still recommended for Venue.
Carryout for Rosenthal's three other restaurants has been very successful in recent weeks, so much so he's planning to make it a permanent, expanded offering.
Of JNG Grill Rosenthal said, "We're adding a drive-through and expanding the kitchen to accommodate that part of the business. We've always done carryout and planned to expand that, but this just moved those plans up for us. We've also taken advantage of downtime to replace some flooring and make other upgrades."
It is evident in the early weeks after the state gave the all-clear to reopen restaurants and bars, there will be a learning curve for both restaurateurs and customers, requiring patience and understanding on all sides.