Rodhe's welcomes Premier Pharmacy into the family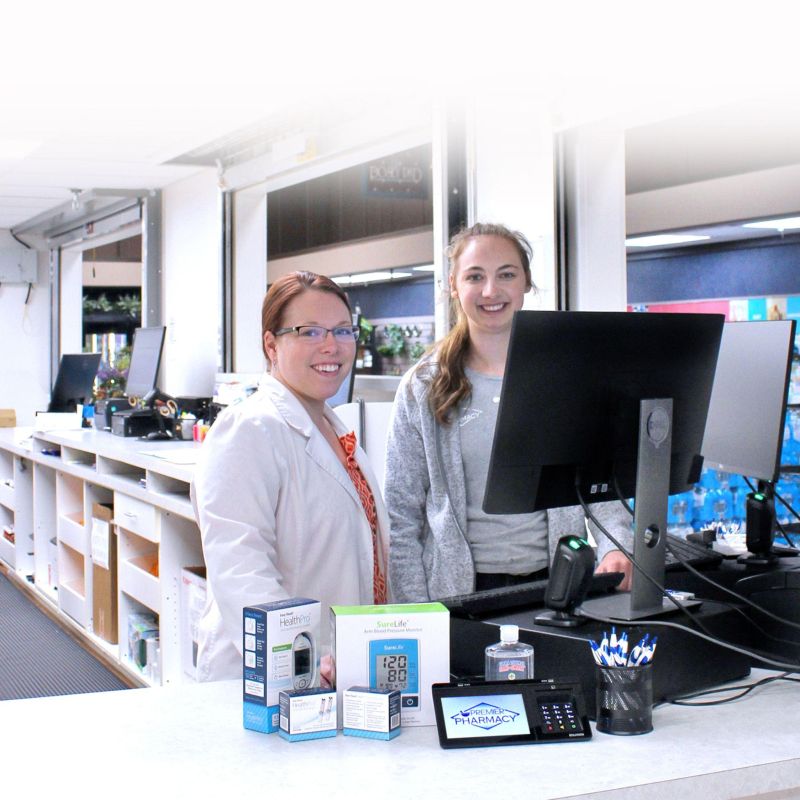 Joanna Troyer managed the old Ritzman Pharmacy inside Rodhe's IGA Marketplace, in Millersburg, until CVS purchased the store and closed it more than two years ago.
"I asked Joanna at the time what she felt would be her ideal situation looking five years into the future," said Joel Gause, owner of Premier Pharmacy. "She said she would love to return to Millersburg."
After spending seven months managing a pharmacy in Berlin, Troyer took some time away from the field and is now getting the opportunity she had hoped for. She is now back as the pharmacist in charge of Premier Pharmacy's brand new Millersburg location, filling the two-year void inside Rodhe's. Like Gause, whose original location continues to serve the Berlin community, Troyer learned the trade working for pharmacist Rod Mast before he retired and sold his stores to Ritzman. Even before she became a pharmacist, Troyer worked at Mast Pharmacy starting in 2003 as a cashier, a delivery girl and a technician — and finally a pharmacist — before Ritzman acquired the stores in 2013.
"Like me, Joanna is a Hiland High School graduate and has a passion for this community," Gause said. "It's wonderful to be able to bring her back to Millersburg. She is a perfect fit for us."
Rodhe's, he added, is also a perfect fit for Premier Pharmacy, which Gause started in 2018.
"The Rodhe family's culture of community service meshes incredibly well with ours," Gause said. "From the time I introduced myself to Kurt Rodhe and started to talk about getting a pharmacy back in their store, they have been 100 percent supportive. Once again being able to buy groceries and prescriptions in one convenient location makes this a win for us, a win for Rodhe's and a win for the community."
Premier Pharmacy, Gause said, is a locally owned business that offers customers a personal touch.
"We've been blessed with the way we've been embraced by the Berlin community, with the value they place on supporting independently owned businesses, and we hope to have the same relationship with the people here in Millersburg," he said.
"One of our main goals is to get to know every customer by name and to do whatever we can do to make things easy for them, whether it's by taking the time to make phone calls to their doctor to just taking the extra time to answer any questions they might have. We're never too busy to make sure we address every concern a customer has."
And, he added, they're never too busy to answer their telephone. "When you call us, a real person will answer," he said.
The Millersburg location will offer most of the same services as the larger Berlin pharmacy, Gause promised.
"On top of filling prescriptions, we'll provide immunizations, like shingles and pneumonia shots, along with counseling for management of diabetes and other conditions," he said. "We will offer delivery service."
Premier also offers a full line of durable medical equipment, including lift chairs and motorized scooters. These self-pay items can be delivered directly to your home.
It's easy to change your prescription service to Premier Pharmacy, Gause said. "Just stop in or give us a call and we'll take care of calling your current pharmacy to transfer all of your prescriptions," he said. "Our free mobile app makes it easy to order refills, set reminders and access your store account right on your mobile phone."
Gause credits Mast and his partners — Dave Braddock and Randy Crawford —with teaching him the pharmacy business.
"They were wonderful mentors," he said. "When I was in school thinking about my future, I saw myself trying to follow in their footsteps. There are a lot of different directions you can go as a pharmacist, like working in a hospital or a nursing home. I always gravitated to retail, where you have a chance to work with people in the community. I have been fortunate to have opportunities pop up where I've been able to establish my own stores."
Premier Pharmacy is located inside Rodhe's IGA at 2105 Glen Drive in Millersburg. You can call in your prescription or get more information at 234-301-9166, or learn more at PremierPharmacy.net. The Berlin pharmacy is located at 4925 West Main Street in Berlin, call them at 330-893-0290. This story has been underwritten by Premier Pharmacy.