Schrock's gains new specialty shops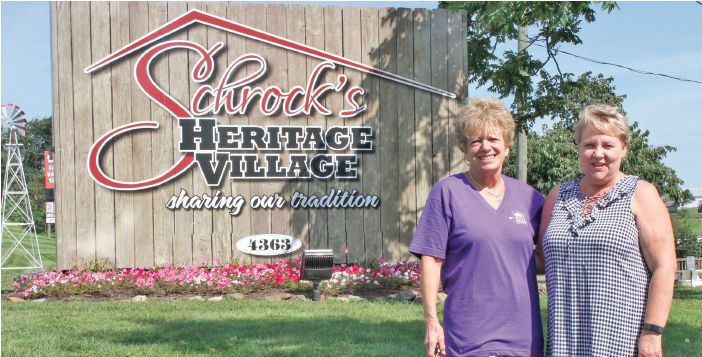 Schrock's Heritage Village is known for offering a plethora of interesting finds, everything from delicious foods to fabulous Christmas ornaments, along with a generous variety of unique shops to explore.  
Two of those shops making a mark on the local retail landscape right now are Streb's General Store and The Plaid Sheep Company.  
Streb's General Store
Located in the former Gramma Fannie's Quilt Barn, Streb's General Store, owned and operated by Shelley Streb, shines a fresh light on days gone by.  
"I really wanted to create a special feel here," Streb said. "I love the idea of bringing nostalgic items into the here and now."  
With that in mind, Streb's General Store takes visitors back to a simpler time with décor and products like those you'd find in, well, an old-time general store. In addition to carefully sourced antiques, you'll also find current items like toys from Melissa & Doug, handmade wares from local and out-of-state crafters, old-fashioned candies, jams, jarred foods and jerky and meat sticks from her husband Craig Streb, of Streb's Meats.  
When the opportunity arose for Shelley Streb to set up a shop at Schrock's, she jumped at the chance. "I love to see customers come in and become instantly transported to a slower, simpler time," Streb said. "Older people recognize products and brands from yesteryear, and younger shoppers delight in having the opportunity to try something they may never have heard of."  
The store features a generous array of home décor items, think vintage farmhouse, like pottery, dishes and pillows along with gift items like purses, scarves, candles, cards and more. In conjunction with the store's location at Schrock's Heritage Village, Streb's General Store also offers great finds online at StrebsGeneralStore.com.  
Streb said her shop has already morphed into several different variations of its original look. Look for an expanded toy selection and more great finds coming soon.  
The Plaid Sheep Company 
Formerly the Country Craft Cupboard, Karen Lamp relaunched her 34-year-old business on the grounds of Schrock's Heritage Village as The Plaid Sheep Company. She said the name reflects the store's penchant for offering some of the finest wool available.  
"We dye our own," Lamp said, revealing the shop carries more than 50 bolts of wool as well as dozens of different colors.
Patterns for making everything from crafts to clothing out of wool are, at just over 1,000 in number, plentiful. The store also is a go-to source for crafters who adore hand-hooked rugs with patterns, wool and classes available to help you create the perfect piece.  
"We specialize in kits for making things like wall hangings and table runners," Lamp said. "We also cut a lot of wool shapes for appliques."  
Lamp's own line of patterns, Backyard Friends, are among the shop's hottest sellers.  
The move to a new location and change of name has given Lamp the freedom to reinvent the shop, so she's expanding the number of classes offered and expanding her product selection. Inside The Plaid Sheep Company you'll find rug hooking supplies, sewing notions, cotton fabric and samples of completed patterns for inspiration.  
Lamp said she's committed to continuing her wildly popular tradition of hosting a pajama party the last weekend in January, during which everything in the store is 40 percent off for those who arrive in pajamas, a nightgown or a robe. Check the website for details.  
Streb's General Store is located at 4369 state Route 39 east of Berlin. Hours are Monday through Saturday from 10 a.m. to 5 p.m. The phone number is 330-473-3497. Visit the website at StrebsGeneralStore.com.  
The Plaid Sheep Company is at 4375 state Route 39 east of Berlin. Hours are Monday through Saturday from 10 a.m. to 5 p.m. The phone number is 330-893-3163. Visit the website at PlaidSheepCompany.com.  
Grand Opening Celebration! 
On Thursday, Sept. 20 from 4-9 p.m., The Plaid Sheep Company and Streb's General Store will host a Grand Opening Celebration. Enjoy discounts and giveaways at both locations along with the chance to win an overnight stay at Stone Cottage Inn in Winesburg. Enjoy free pumpkin bars and cider when you make a purchase of $10 or more at either store.