Small batches and old-fashioned word of mouth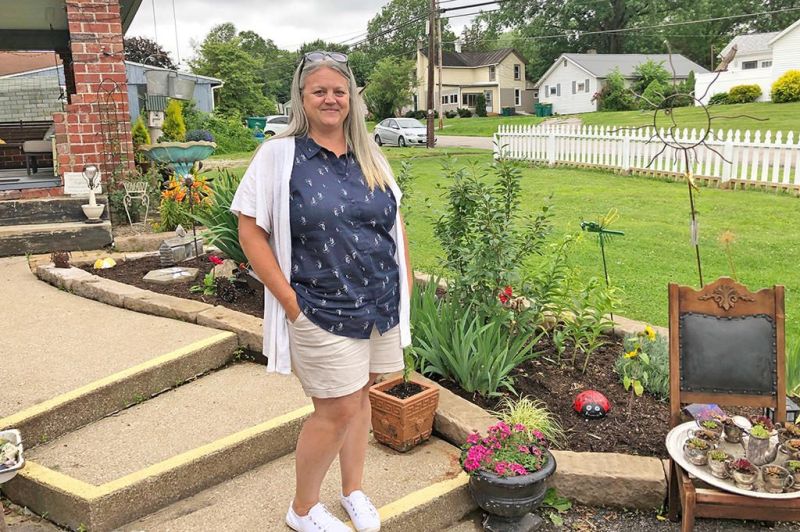 She might not be a threat to Smucker's, but Jen Steinman is carving out a niche of her own in the area with her jams, which she makes from homegrown fruits sourced mostly from her own backyard.
Along with husband Eric, the Steinmans have owned Illusions Screen Printing in Wooster for the last 28 years.
"We found out the building needed massive roof repairs, but we didn't want to pass the costs along to our customers," Jen Steinman said.
So the Steinmans brainstormed with their six children including 11-year-old Oliver, who's a sixth-grader at Edgewood Middle School and came up with the idea of the jams.
"Oliver watches Shark Tank and so he was big on what we needed to get started, branding and all of that," Steinman said.
The next step, according to Steinman, was researching recipes at the Wayne County Public Library.
"I spent hours there researching," Steinman said. "I could have done it on the internet, but I wanted to get genuine recipes from the late 1800s from real books' pages."
Next on her list was getting the guidelines for producing a food product from the Wayne County Health Department.
"We have decided for now we just want to be local 'cottage foods,' not bigger, which would require a commercial kitchen with licensing and more regulation," she said.
As for the ingredients, they needed to look no farther than their own backyard.
"We have had gardens growing lots of fruits, flowers and herbs for years," Steinman said.
She said she started gardening when her father was diagnosed with cancer and needed to have a much healthier diet.
"We just love to cook and eat good food, have for years," Steinman said.
The Steinmans grow eight fruits on their Henry Street property: apples, peaches, black raspberries, red raspberries, strawberries, blue berries, rhubarb and grapes. They also have extensive herb gardens.
For the very few ingredients they don't have, Eric and Oliver Steinman go out and forage for things like spruce tips in the woods.
"We're careful to follow the FDA guidance, like they give tips to not pick things by a roadway where they're exposed to dust and fumes or in areas that are sprayed, and to pick them just after a rainfall so they're clean," she said.
On April 18 Steinman canned her first jam: spiced forsythia.
"I found out early it was really a science and lots of trial and error," she said. "You really have to have the right balance of acids, sugars and pectin. We produce everything in small batches. You only have certain blooms at certain times of year."
Steinman said each batch is eight 8-ounce jars. The process takes two hours from start to finish.
After working all day at the print shop, she makes jams about three or four evenings a week.
"I spend probably four or five hours an evening doing it," she said.
Steinman said Oliver helps with every flavor, whether it's foraging or cutting and chopping. "The other kids are our taste tasters," she said.
Once she got the recipes down, Steinman began selling the jams out of her home and at the family business. "Then we started selling at pop-up sales, like Ladies Night Out in Wooster and at Kidron Days and the Fredericksburg Market," she said. "It's one thing to talk about but another thing to get to meet face to face and try them."
Now the jams also are available at the Undergrounds Café and Coffee Shop in Liberty Commons in Wooster.
One challenge Steinman is facing as the jams become more popular is sourcing the Bell Mason Jars. "They are pretty expensive. I'm thinking about doing a buy-back program where I will trade cookies for the jars so we can recycle them," she said.
Steinman said she has the jams posted on her own Instagram and Facebook pages, and friends are now sharing online. "It's just a new way of the old-fashioned word of mouth," she said.