Solace introduces floatation therapy at salon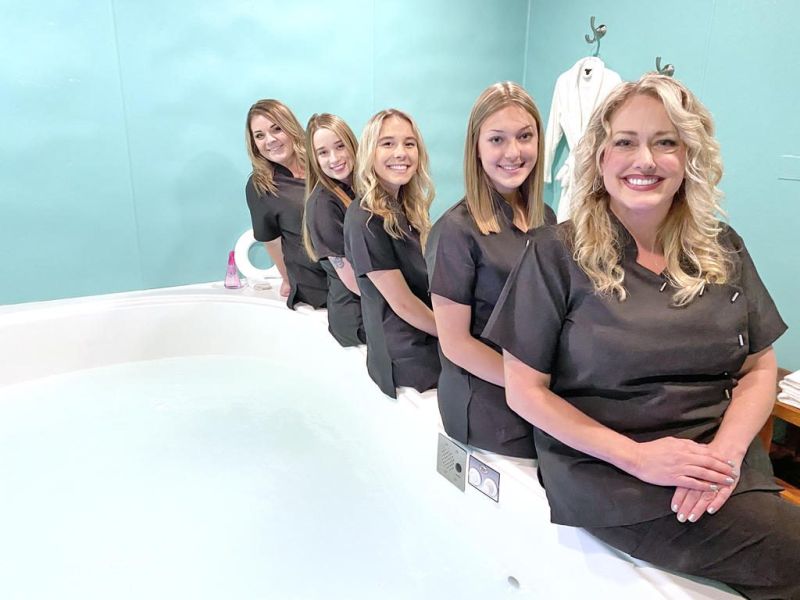 Solace Relaxation Massage and Float Spa opened officially with a Chamber of Commerce ribbon-cutting ceremony on Dec. 2 and is ready to offer solutions to depression, anxiety, pain management and more.
The services available at Solace Relaxation Massage are unique in the area, owner Michelle Gossett said.
"Of course we offer various types of massage, but the thing we are most excited about is that we've brought floatation therapy to Tuscarawas County. You would have to go to Cleveland or Columbus to find anything similar," Gossett said.
What is floatation therapy? "It's 1,000 pounds of Epsom salts dissolved in 200 gallons of water. It creates a solution similar to the Dead Sea, which causes tremendous buoyancy and you float effortlessly on top of the water," Gossett said.
The experience includes a shower beforehand and then a dip into the floatation tank. Afterward, the calming atmosphere continues.
"You can sleep in it. You float for an hour, with a light on or in the dark as you choose," Gossett said. "Afterward, you have another warm shower, you get a robe and you can sit in front of a warm fire. It's a very therapeutic and relaxing experience."
Applications for floatation therapy are well documented. "It can help with high blood pressure, anxiety and depression," Gossett said. "The military has found it to be useful in treating post traumatic stress disorder. Athletes are using it to treat injuries, and it is also being used to treat chronic pain and for treatment of concussions. There are many benefits."
Gossett, a native of West Virginia, moved to the area in 2011 to continue her career in healthcare. "I spent a lot of time talking with patients," she said. "I felt a calling to help people and started doing massage therapy."
The business opened at first in Dover before moving to downtown New Philadelphia this year. "We were getting so many bookings it became evident that I needed to stop working in healthcare and devote all of my time to offering massage therapy," Gossett said.
Along the way Gossett and her husband, Michael, traveled to Indianapolis to experience floatation therapy firsthand. A chronic pain sufferer, Gossett experienced significant relief, a result shared by Michael as well.
"Not only did it work, but we knew we wanted to offer this to others," Gossett said. "In treatment of anxiety, the relaxation of floatation therapy can actually help to rewire the brain so that you are better equipped to handle stressors in the future. The more you do the floatation therapy, the more it helps over the long term."
People can bring a friend to share the experience, either getting a full massage, foot massage or paraffin wax treatment or an hour of near weightlessness in the floatation tank.
Gossett said there is no danger in practicing floatation therapy. According to pre-appointment information, "The water is so buoyant you stay afloat," even if you fall asleep.
Tanks also are filtered and sterilized between clients. People need not bring anything to the appointment. Everything from robes to earplugs to an after-treatment cup of tea is provided. Clients are advised to try floatation therapy two to three times a week.
"People genuinely enjoy the experience," Gossett said. "It's relaxing, calming and therapeutic."
Solace Relaxation Massage and Float Spa is at 261A W. High Ave. in New Philadelphia. Book an appointment by calling 330-227-8297 or visit www.solacerelax.com.