Surviving cancer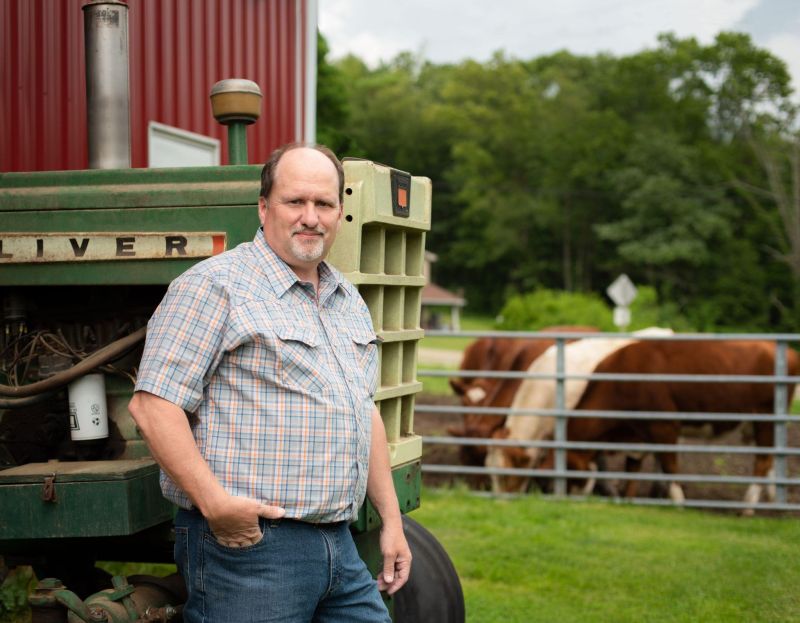 Colon cancer is the third most common cancer diagnosis in both men and women in the United States, according to the American Cancer Society. More than 100,000 Americans may be diagnosed with the disease this year alone. The scariest fact, however, is that colon cancer usually has no early warnings.
Dan's story
"Colon cancer, in its early stages, when it's most easily treated, is largely asymptomatic," said Dr. Anthony Calabretta, of WCH Surgical Associates.
That was certainly true for Nashville, Ohio, resident Dan Burgett. When Burgett underwent an emergency appendectomy in 2018, Dr. Calabretta also suggested a routine colonoscopy. Burgett attributes this decision with saving his life, as the test revealed stage III colon cancer. The findings began a treatment regimen that started with an IV infusion, 13 days of pills, one week off and then repeat – times four.
One year later, a CT scan revealed that Burgett is cancer-free. This may make it sound easy, but Burgett says there were many dark moments and low-energy days.
Burgett credits his Wooster Cancer Care oncologist, Dr. Joseph Prah; Certified Nurse Practitioner Tyra Schlabach; his wife, Jenny, who was his rock; and Jesus, his Lord and Savior, for helping him through the experience.
"I never felt like a number at WCH and Wooster Cancer Care," said Burgett. "They were all so caring and thorough."
Jenny Burgett, an RN in Progressive Care, says she is grateful they could stay local for treatment. This allowed her to keep working while also helping care for her husband.
Now that it's over, Dan Burgett has some advice for everyone. "Even if you feel good, get a colonoscopy. It's not a death sentence anymore if you catch it early. I never thought I would be here telling this story."
"If Dan's cancer had gone undetected longer, it likely would have spread to the liver and decreased his likelihood of survival," said Dr. Calabretta. "It is very important to start screening for colon cancer as soon as recommended."

Advanced cancer care – close to home
Wooster Community Hospital Health System knows that being diagnosed with cancer or a blood disorder can be a stressful time for you and your loved ones. However, there is more hope today than ever before.
In 2013, WCH Health System collaborated with The James Cancer Network at The Ohio State University Comprehensive Cancer Center – James Cancer Hospital and Solove Research Institute (OSUCCC – James) to form Wooster Cancer Care, bringing the most advanced oncology and hematology care to residents of Wayne County and the surrounding areas
Highly skilled OSUCCC – James health care providers specialize in customized oncology treatment for cancer, and they are available locally to help reduce traveling for patients and their families.
The OSUCCC – James is the only cancer program in the country that features a National Cancer Institute (NCI)-designated comprehensive cancer center aligned with a nationally ranked academic medical center and a freestanding cancer hospital on the campus of one of the nation's largest public universities.
Cancer is no longer defined solely by stage and location, but rather by its biologic and genetic makeup. There is no routine cancer – it is different in each person. Working together and utilizing state-of-the-art facilities and technology, clinicians and researchers at Ohio State are speeding the development and delivery of treatments that target the molecules and markers fueling each person's unique cancer.
To schedule your screening colonoscopy, call 330-202-5686. Wooster Community Hospital's address is 1761 Beall Avenue, Wooster. Wooster Cancer Care's phone number is 330-262-2800. For more information visit WoosterHospital.org.