The new Dennison Yard owners are keeping it real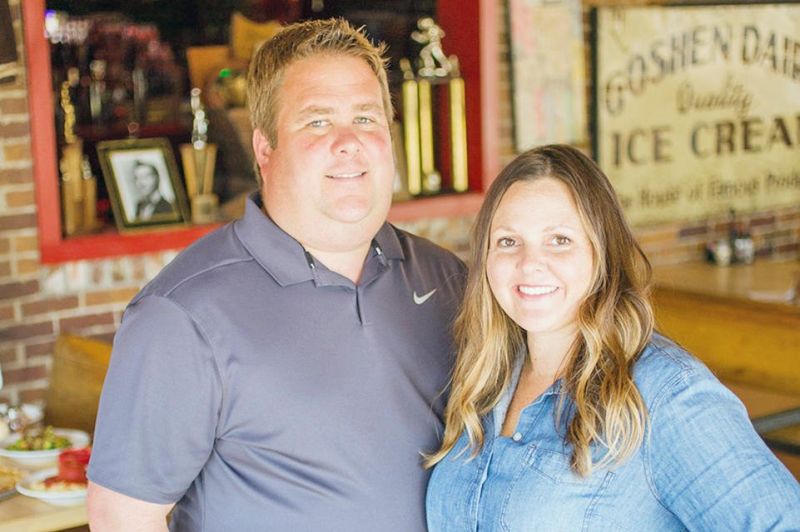 The Dennison Yard Italian restaurant, owned for decades by the Pangrazio family, is now in the hands of an area couple who will offer the same menu diners have come to expect. Matt Donohoe and Shari Lewis bought the restaurant over the summer, taking charge in September this year.
"We started thinking about this in the spring, around May this year," Lewis said. "We heard that the restaurant might be for sale. We'd always loved going there as customers, so we reached out to say, 'Hey, we'd be interested if this comes about.' They were very receptive, and now here we are."
The couple lives in New Philadelphia, where Lewis grew up in a family that owns several McDonald's restaurants in the area. Donohoe is from Uhrichsville, and both attended Central Catholic High School, where they met. They lived in Columbus for several years, then returned to the area.
"It looked like we would become the next generation of McDonald's operators in my family," Lewis said. "We worked in and managed them and understood how that all works. Obviously fast food is a little different from The Yard, but you have to know the basics of ordering supplies, kitchen safety and hygiene, customer service, scheduling, and all that."
Donohoe also worked for Schumacher Homes and 84 Lumber.
In Columbus, Lewis worked as a newspaper journalist.
"I basically grew up in restaurant kitchens from childhood," Lewis said.
The two plan to keep the menu intact with no plans for big changes. "We'll keep the same recipes and great food everyone loves, absolutely," Lewis said. "We've also restored the traditional salad dressing, which was very popular."
The Dennison Yard also has a full liquor license. The Yard features Italian cuisine, steaks, sandwiches and a large pizza menu.
"We've remodeled the restrooms, and we may repave the parking lot next year," Lewis said. "But other than that, we have no plans to change anything about The Yard in the future. It has been successful for a long time, and people love it. We've had a lot of great support and feedback from customers and the community, and the staff has been great. It has been a pretty smooth transition."
Lewis said they could not have done this without the help and support of their families. "They have backed us up in this decision 100 percent. This is what we want to do, and we're happy the opportunity came along. We're very pleased to continue such a local tradition and to continue to bring great food to people who love to come and eat here. This is it for us," she said.
Restaurant ownership is now in a third generation in Lewis' family. "My grandparents also owned one," she said. "Ever since I was a small child, I have always been in restaurant kitchens."
The experience is finding a new generation of the family. The couple's two daughters, Ella, 9, and Emmy, 4, are digging in to help. "They've had fun too. They like to come in and help with things, washing dishes and things like that," Lewis said.
The Dennison Yard opens from 11 a.m. to 9 p.m. Sunday through Thursday and 11 a.m. to 11 p.m. Friday and Saturday.
The Yard is at 313 Center St. in Dennison. It can be called at 740-922-5748 and visited online at www.dennisonyard.com, as well as on Facebook.