Towpath Tavern to celebrate their fifth anniversary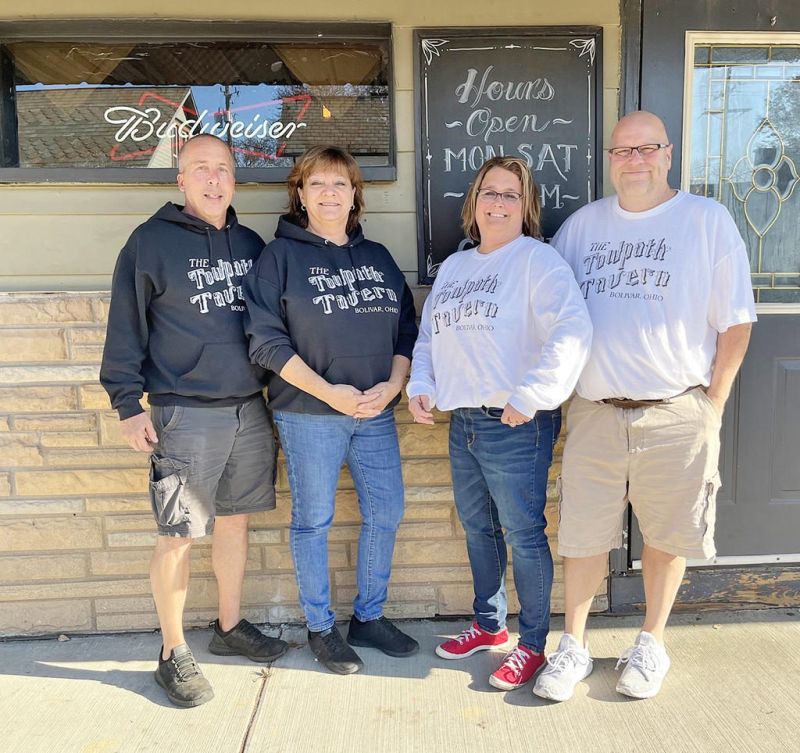 Rich Dotts and Greg Anderson have been partners in numerous business ventures, from selling sunglasses on eBay to running a car detailing shop and owning a snack bar and restaurant at Atwood Lake.
The decision to buy the Towpath Tavern in Bolivar turns out to have been one of their most lucrative endeavors. This month marks five years of being in business at the restaurant at 225 Canal St. in Bolivar. The anniversary will be celebrated Saturday, Nov. 19 at the restaurant beginning at 11 a.m. All customers that day including children will receive a gift.
Dotts and Anderson also are the previous owners of the former Bassetti's Restaurant in New Philadelphia, where both started working in the kitchen as teenagers.
"We were too young then to know how to run a restaurant," Anderson said.
Perhaps, but it seems they certainly know how to run one now. The restaurant has earned a loyal following since it opened in 2017.
"It has grown way, way beyond what we imagined when we bought it," Anderson said.
"Our customers are like family to us," Dotts said. "They come in all the time to see us and our staff."
They also come for the menu, which includes everything from burgers and fries to lasagna, meatball subs and daily specials like prime rib, pork chops and butterfly shrimp.
The restaurant has a full bar inside and a dining patio featuring a bar and live music in the summer.
"Everything here is homemade," Dotts said. "Our mac and cheese, soups, meatballs, salad dressings, all of it is homemade."
The spaghetti sauce is the made-from-scratch recipe used by the former Bassetti's Restaurant.
Anderson and Dotts knew each other vaguely as kids, but they became fast friends when they started working together in the kitchen at Bassetti's. It wasn't long before they were dreaming of going into business together.
"Our first purchase was a boat," Dotts said.
What were they going to do with it? They weren't sure.
"It was a terrible boat anyway," Anderson said.
But when the restaurant where they worked went up for sale, the two got serious and bought Bassetti's in 1992, operating it for two years before selling it.
Anderson and Dotts also own Lee's Famous Chicken in New Philadelphia, which is operated by Anderson and his wife Michele.
Dotts said they'd like to do more catering for weddings, parties and corporate events. "We team up a lot with Lee's and can combine menus for just about anything people want," he said.
Before retiring about six years ago, Dotts worked as a UPS loader and sold cars at Chuck Nicholson in Dover, but he simply had too much energy to slow down.
That's when he and Anderson cast their eyes on the Towpath Tavern. Established in 1825 to serve canal workers and travelers, the Canal Street restaurant had been through a number of owners, iterations and names including Yesterday's Pub and LaPiazza.
The recipe
Michelle Anderson said she thinks the reason many of their goals have come to fruition is each person brings a different strength to the table. All agreed Greg Anderson is the idea guy and Dotts is the numbers guy. Michelle Anderson is a people person, and Tina Dotts is great with decor and good, old-fashioned hard work.
Tina Dotts expressed gratitude for their customers. "They kept us going through COVID," she said, by ordering carryout and tipping big. "One lady left $50 and $100 tips for our servers and cooks. It was amazing."
Whatever the secret ingredient, the Anderson-Dotts quartet seems a bit like a dream team. "It's been really exciting to be a part of the growth in Bolivar," Rich Dotts said. "It's a tight-knit community here, and we're glad people have accepted us."
Greg Anderson believes the secret of the Towpath Tavern's success is Rich and Tina Dotts. "This place would not be what it is today if it weren't for these two and how hard they have worked. It's all a credit to them," he said.