Troyer Market Grand Reopening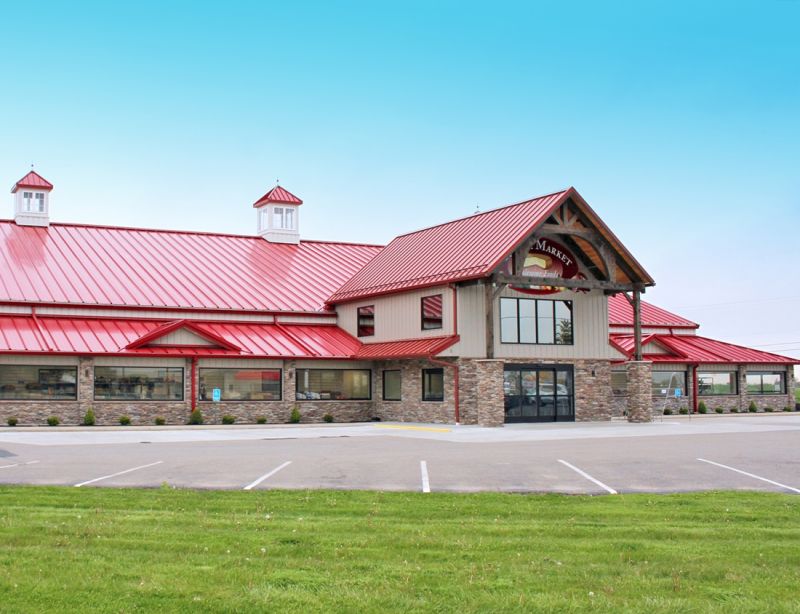 For many, the smell of fresh bread wafting through the air stirs up memories of grandmother's kitchen and the eager anticipation of the oven door finally opening.
In Berlin, there's an opportunity to relive long-ago memories of home-cooked comforts when Troyer Market holds its much-anticipated grand reopening from Monday, June 1 to Saturday, June 6.
The first view to greet visitors will be a large selection of bread, cookies, coffee cakes and other items baked fresh in the store. These new additions are the result of the purchase of the bakery, recipes and know-how of Sara Miller. Twenty three years ago in a rural area of Knox County, Ohio, Sara began her bakery in a room beside her house. Her passion and devotion to excellence resulted in delicious baked goods. Visitors to Troyer Market will be able to taste the results of more than two decades worth of successful business.
Most already know Troyer Market has so much more in store. Before the extensive remodel, the selection of high-quality foods under one roof was already one of the best in Ohio's Amish Country. Now there's even more, giving visitors the opportunity to sample and discover some new home-cooked comforts.
"Our goal is to go from good to great," Troyer Market co-owner Paul Weaver said.
Visitors in search of authentic Amish cheese will be able to find it at the new cheese kiosk. Customers will be able to sample cut-to-order cheeses, beef sticks, jerky, "Made Here" snacks and baked goods. Freshly popped popcorn is a new feature that will be ongoing!
Troyer Market's deli still features its signature Swiss cheese and off the bone ham, however be sure to look at the expanded selection of "Made Here" soups, salads, and desserts, which you can enjoy at the new Katie's Café.
While the cozy dining area is a new addition, the tradition for quality food at Troyer Market goes back a long way.
"Good food has been our business for 50-plus years," co-owner James Troyer said. "Jonas Troyer established a tradition of selling the best-tasting foods of the highest quality, and our decision to remodel the store continues that tradition. We value excellence in everything we do."
Troyer Market is committed to selling the best produce, and the already extensive and now expanded selection speaks volumes.
"Have you ever purchased a container of fresh fruit only to find that the fruit on the bottom half was either bruised or partially rotten? It's best to buy fresh produce from a store where lots of produce is sold," Weaver said. "We pick the best, so you don't have to. We hold ourselves to the highest standard of quality and service, and our faith-based value system ensures we adhere to that."
On the porch, there is locally grown seasonal produce most any time of year. At the grand reopening, visitors will likely find spring's candy onions, asparagus and strawberries along with summer's green beans, cucumbers and tomatoes.
Troyer Market searches far and wide for the best selection of produce in Holmes County or anywhere else in the country — everything from juicy peaches and strawberries from the Carolinas to all varieties of delicious apples from New York.
Visitors shopping at Troyer Market can also choose from one of the area's largest selections of bulk foods. Candy, baking supplies, pasta, spices, fresh roasted nuts and a wide variety of specialty olive oils are a few of the categories available.
Troyer Market carries the full line of Amish Wedding jarred foods. Visitors have to look no further for the brand's famous jarred pickles, peaches and pickled baby beets. There is a spacious spread of over 100 types of jams, jellies and fruit butter as well.
There's something for everyone and every family at Troyer Market. Young visitors can enjoy the novelty of filling tubs and bottles themselves as they "make their own" peanut butter and honey and use the Pinabar machine that cores your pineapple on the spot at no extra charge.
Ice cream is always a crowd favorite. With 32 different flavors of homemade ice cream, including flavors like chocolate peanut butter, butter pecan and buggy tracks, as well as the soft-serve varieties, there really is something for everybody at Troyer Market.
When they open the doors for their grand reopening, Weaver and Troyer hope visitors relive everything they remember about Troyer Market in ways that will add something new to their experience.
"We'd love to meet you and show you around our new store," Troyer said.
Visit Troyer Market at 5201 County Road 77 in Millersburg. Hours are Monday through Thursday and Saturday from 8 a.m. to 6 p.m. and Friday from 8 a.m. to 7 p.m. or online at TroyersCountryMarket.com. The phone number is 330-893-3786.