Troyer's is the little country market that could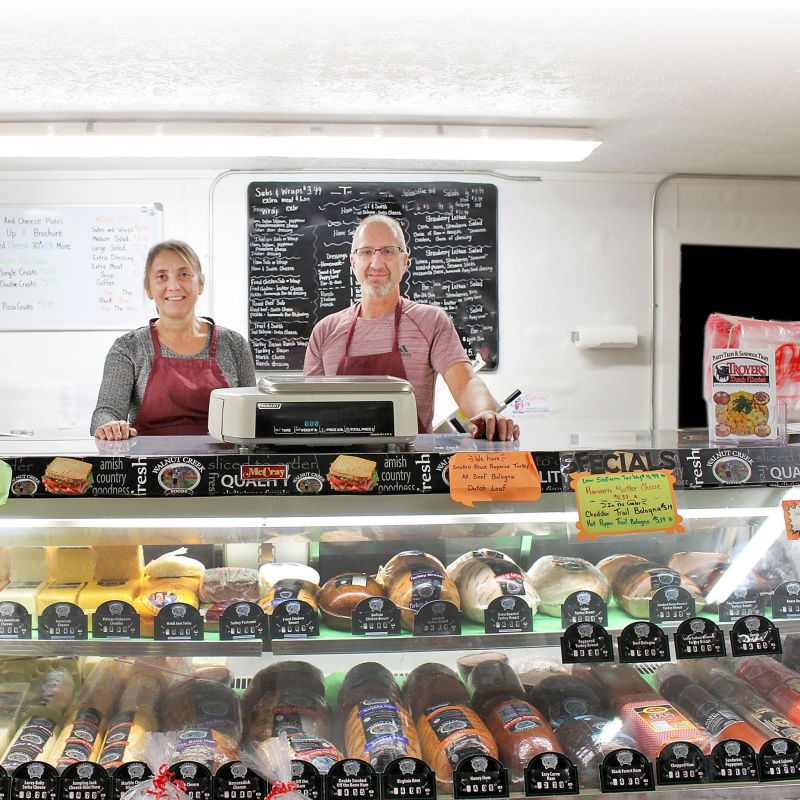 Troyer's Dutch Market, in Perry Township, is so small that you might drive right past it. And that's the way husband and wife owners Delon and Liz Troyer like it.
Well, not the part about driving past it.
But the part about being small.
"We enjoy owning a cozy little mom and pop store," Liz Troyer admitted. "It gives us the chance to really get to know our customers. People come in and tell us all about their week and what's happening in their lives. They come in for a sandwich at lunch time and order 'the usual,' and they love that we know exactly what they want."
And, she emphasized, the Troyers pack a lot of quality into their intimate space.
"When people grow up around here, or come to visit, they come to expect the high-quality meats and cheese that this area is known for, and you may not always get that at the giant supermarkets," she said. "That's why most of the products we carry come from Walnut Creek Foods. Everything here is as fresh as it gets, and our customers tell us all the time that we have very good prices."
Delon had worked in the construction business for almost 30 years before he and Liz decided to open a bulk food market almost six years ago.
"We came to the conclusion that the Massillon area needed a bulk food store, and we found the perfect building," Delon Troyer recalled.
At first, the business grew on pies.
The local store that sold pies from Troyer's Home Pantry, in Apple Creek, had gone out of business.
"Even before we opened, they stopped in and asked whether we'd be interested in selling their pies," Delon Troyer said. "Of course, we were. They were getting five to seven calls a day from people asking where they could get the pies in this area. Because of the name, a lot of people who came in thought we made the pies. It really helped to bring people in. At first people thought we were a bakery, then they saw the meats and cheeses and the bulk food we offered and they kept coming in."
Customers tested out the new market, sometimes buying just a few slices of meat at a time.
"Some people came in a few times a week and left with a $2 order," Liz Troyer said. "Because we're conveniently close to town, a lot of people still come in almost every day, but now they buy more."
And, she added, they often drop by for a quick and delicious lunch.
All deli sandwiches and wraps at Troyer's Dutch Market are made to order.
"You can call ahead and place your order, or just come in and we'll prepare it for you on the spot," Delon Troyer said. "People love our fresh soups and salads. Our potato salad is especially popular. It's our own recipe and we sell tons of it."
Troyer's also offers a chef salad, a strawberry pecan salad and a barbecue chicken salad.
Troyer's party trays, Delon Troyer said, are ideal for personal and business gatherings of all types.
Pies continue to be a strong seller, Liz Troyer said. In the two days before Thanksgiving, she said, the market sold more than 750 of them.
And, if you like to bake your own desserts, Troyer's Dutch Market has a wide variety of baking supplies — including spices.
"One customer buys all of her spices here and sends them down to her son in Atlanta," Liz Troyer said. "Our prices are really good."
Friendly and attentive service, she said, is another reason why people shop at Troyer's Dutch Market. Her sister, Edna Troyer, manages the market, and the employees come in daily from Amish Country. That's one reason that the market's tagline is "Bringing Holmes County to your neighborhood."
Troyer's Dutch Market is located at 3435 Lincoln Way East, about midway between Massillon and Canton. Be careful not to pass it up — look for the giant inflatable tube guy dancing in the wind. You can call 330-830-3333 to place your lunch or party tray order, or visit TroyersDutchMarket.com to view the menu and get more information. You also can visit them on Facebook @TroyersDutchMarket.