Golf all year at Willie's Custom Golf Center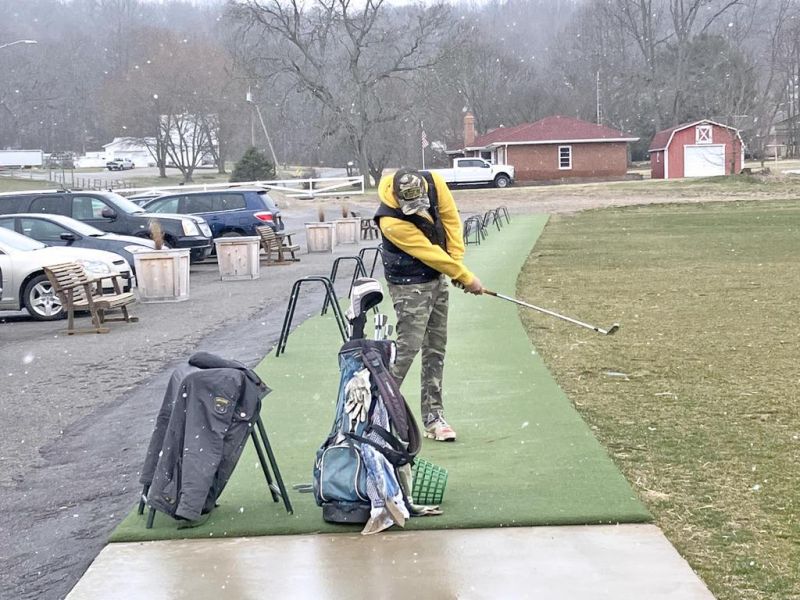 Many individuals are getting ready to begin another season of golf. However, golfers can now practice all year round to improve their game.
Willie's Custom Golf Center, located at 4799 Yackey Drive NW in Strasburg, is a professionally designed range that provides access to a driving range inside the building and outside on a driving range complete with sand traps made from crushed white stone. The center opened in March 2022 in a 6,000-square-foot building that has so many features.
"I want people to know we offer a year round indoor and outdoor driving range. Most of the rooms are full on weekends," Jeff Willis said, "A room can be rented inside the club house with the driving range and Trackman is $45 and without a Trackman is $25.
"Golf is once again booming. Since COVID so many golf courses have closed. We still have seven operating golf courses in Tuscarawas County: Zoar Village Golf Course, Wilkshire Hills at Bolivar, Union Country Club at Dover, Oak Shadows at New Philadelphia, Big Ben at Uhrichsville, Five Waters at Midvale and Black Gold at Sugarcreek."
About Willis
The club house and driving range is located on 23 acres just outside of Strasburg in a country setting. Jeff and Susie Willis of Strasburg own the facility. They purchased 17.5 acres of farmland and recently added over six additional acres to the site.
Willis said they were trying to find a name for the new venture and decided to use his nickname, Willie. "For some reason I always wanted to offer a facility where someone could hit golf balls 12 months a year. We are open Monday to Saturday 9 a.m. to 9 p.m. and Sunday 10 a.m. to 9 p.m.," Willis said.
Willis was 13 years old when the golf fever hit. It has been over 50 years and he still loves the game and what he can do to help golfers succeed.
Over 20 years ago, Jeff and Susie Willis purchased 180 acres of land in Sugarcreek from the late Dale and Gladys Richardson. Willandale Golf Course was created with 27 holes for golfers. The couple sold the business in 2018, and it has been renamed Black Gold. Willis also owns Five Water Golf Course in Midvale.
About the golf center
Those visiting will find Trackman simulators, an indoor and outdoor driving range, available private lessons, golf club repair, club fittings, and new and used golf club sales, along with a fully equipped pro shop to supply any golfer's needs. For those using the driving range, a bucket of golf balls can be rented for $5, $8 or $13.
Willis has just installed a Trackman in a room at the facility and plans to install additional units in other areas. He said it can track golf balls, their speed and distance. Trackman is the most accurate golf launch monitor in the world. It provides instant video and statistical feedback to show what the golfer did wrong and how to fix it.
"It logs every shot, and parents can watch from home as their child works on their golf game," Willis said.
There are three 11-foot-high-by-18-foot-wide Trackman simulators in the building. Willis said information appears on the simulator and tells golfers what they are doing wrong and looks at all their numbers. The simulators can accommodate four players at a time at $12 per person, per hour.
Also, four individual rooms are located inside the main building. Each room has a large door so golfers can hit golf balls from inside the building onto the outside driving range. When the doors are raised, a heater located on the ceiling automatically comes on for golfers to use the driving range from inside the building, if the weather is not favorable. The entrance doors to the rooms have been named Thomas, Nicklaus, Palmer and Koepka.
There are seven target greens that are irrigated and give the experience of a golf course. A grass tee may be installed outside the building and plans are to construct a chip-n-putt for families with small children.
A feature that is popular is premium club fittings. The room contains every type of golf club to suit an individual's needs. A well-stocked pro shop also has any item a golfer might need: shirts, golf bags, golf balls and all accessories.
There are three golf professionals at Willie's: Shelby Thompson, who played at Claymont High; Blake Sattler, a New Philadelphia High graduate who has been on a Canadian golf tour for four months; and Willis, a PGA instructor. Thompson said she formerly worked at Brookside Golf Course in Canton.
"I like working at Willie's. I especially like to give lessons to children and women," Thompson said.
Willis said lessons for adults are $100 per lesson, and youth lessons are $65 for 45 minutes. He said it is up to the parents when they want to start lessons for a child.
"I like people to know the cost so they aren't shocked when they come to the center," Willis said.
Other information
Several area schools practice at the driving range. There are four full-time and four part-time employees.
Visitors can sit outside on benches or at tables and watch golfers hit golf balls on the driving range.
Call 330-324-5111, email williescustomgolf@gmail.com or visit the Facebook page.