Sharon Moravian to celebrate with longtime holiday tradition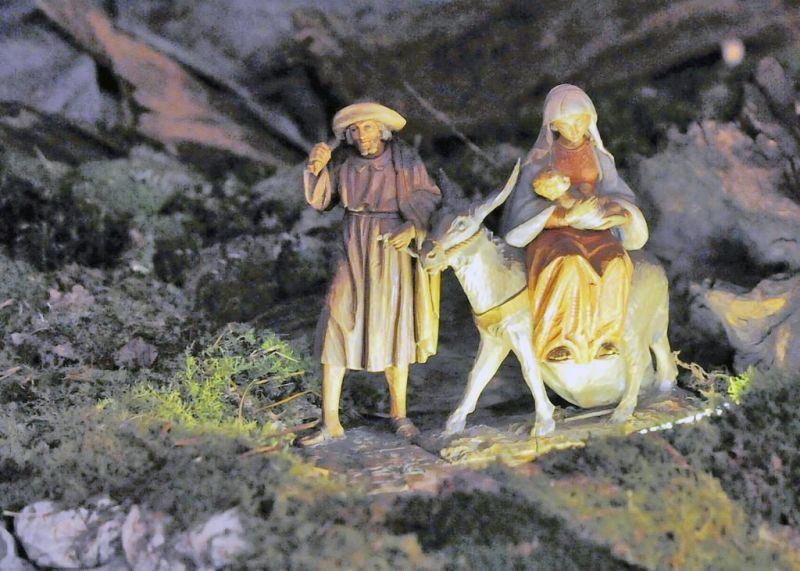 It was a rare year in which Sharon Moravian Church missed presenting its famous Christmas tradition in 2018, but the church is once again offering its traditional Moravian Christmas Putz (pronounced the same as "put") for four weekends through December this year.
The Christmas Putz is likely one of the longest-running holiday traditions in the state of Ohio and one of the few putz displays to be seen anywhere in the United States. Sharon Moravian began the presentation in 1966.
A "putz" is a Moravian custom, and the word, which has origins in the German "putzen," means to shine up or polish. In this case the word has 16th-century derivations meaning "to decorate" and is strongly associated with the decoration of churches.
Eventually a group of stationary figures used to illustrate the first Christmas manger scene took on the name "putz," and just such a scene will be a part of the Sharon Moravian event.
"The congregation feels a strong sense of responsibility to keep the tradition of the putz going," Melissa Shamel of the church said. "And you feel like you have to get all the details just right. Should this part face this way? Or that way? Where should this be positioned exactly? You try to get it all perfect because so many people have spent a lot of time putting this together. It takes a lot of time and a lot of man hours."
Those who are charged with building the structure each year have carefully labeled each component so the knowledge of how to build it will continue no matter what. "And after Christmas the pieces are wrapped in tissue and locked away safely until next year," Shamel said.
The families at Sharon Moravian have deep ties to the putz and all it represents to them.
The putz presentations are Dec. 6-8, 13-15, 20-22 and 27-29. It is available for regular presentations on the four Fridays and Saturdays from 7-9 p.m. and the four Sundays from 2-4 p.m.
"We can also arrange for any special viewing at any time," Shamel said. "There are 14 small scenes in total at each 20-minute performance."
The presentations are 20-25 minutes long. All the presentations are free, and cake is served afterward.
"The putz at Sharon Moravian used to be a very big draw during Christmastime," Shamel said. "Schools would send classes, a lot of church groups came, clubs and other groups. It has always been a very big deal."
With families having less time for holiday traditions, the crowds have gotten smaller. "We're always trying to find new ways to bring people to see it. Among the putz displays in Ohio and Pennsylvania, ours is surely right up there with the best you'll find," Shamel said.
The putz consists of music and narration with scenes made up of hand-carved wooden figures, almost all from Oberammergau, Germany, noted for its carvings and as home to one of the world's oldest running passion plays. Many of the other figures used in the putz come from the Holy Land. The 14 scenes are revealed in increments throughout the presentation.
"The displays are scheduled for two hours, but you aren't there the whole time." Shamel said.
Still, it is harder to find audiences and harder to find volunteers to keep things going. The members of Sharon Moravian Church, who devote so much time and effort to presenting the Christmas Putz every year, hope the community will come.
For more information or to schedule a special presentation, call Sharon Moravian at 740-922-5507. Sharon Moravian Church is located at 4776 Moravian Church Road SE in New Philadelphia.