Dickcissels are always a June favorite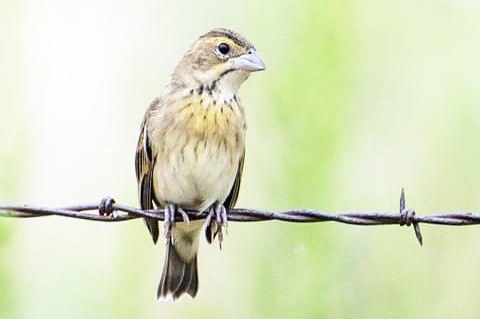 If you page through "The Sibley Guide to Birds," you will find dickcissel nestled between grosbeaks and buntings. It seems to be there by itself.
As June rolls around and the excitement of May birding is over, I usually have two things that occupy a lot of my time. I have been doing Breeding Bird Surveys for decades, but this year the entire national project is canceled. Secondly, I usually find myself spending part of most days volunteering at the local Mennonite Central Committee thrift shop. That is not an option this June, although they are hoping to open the shop again in some form later this summer.
Back to dickcissels, which have been reported recently in small numbers in the Bobolink Area, especially in Holmes County. Here in Northern Indiana we can drive down almost any rural road with hay fields and hear multiple dickcissels. Looking at the range map for this distinctive sparrow-like bird, it is easy to see why Ohio has less dickcissels. Their nesting range covers the middle section of our country, gradually thinning out in Indiana and further east.
Dickcissels also vary in abundance from year to year. Some years they seem to be everywhere here in Indiana, but there are years when they are harder to find. I seem to remember that from Ohio as well. Dickcissels also can show up as vagrants in other seasons. At any rate, you might try to find and watch/listen to this delightful summer bird this June.
Checking the phone hotlines and Facebook birding pages, I found reports really slowed down the last two weeks. Birders again have been fortunate to find cooperative king rails at Force Road in the Killbuck Marsh Wildlife Area. I still have not found a king rail in Indiana. As is to be expected, there have been a few blue grosbeak reports. A friend of mine here in the Goshen area found five blue grosbeaks along a 2-mile section of road about an hour west of us. That certainly is unusual for Indiana.
Medina County birders have had three unusual birds located in their area recently. A glossy ibis and a least bittern were observed at Chippewa Inlet Trails. There also were two black-bellied whistling-ducks sighted in Medina County last week. A laughing gull drew birders to Alum Creek Reservoir, on the north side of Columbus. Bell's vireos continue in the Columbus area, and there was one singing south of us in Indiana. Black vultures are showing up at times far north of their normal range, as evidenced by a nice video of two circling near Interstate 90 in Northern Ohio.
Mississippi kites are back again in Ross County, Ohio, where they nested previously. The kites are on private property but have been viewed from nearby roads.
One of my solutions to having more time than usual this June has been to do some birding at least one day a week in a county a bit further from home. Last week I spent a morning in Whitley County, about 45 minutes from Goshen. I had never birded there before and enjoyed walking trails in three nature preserves, owned by the ACRES Land Trust.
Good birding and stay safe.
Email Bruce Glick at bglick2@gmail.com.