January's been a great month for birding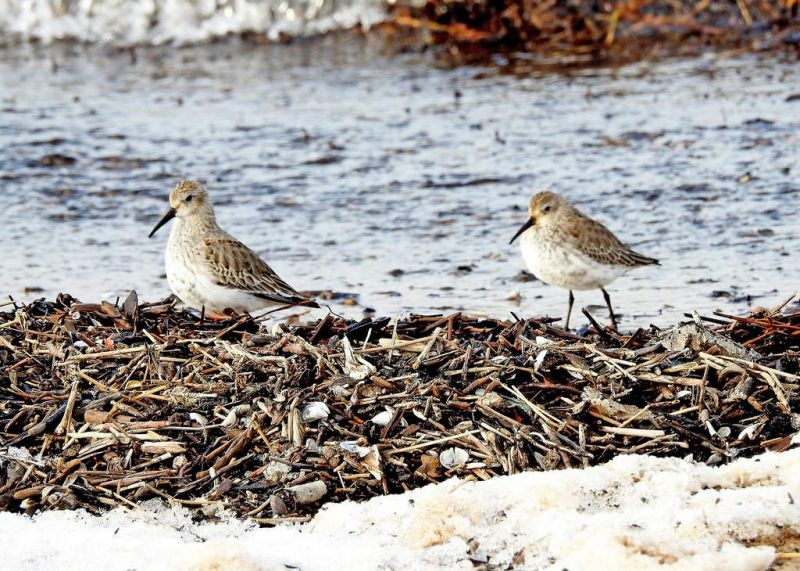 Over the last several weeks, I have done more driving than has been the case for most of the past year. I'm still driving alone while looking forward to the time when it becomes safe to be in the same car with other birders.
I've made it up to the birding areas along Lake Michigan, where there have been some interesting birds. Seeing three active dunlin along the shore at Miller Beach made me think I was in Florida for a moment. After a long beach walk, I was rewarded with nice looks at a harlequin duck that has been around for several weeks, although I missed it on an earlier trip.
The Port of Indiana continues to be productive. Once a birder shows proper identification, it is permissible to drive through the port area, which is bustling with trucks of all sizes and huge piles of everything coming and going from the ships in the port. At the end of the busy road is the small public park where birders can scan the harbor for birds.
The western grebe that has been present for weeks was still there, sleeping among a group of scaup, goldeneye, bufflehead and red-breasted mergansers. The prize for the day was a white-winged scoter that flew in and landed next to the other ducks.
One of my favorite outings of the month was to the Elkhart County Landfill. I was fortunate to be there at the same time as several excellent Indiana birders. We had good looks at glaucous, Iceland/Thayer's and lesser black-backed gulls. A flock of 90 greater white-fronted geese flew by, coming from the north and heading south. That is a very unusual sight in this part of Indiana.
On the way home, a northern harrier was swooping low over the grassland at Reynold's Creek. I had tried twice before — the third time was the charm. At the small town of Wyatt, I finally located five Eurasian collared doves. We haven't been able to find them in Goshen this January. At our place, a chipping sparrow showed up Jan. 23 and seems to be staying around, although it mainly visits the birdbath.
I've made three trips to the Pigeon River Fish and Wildlife Area recently. A golden eagle has been seen several times, although I have not located it yet. I did see the yellow-throated warbler that has been coming to a feeder east of Lagrange. Red crossbills are being reported fairly often at Pigeon River, but they move around a lot and one has to be lucky to find them.
Sam Plew, a Lagrange County birder, found a common grackle on Jan. 24, giving him 100 species in the county for January. The previous record was 88 as far as I know. Several local birders are trying for a big year, encouraged by all the birds that have been found in January.
If you want to keep up with local birds in the Bobolink Area, be sure to call the Bobolink Area Hotline at 574-642-1335.
Birds recently reported there included all the unusual geese, something that doesn't happen often. Redpolls and evening grosbeaks also are being reported, and a snowy owl was briefly at the Mansfield Airport. A rock wren was recently found, but the bird is at a private location and not accessible to birders. The northern wheatear continues at the Upper Sandusky Reservoir, and a black-headed gull has still been seen in the Cleveland area.
Good birding.
Bruce Glick can be emailed at bglick2@gmail.com.