May birding is off to a great start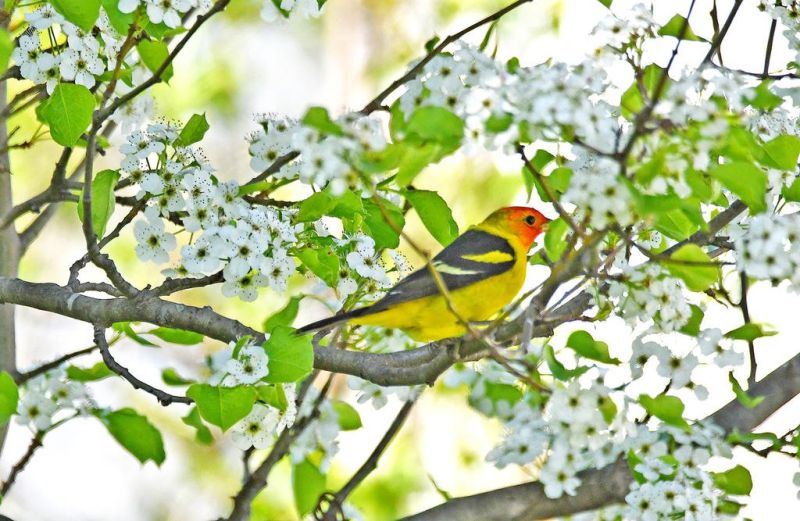 For the last two weeks, I have been fortunate to see a lot of interesting birds. We are basically staying at home except for walking and birding, away from groups of people. There have been interesting birds to see without traveling far from home. Some of this may be because people are getting outside and enjoying looking for birds including new birders who have just gotten started in recent weeks.
During late April we had a run of rare birds here in the Goshen, Indiana area. One morning there was a neotropic cormorant just across the lake from our place. At about the same time, we had a black-crowned night heron for one evening. Even better was a little gull that entertained us one afternoon at the Wakarusa Wastewater Treatment Facility. It was soon gone, but 10 days later either the same bird or a second little gull showed up at the same location. There were up to 400 Bonaparte's gulls at Wakarusa.
After hearing about the Holmes County Smith's longspur, we were on the lookout locally as well. Sure enough Gary Chupp found Smith's less than a mile from his place east of Goshen. He arranged for other local birders to see the birds. Staying a good 10 feet apart, we walked across the field and were fortunate to see 32 Smith's, both in the field and flying overhead. This was a highlight for all of us.
As good as that was, the Smith's probably was trumped by a male lark bunting that spent close to three weeks at a farm east of Goshen and south of Middlebury and Shipshewana. It took us a while to find the bird after it was described by a man who had seen the bird around his place. Once we found the bird, over 300 birders got to see it over the next several weeks.
We got a call one day from a friend who had located a whooping crane south of Goshen. Birders are asked not to give out the location of whooping cranes that show up in Indiana. We took some photos and sent them to the appropriate people who knew which bird this was and were glad to know where it had been seen. It was a first-year bird, and it didn't stay long.
Recently we spent an evening at Pigeon River Fish and Wildlife Preserve, where we heard three different whip-poor-wills. While listening for the birds, we heard an American bittern calling/singing from a nearby marsh. This continued for at least 20 minutes. I have not heard this very often over the years. Later we also heard a least bittern at a known nesting area at Pigeon River.
I'm writing this column on May 11, a day that included a trip to Wakarusa to see short-billed dowitchers and a visit to a private home (in the yard), where a summer tanager was visiting the peanut feeder. Two days earlier we had been hosted at another backyard where a western tanager favored the grape jelly feeders. Today we also saw a photo on Facebook/Elkhart County of a second western tanager close by in Elkhart.
Meanwhile, right here in Goshen at Fidler Pond today, we had an adult male surf scoter, three black terns, a late common loon and 17 fly-by Forester's terns. A mourning warbler was the best bird at our brief stop at Chain of Lakes State Park. What a day.
Good birding and stay safe.
Email Bruce Glick at bglick2@gmail.com.