Learning how to embrace life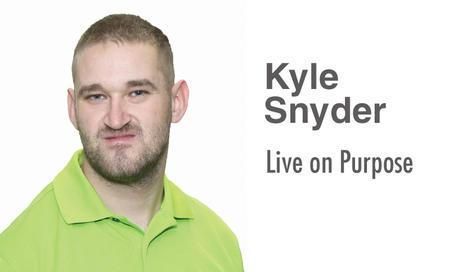 "The remarkable thing is, we have a choice every day regarding the attitude we will embrace for that day." —Charles R. Swindoll.
At a time when I was young and between jobs, I found myself working at the gas station in Clark. It was just a few hours a week.
I would sweep the lot, fill up the pop machines, put windshield-washer fluid in the small containers between the pumps and make sure there were paper towels there as well. I did pretty much the odd and end things that needed to be done. I loved my job there, but unfortunately, it didn't give me enough hours, and I was only there about a year and a half.
One day I saw a man walking down the street with a backpack and wearing real dirty, old clothes. It looked like he'd been sleeping in them for days. I just made the normal observation that he was a hobo.
Then I noticed the sign at the top of his backpack. It simply read "love life" in big, bold, red letters. He walked up to me and asked if I knew where he could plug in his phone. I showed him inside where he could plug it in. He told me he was going to be interviewed by a radio station in Akron about his walk across America. My eyes got real big, and I wanted to know his story.
He dealt with unimaginable loss in his life. His son killed himself, and his daughter died from a drug overdose, both within a short time. He had been a pretty successful businessman in the past. He walked away from a successful business he owned to walk across the country telling people life is worth living. He was on his fourth walk across America. He walked straight across the first time. Once, he walked diagonally across, and then he walked the entire border of the country. When I talked to him, he was on his fourth trip, but I'm not sure what his route was that time.
I recently thought about that man for the first time in probably 13 years, after I began thinking about embracing life. It got me to wondering, how are you doing at embracing life to the fullest now?
I know right now is not the safest time in America's history, but we can still go and meet with people one on one, be with family, start writing the next great American novel, have game night with people. In other words, do things within reason. If we can't go out due to our heath, start calling people and have a good time talking with them on the phone. We can embrace life while social distancing.
We don't have to go sky diving or bull riding to embrace life. It can just be as simple as learning how to accept ourselves, knowing who we are and embracing ourselves for who we are. We are not what other people say we are, but we are who the Lord says we are. If we keep running around, going by what people say about us, we will never fully embrace our life.
Let me encourage you to read the Bible every day. Start with Matthew, Mark, Luke and John and pray for God to lead you and give you wisdom. It will take time, and in my next column I will talk more about accepting oneself. Until then, take steps to embrace your life.