A classic cheesecake recipe is still a favorite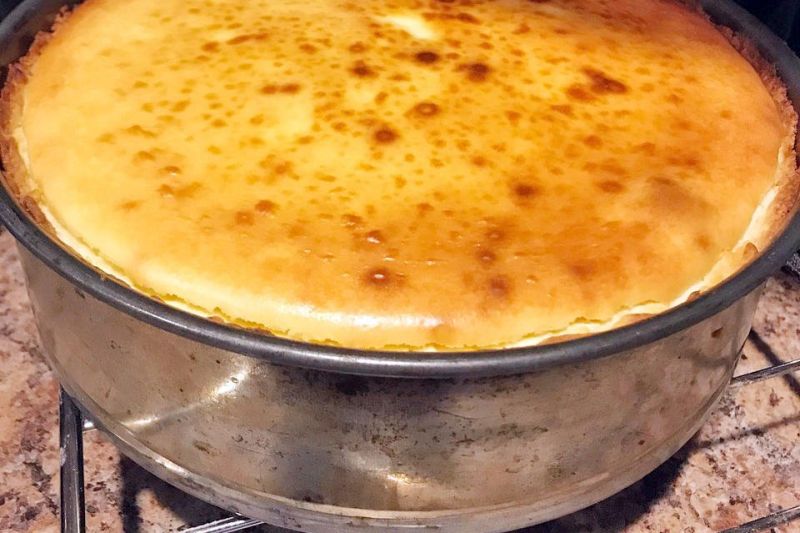 If I say the word "cheesecake" to 10 different people, they will probably have 10 somewhat different images in mind.
Cheesecake recipes have been a favorite of home and lifestyle magazines for decades, and whatever your mom picked out from among them is probably what you think of when you picture a genuine cheesecake.
While I fondly remember my mother's concoction in a rectangular glass baking dish that was a thick layer of buttered graham cracker crumbs, a no-bake cream cheese center covered with cherry pie filling, I know now it was an easy break room recipe exchange variation of the real thing.
Some time ago I tried to replicate a lost recipe for the classic New York cheesecake, and it failed. It came from a bogus food blog, and I should have known better from the ingredients list.
The recipe I was after was for Lindy's cheesecake, from a now-gone bakery in New York City. It would be easy to mistakenly refer to this as the original cheesecake because the dessert is so closely associated with that city. But cheesecake is a very ancient creation indeed.
The Romans found cheesecake in Greece when they conquered it in the fifth century B.C. Variations of it have been made since with the more recognizable versions originating in the 1700s.
In New York there was a Ruben's Deli that made an excellent version that was then adopted and made famous at Lindy's.
Many Ohioans will remember Lou and Hy's Deli in Akron and sadly lament the passing of such a great source for cheesecake, among other magic. You may find this recipe to be something approaching the deli-style cheesecake you remember.
I made one over Labor Day weekend, and it came out beautifully, without so much as a crack.
Some people don't care for a lot of lemon flavor, so you may want to go easy on the citrus, which I have already reduced from the original by half. This version was revived by Saveur magazine several years ago and featured a butter cookie crust and no graham crackers. You'll need a spring form pan.
LINDY'S CHEESECAKE
Crust:
1 cup all-purpose flour
1 stick butter, softened and cubed
1/4 cup sugar
1/2 teaspoon lemon zest
1 egg yolk
1/2 teaspoon vanilla extract
Filling:
5 eight-ounce packages full fat cream cheese, softened
1 1/4 cups sugar
3 tablespoons flour
3/4 teaspoon lemon zest
3/4 teaspoon orange zest
1/2 teaspoon vanilla extract
5 whole eggs, plus 2 egg yolks
1/4 cup heavy cream
For the crust, mix all ingredients together in a bowl and press with your fingers until a dough forms. Divide the dough in half, wrap each in plastic and chill for one hour.
Preheat oven to 400 F, separate the bottom from the spring form pan and press one of the balls of dough onto the bottom, spreading it evenly. Bake for 10 minutes or until it barely begins to brown. Remove and cool. Reassemble the pan and press the remaining dough around the sides.
Increase oven temperature to 500 F.
Using a large mixer, beat the cream cheese, sugar, flour, citrus zests and vanilla until combined.
Add the eggs and yolks, one at a time until the mixture is smooth and creamy. Beat in the cream at the end.
Pour the batter into the pan and bake at 500 F for 15 minutes, until the top shows signs of browning. Reduce the heat to 200 F and bake one hour more, until the center is set. Cool, remove the outer ring and chill overnight.