Having good 21st century manners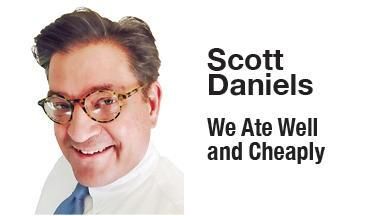 I wonder if we truly appreciate the convenience of having so much information available online, with the ability to find out anything at all in a few seconds. That is especially true when we are looking for a place to have dinner.
You can easily find all the information you need about a restaurant you haven't tried. In a twinkling you can read the full menu, see some pictures of the inside, maybe see some of the staff, get a feel for what you should wear and see if the menu is appealing. This is a far cry from just showing up and risking it or calling the place in advance with questions.
A couple of important pieces of information you can easily acquire with little time or effort is whether or not a restaurant asks you to make a reservation and what time the kitchen closes. Of course, the big chains are pretty straightforward. Just show up and wait in line, even if you're nearer to closing time than you should be. They're prepared to serve a lot of diners and are staffed to handle latecomers.
If you're thinking of having a nice dinner at a single-location, small, upscale place that suggests reservations, you should by all means call in advance or use their online booking option if offered. Reservations help staff prepare for the number of tables they will need to serve and schedule everyone so the kitchen isn't slammed all at once.
This is the sort of place that does not have staff rotating in and out, and most of them are there the entire day, from early prep before service to closing time.
The host will make sure everyone has ample time to enjoy themselves while also helping the folks at the back of the house get their cleaning finished at a reasonable hour so they can get off their feet after a 10- or 12-hour shift. Letting them know you're coming is common courtesy and good 21st century manners.
What may not be the best practice is to decide to have a big late night meal and show up at such a place without a reservation 30 minutes before the kitchen closes. If everyone has done as they're supposed to, by that hour cleanup has begun.
If you walk in at 8:30 p.m. knowing the kitchen closes at 8:30 p.m., you're going to be served an excellent meal and be well taken care of, but no one in the building is going to name their children after you, either. Your server will smile and make you feel welcome because it's their job to smile and make you feel welcome, even if their feet are swollen and they have a sick child at home. They really do want you to have a great meal and leave smiling.
Imagine you're at work, it's 4:15 p.m. and your day wraps up at 5 p.m. You're already thinking about getting home to your family, what you'll have to eat, what you'll watch on TV and what chores you'll have to do before bed. That glass of Cabernet is already calling. Just at 4:45 p.m., in walks a supervisor.
You'll need to stay an additional two hours, eliminating the possibility of completing some errands you'd hoped to pull off after work and stretching the day when you were ready to just get the heck out of there and go home already.
Sure, it's a chef's job, a server's job, a dishwasher's job, to feed and care for everyone who comes in looking for a good meal. Your job, as a customer, is to be respectful of the lives of others and plan to arrive in plenty of time to eat and get out before the bell.
Pay attention to where you're planning to eat and what that means for you as a customer so you can get the absolute best experience possible while also helping to ensure they're
glad to see you next time you walk through the door.