It isn't easy to find recipes for stuffed game hens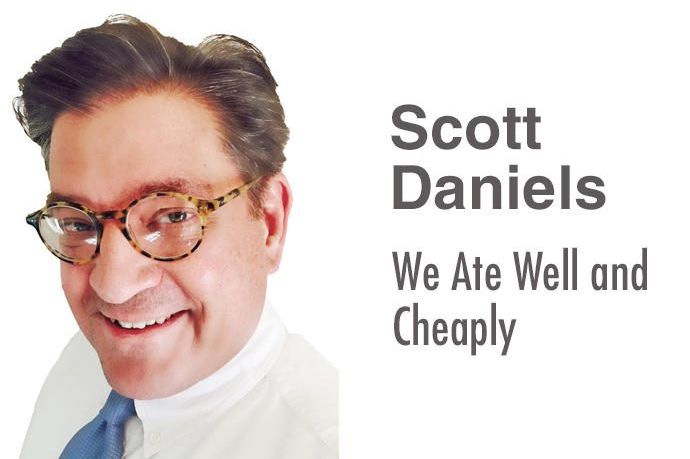 "What if we got just a turkey breast?" I asked. "We could brine it and the whole works beforehand, just like a whole bird."
"But then we wouldn't have the stuffing."
"I could put some of the stuffing under the breast while it cooks, and the rest in a pan. It would be almost like the real thing."
"Except nothing like the real thing. It would look like something out of the warm deli case."
I said, "I don't think we can do a whole turkey. I don't think turkeys can be had in the 2- or 3-pound range. Those would be like Thanksgiving Easter peeps."
And so we arrived at what is shaping up to be our Thanksgiving holiday dinner: stuffed Cornish hens.
"Can we each have our own whole little bird, full of stuffing and some extra on the side?" she asked.
"Yes," I said. "And we can put them at opposite ends of a big platter, surrounded by fruits and nuts or cheese or something."
"That sounds Frenchy and pretentious. It's perfect. Let's do it."
It isn't so easy to find recipes online for stuffed game hens, surprisingly. There are quite a few, yes, but the photos attached to them are of pale-looking finished birds, as though they'd been microwaved with a mayonnaise-smeared paper towel. I want a finished platter with little mahogany birds at each end, looking like it should be the center of a big Bavarian hunting lodge table with taxidermy foul blurred in the background.
Cornish hens, sometimes called rock Cornish game hens, are actually a breed of chicken that doesn't get bigger than a couple of pounds at maturity. For their size, they tend to be kind of pricey, but I found a pile of frozen, little hens at a special price a few weeks ago and grabbed a couple of them, intending to make them as the recipe I'm sharing with you today, one I've made several times and is delicious.
With our roast birds, all we will lack is the smell of roasting turkey in the oven for half the day, which is no small sacrifice in favor of eschewing mountains of leftover turkey. Maybe we'll steal a wing from a turkey when no one is looking, just for the smell.
This is from Julia Child's Menu Cookbook. The blending of mushrooms, white wine and Swiss cheese is fantastic. You'll make a stock and sauce to go with as the birds cook.
CORNISH GAME HENS IN WINE
2 game hens, about 1 pound each
For the sauce:
1 tablespoon butter
1 medium carrot, chopped
1 medium onion, chopped
1 cup chicken stock
1/2 cup dry white wine
1 bay leaf
1 celery stalk
For the marinade:
1 teaspoon dried tarragon
2 tablespoons minced shallots
1/2 cup dry white wine
3 tablespoons olive oil
For the birds:
3 tablespoons melted butter
1 full garlic bulb, separated and peeled
1 cup grated Swiss cheese
1/2 cup white vermouth
1 pound button mushrooms, cleaned and quartered
2 tablespoons chilled butter
Thaw the birds according to package directions. Remove the backbone from each, using a sharp knife or kitchen shears on either side. Turn them skin side up and flatten them with your hand. Reserve the backbones. Collect the marinade ingredients into a sturdy sealable plastic bag and add the birds. Allow to marinate in the fridge for 3-4 hours.
Heat 1 tablespoon butter and brown the backbone and necks of the birds, then add the carrots and onion, allowing them to begin to brown as well. Scrape the browned bits into a saucepan and deglaze the frying pan with white wine, adding to the pot. Add the remaining sauce ingredients and bring to a simmer, slowly cooking the liquid down until reduced by about half. Strain out the solids and keep warm.
Preheat your oven broiler and set the rack about 4 inches below the broiler element. Dry the birds, salt and pepper them, brush with melted butter, and place skin side up in a roasting pan. Broil them for about 5 minutes. Turn and broil them again for a further 5 minutes. Remove from the oven.
Heat the oven to 400 F and spread the grated cheese over the skin side of the hens. Strew the cloves of garlic around them and add white wine to about 1/4 inch deep. Roast for 20 minutes, then add the mushrooms to the pan. Roast for another 20 minutes.
Remove the hens and mushrooms from the pan and set the pan over a burner. Add 1/2 cup vermouth and scrape up any lodged bits. Strain and add this liquid to the sauce/stock and beat in the 2 tablespoons chilled butter. When thickened, serve the sauce with the hens and mushrooms.