Look up recipes that may be just a little bit different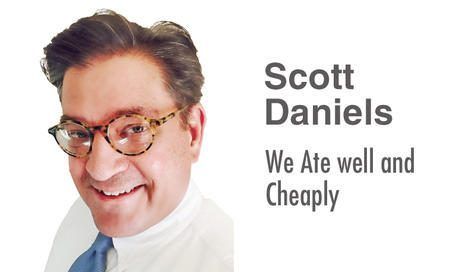 I've been doing a little thinking about our part of Ohio and about the dearth of interesting, or even odd, ingredients to be found in area markets. Because I'm a little slow on the uptake and didn't manage to get through the economics class I took in college, it dawned on me slowly that markets don't carry a very big supply of real cured sausages or fun spices because there's obviously not that much demand.
I suspect relatively few of you are sitting at home wistfully cursing the lack of sea urchin or smelly French cheese. Most of us are planning meals around meatloaf or chicken breasts, so that's what we have plenty of.
That we have the "ethnic" items we do is likely thanks to the large population of Central American immigrants who have made their home here. Supply and demand and all that.
The next thought is I may have some responsibility to get you to try cooking outside the meatloaf and tuna casserole box. If enough of us walk into the grocery store and demand to know why there is no creme fraiche, they may just start making sure it's available.
I realize not everyone collects a stupid number of cookbooks of other cuisines, but I do hope you've been encouraged, in soldiering through reading We Ate Well and Cheaply every week, to look up recipes online that are a little different.
This is a recipe that isn't all that exotic, but all the ingredients are to be found locally with no problem. You can use a lower fat coconut milk, but the results aren't going to be anywhere near as good.
Thai red curry paste provides the heat here. It comes in a small jar, and you can adjust the amount to match your taste buds. I don't find it to be at all spicy, so I add most of the tiny jar. If you want more serious heat, adapt this by adding some cayenne pepper or dicing up a serrano chili and cooking it with the onions. You also can punch up the coconut flavor by adding a half cup of toasted coconut just before the shrimp go in.
I should warn you about fish sauce — a little goes a very long way. It should add a layer of flavor, but it shouldn't stink up the house, as it did when I used too much the first time I made Vietnamese pho.
You can buy already chopped garlic in a jar, but you should always use fresh ingredients. The addition of lime juice at the end brightens the flavors, and the basil also goes in near the end as it loses its flavor quickly once it starts cooking.
I'm encouraging you to experiment here. It's a good thing in cooking but not with baking to be unafraid to go off the map, adjust the recipe and try something that sounds good to you.
And let your favorite market know you want to try new things.
THAI COCONUT SHRIMP
1 14-ounce can unsweetened
coconut milk, full fat
2 tablespoons vegetable oil
2 teaspoons Thai red curry paste
2 garlic cloves, minced
1 tablespoon finely minced
ginger
1 red bell pepper, sliced into
strips
1 medium yellow onion, thinly
sliced
1 pound shrimp, peeled and
deveined, tail removed
1 tablespoon brown sugar
1 teaspoon fish sauce
1 cup peeled, seeded tomato,
chopped into 1/2 inch
pieces
1/3 cup fresh basil, rolled and
cut into strips
3 tablespoons fresh lime juice
1 teaspoon kosher salt
1/2 teaspoon fresh ground pepper
When you've opened the can of coconut milk, whisk it well as it will have separated in storage. It should be creamy and all the same consistency.
Heat the vegetable oil in a heavy-bottomed pan and add the onion, cooking and stirring until they're translucent. Add the garlic and ginger and cook for about 2 minutes, being careful it doesn't burn. Add the curry paste, brown sugar, coconut milk, fish sauce, red pepper and tomato to the pot and bring all to a simmer. Cook for about 10 minutes until the vegetables are tender. Add the shrimp and basil and cook until they've turned pink, about 3 minutes. Add the lime juice and taste for salt and pepper, adjusting as needed.
Serve with sticky white rice.