No fan of the name, but a real fan of the team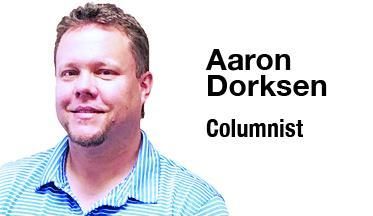 A few thoughts from the week in sports …
I've been a Cleveland Indians baseball fan for as long as I can remember.
Despite the name change to Guardians, I still root for our Cleveland ball club and follow it as much as time allows. I just don't plan on buying any of the "new" merchandise and don't agree with the new moniker.
The point of this column isn't to rehash the name change debate, but to celebrate how well the surprising 2022 Cleveland baseball team is playing.
Despite having the third lowest payroll in baseball ($68.2 million), Cleveland won the first game of its series against the first-place Minnesota Twins that started June 21. The Guardians edged the Twins 6-5 in 11 innings and as of Wednesday morning were actually percentage points ahead of Minnesota for first in the division.
The AL Central rivals played a three-game series. The Guardians then headed back to Cleveland to start a 10-game homestand, which will bring the Red Sox, Twins, and Yankees to town.
Fresh off winning a series at the Los Angeles Dodgers, who have a $260 million payroll, the Guardians have won 16 of their last 20 games after Tuesday night's win.
I'm not a fan of owner Paul Dolan, but I give lots of credit to the front office that put this team together, manager Tito Francona and the selfless players who go out and scrap each and every night.
Jose Ramirez is arguably Cleveland's most popular current pro athlete. He always gives 100 percent, is a great all-around player and actually wanted to re-sign here.
At just 5-foot-9, Ramirez is an endless fountain of excitement, hustle and swagger.
The third baseman is having one of his best seasons, batting .305 with 16 home runs and an American League-best 62 RBI and four triples entering the Twins series. He's only struck out 20 times.
It's extremely rare for a player to have more homers than strikeouts, happening just twice in the last 65 years: Barry Bonds (2004) and George Brett (1980).
Ramirez has a chance to join that list, but let's hope his recent bruised thumb injury heals quickly.
Ramirez makes me smile as a fan because of his performance and antics. Some games he wears a necklace that has a locket, which has a picture of himself wearing a necklace. That kind of self-love would be annoying if it wasn't a player as likeable as Ramirez.
Second baseman Andres Gimenez (.302, 7 HR) and recent call-up Oscar Gonzalez (.337) have been fun to watch. It's been good to see left fielder Steven Kwan bounce back recently after a red-hot start followed by a big slump. Closer Emmanuel Clase is making a bid for the All-Star team, while Shane Bieber leads a good starting staff.
I became a diehard Indians fan rooting for teams that were pretty bad in the 1980s, but guys like Rick Manning, Joe Charboneau and Lenny Barker were larger than life.
As an adult fan I understand the economics and, unfortunately, politics of baseball. This Cleveland team might still wind up around .500, but win or lose any day at Progressive Field is a good day when you're with family and friends.
I'm looking forward to heading up to the corner of Ontario and Carnegie soon to root on a fun group of players, while wearing an old Indians shirt.
WCSHOF IS BACK – After COVID-19 shut down the Wayne County Sports Hall of Fame induction banquet in 2020, I'll help enshrine that class as one of the WCSHOF trustees at the Greystone Event Center in Wooster on June 24.
It's an outstanding class featuring men and women who have made extraordinary contributions as athletes, coaches and administrators.
The WCSHOF Class of 2022 consists of Tom Brenner, Nicole Camp, Paul Dodez, Mike Gallagher, Whitney Hooley Hofstetter, Kyle Kauffman, Matt Palm, Josh Piatt, Shelton Riffle and Jared Zwick. Jack Miller will be honored with the WCSHOF/Harold Oswald Special Contributor Award.
To read the inductees' biographies, go to waynecountysportshof.com.
The WCSHOF was founded in 1975 and this will be the 23rd induction class.
TOP SENIORS HONORED – Continuing a tradition that started in 1986, the WCSHOF is once again compiling a list of the top high school senior athletes from each school. The WCSHOF asks schools to select the most outstanding male and female athlete from their school.
Here are this year's winners: Emma Mast and Dakota Kerby (Central Christian), Naomi Wertz and Christian Moyer (Chippewa), Mia Weaver and Jaden Schlabach (Dalton), Arianna Borton and Weston Arthur (Northwestern), Andrea Maibach and Colby Morlock (Norwayne), Ainsley Hamsher and Tyler Schroer (Orrville), Isabelle Shreve and Bryce Holmes (Rittman), Brooke Fatzinger and Carter Fath (Smithville), Hailey Massaro and Cameron Soss (Triway), Brooklyn Yoder and Peyton Lemon (Waynedale) and Gracie Chelf and Micah McKee (Wooster).
PARTING SHOT – The Golden State Warriors' Steph Curry has played himself into the argument to be called one the NBA's all-time top five players.
Curry led the Warriors past the Celtics to win their fourth NBA title and was the leading scorer for either team in five of six games. He was annoying to watch as a Cavaliers fan during their Finals matchups, but you have to give credit where credit is due.
Curry is arguably the best outside shooter in NBA history and has changed the way teams play basketball all the way down to the high school and youth level. The old style of making it a priority to get the ball into the post seems as archaic as a rotary telephone. Basketball is now drive-and-kick, or create your own triple try, with 3-point shooters taking aim from well beyond the arc.
Curry is much more than a shooter, though. He's also a great ballhandler, passer, finisher near the rim and sneaky good on defense. And, he's now tied with LeBron James with four titles apiece.
At only a height of 6-foot-2, Curry has revolutionized the game.
Aaron Dorksen can be emailed at aarondorksen24@gmail.com.