Pollination station is a place for monarchs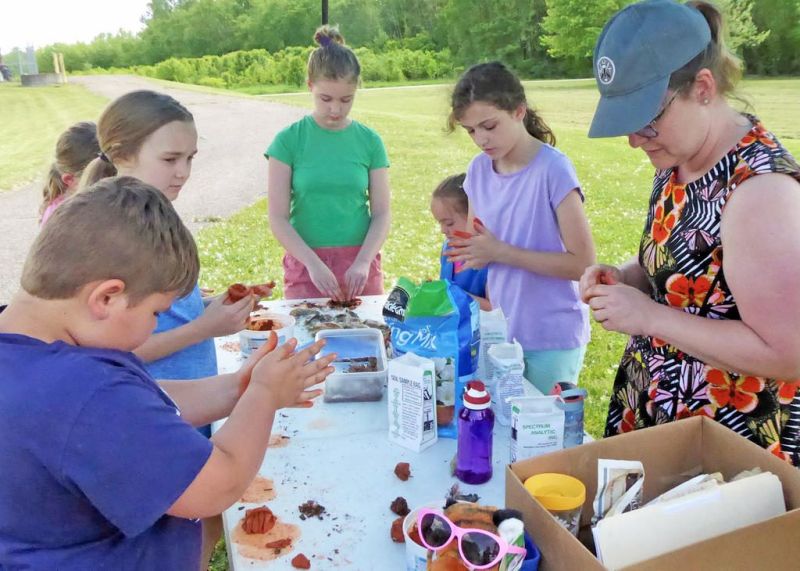 With a spring as lovely as we've had this year, it's extremely gratifying to take whatever opportunity we can to get outside and enjoy it. It's even more satisfying when those opportunities have a conservation focus, and it's even better when we get to bring in new friends and partners to work with us on these goals. Lucky enough for us, we recently embarked on a win-win-win project that checked all of those boxes and more.
It's been several years now since Soil and Water Conservation Districts across the state have partnered with other state and federal organizations to emphasize the need for pollinator habitat re-establishment. Every fall we host a drop-off location for milkweed pods, and we work with our NRCS and FSA offices with landowners who wish to convert under-utilized property into habitat suitable for pollinators.
The conservation benefits are farther reaching than simply providing food and host sites for the bees and butterflies: Assessing the way we use our land is always an opportunity to look at the bigger picture and question whether this is the best use of our space, time and resources and where we have a chance to do something different.
Case in point: Airport Park in Millersburg. Situated behind Millersburg Electric and Save and Serve, nestled in between town and the Holmes County Trail, this park is like many other places in the Killbuck Creek floodplain: It can get very wet in the spring, and management of the grassed areas can be a challenge for the village to maintain. The Village of Millersburg has been discussing ways to continue to make sure this park is serving the recreation needs of the village and has several ideas of how to improve the facilities that are already present or change up what's there.
This caught the attention of our office, which had received a Plant Grant from the Pollinator Partnership, a group that works nationwide on building up relationships with organizations to educate and implement habitat for bees and butterflies. Their partners across the Midwest collected seed from native plants last fall, and over the winter months, they started growing seedlings that would be distributed to groups willing to plant them in new habitat sites. They sent us approximately 200 seedlings that were started from Ohio-based seed, and we needed a place to put them.
The village administrator and maintenance personnel were in agreement that it would be great to abandon some of the open areas at Airport Park that tend to stay too wet to keep mowed and don't get a lot of use by park-goers. A pollination station (a small site planted to native plants that provide food and host plants throughout the majority of the year) would be ideally situated here for people at the park or accessing the trail to appreciate.
Abundant fresh water from the river provides water for the wildlife feeding off of the new plants, and it's closely located to other fallow ground with a range of tree and other plant communities, which provide a diversity of nesting sites and contribute to the overall food web resources for many species, beyond just the monarchs and bees.
With nearly a half-acre to fill with plants, we worked with multiple groups for the hands-on labor to get this project into the ground. Local Girl Scout leaders were enthusiastic about offering their troop's assistance to get the seedlings in the ground. We also utilized a lot of native wildflower seed that had been donated to our office or collected from our own pollinator garden to make "seed bombs" with the Scouts before they got to digging.
Twenty students at Millersburg Elementary also made seed bombs in the last days of school to either take home or bring down to the new pollinator area to contribute. These "bombs" are balls of clay that have some soil and seeds rolled up inside to offer nutrients and protection to the seeds until they are ready to germinate. This is a simple little way to add many more seeds to an area with minimal supplies and equipment, and it's just messy enough for kids to have fun with.
Smaller projects like this might not seem like a major victory for conservation, given the large-scale problems with water quality, erosion, loss of farmland and wild areas our world is experiencing, but the impact of a few hours of hands-on conservation is farther reaching than the generations of butterflies that will feed on this new patch of milkweed.
New partnerships may lead to more projects. Educating children and their parents about the importance of "backyard conservation" may positively impact the next generation of landowners and community leaders. And yes, the monarch butterflies and honeybees we know and love will benefit, but so will hundreds of other species we don't see or know about as much.
If you have an interest in working on backyard conservation projects, improving habitat or managing natural resources on your property, give Holmes SWCD a call and see how we can work together to do "All You Can, Where You Can."