In Philippians 4:4-8, hope, peace, comfort are found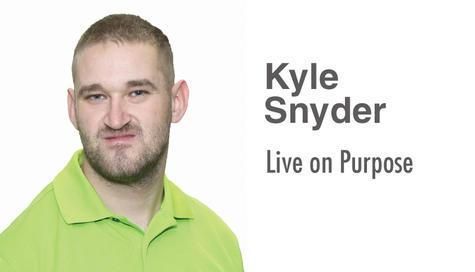 "Be anxious for nothing, but in everything by prayer and supplication with thanksgiving let your requests be made known to God." —Philippians 4:6.
One day in April, my wife and I were driving home from appointments we both had. We passed a church with a sign that read, "Worry looks around; faith looks up." Of course, being a writer, I instantly knew it would make its way into one of my columns.
Later I was visiting my folks, and the church by their house had a sign that read, "Faith over Fear." This was at the time the state of Ohio was in lockdown and people everywhere were worried about the coronavirus. This was all new for us. We have never seen businesses close down for a month or churches closed down and doing all online services, our very lives disrupted.
I took four weeks off work, by my own choice. My wife has a compromised immune system, and we just decided not to take any unnecessary risks. Before I took off, the Lord had been dealing with me about my attitude. I came across Philippians 4:4-8, and I found hope, peace, comfort and the answer for a bad attitude in those four verses. In fact, I ran into a friend at my job, and she was full of anxiety about this whole virus mess, and I told her to go home and read Philippians 4:4-8 and to just let God talk to her.
I felt like Dr. Kyle Snyder, M.D. — take four of these and call me in the morning. The next time I saw her, she looked and acted happy. It must have worked like a charm.
Philippians 4:4 tells us, "Rejoice in the Lord always; again I will say, rejoice!" One rule of thumb when reading the Bible, when it repeats itself, we should make sure we really pay close attention to what it is saying. We should look up and not around.
Too many people are looking around right now, and they refuse to look up into the face of God. It doesn't say to whine always; it says "rejoice" always. Too many of us are too busy whining to find anything to rejoice about. This time in our lives is hard, but we have a God who is leaning over the balcony of heaven, yelling "come back to me."
How do we come back to him? Verse six answers the question for us: "Be anxious for nothing, but in everything by prayer." Many of us are full of anxiety right now, and we refuse to pray. If the devil can keep God's people from praying, then he has already won hands down. The end of verse six says we need to make our requests known to God. We are too busy to pray. No, that's not right. We are too busy not to pray.
I have met people who said they don't want to bother God, but it bothers him when we don't pray. I am not saying to do nothing but pray, but remember, we each have our own hot line to God. Use it.
Verse eight has a list of things we should set our minds upon. I am just going to hit the key words here: whatever is true, honorable, right, pure, lovely, of good report. The last part says, "If there is any excellence and if anything worthy of praise, dwell on such things."
Did you know we can choose the way we think? We are not victims to whatever pops into our heads. We can either let our minds wonder, or we can think on good things. I know it can be difficult to think on good things all the time, but let me ask you, what are you letting into our mind? If we look at what is wrong with the world, then we will see only what is wrong.
A farmer doesn't plant beans in the spring in order to reap corn at harvest time. As John Maxwell once observed, "If you don't like the crop you are reaping, then change the seed you are sowing."