37 new members inducted into National Honor Society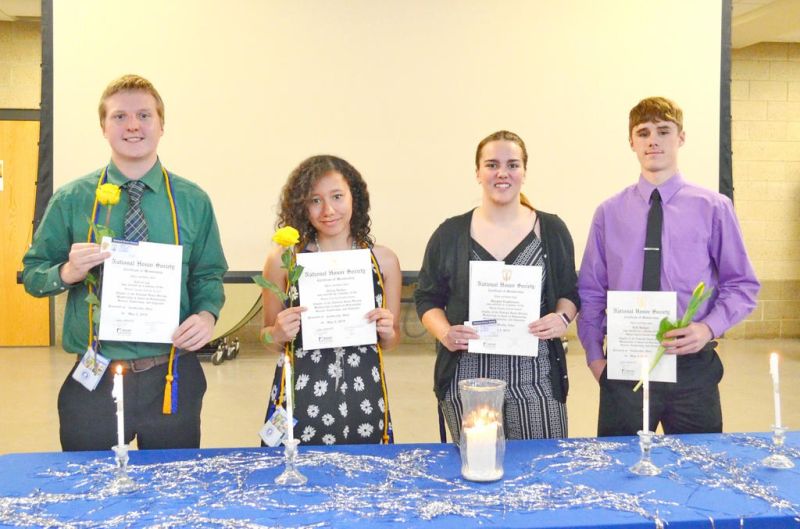 The Wayne County Schools Career Center recently inducted 37 new members into the Marie Chenevey Chapter of the National Honor Society during a candlelight ceremony, bringing total membership to 53 members.
Principal Matt Brown welcomed the group of students and their families.
National Honor Society started in 1921 and continues to be the premier club for students with outstanding high school achievement. "Being named a member of the National Honor Society takes a lot more than just making the honor roll," Brown said. "Tonight's inductees have demonstrated excellence in the NHS foundations of scholarship, leadership, service and character."
Advisor Jennifer Majka said to the parents, "Your unconditional love, guidance, support and encouragement throughout the years is a large reason why your sons and daughters are here tonight."
Majka emphasized what it means to be a member of the National Honor Society. "As Honor Society members, you are the leaders of your class and represent the very best of our school. You are Drug Free Clubs of America members, Student Leadership Council members, leaders in your trades and genuinely good people. You have a fire inside that drives you to give: to give your knowledge, to give your time, to give your energy to those who need help the most."
She introduced the faculty council, which selected the new members: Dee Black, Amber Long, Helena Ritchey, Amanda Seenes and Amy Tietz.
Influential teachers honored were Jessica Immel, Amber Long, Keri Merickel, Theresa Morgan, Debra McDonald, Beverly Squirrell and Dawn Tresch.
President Abby Henning of Dalton spoke about scholarship, Vice President Emily Cromer of Northwestern spoke on service, secretary Kaitlin Tackett of Chippewa spoke on leadership and treasurer Mackenzie Fuhrer-Hostutler of Orrville spoke on character.
Seniors received their cords to wear at graduation, and each inductee received a certificate and a rose.
Seniors inducted were Alec Praisler and Elizabeth Siders, Northwestern; Ryan Rigerman, Norwayne; Jared Huebner, Orrville; Kathryn Capela and Paige Murray, Rittman; Kalvin Ley, Ashley Rettig, Amanda Steiner, Leah Winchell and Hailey Witherspoon, Smithville; and Olivia Parker, Wooster.
Juniors inducted were Matthew Harlan and Jenna Messner, Chippewa; Shelby Lehman, Dalton; Kyle Badger, Brooke Hinton and Makayla Stormer, Northwestern; Bryce Baughman, Kayela Radford and Brandon Richards, Orrville; Danielle Williams, Perry; Willow Hatten and Hannah Weinsheimer, Rittman; Afton Brown, Smithville; Dustin Baker, Kalie Bender, Jesse Hyatt, Rylee Oberly, Abigail Rahz and Morgan Speicher, Triway; Peyton Brenner, Kamri Higdon, Jacobby Hunt and Madelon Snyder, Waynedale; Morgan Stephenson, West Holmes; and Karen LeDoux, Wooster.
Senior members inducted last year receiving their graduation cords were Markail Pay and Kaitlin Tackett, Chippewa; Abby Henning, Dalton; Amyra Bowman, Maddie Brooks, Connor Gasser, Madison Lunsford, Mikayla Morrow and Anthony Tosatto, Norwayne; Emily Cromer and Tristan Estep, Northwestern; Cameron Butler, Eric Fuhrer-Hostutler and Mackenzie Fuhrer-Hostutler, Orrville; Troy Hartzler, Rittman; and Beth Schmidt, Wooster.
A reception with refreshments made by the career center's hospitality program, instructed by Kathy Hanna, followed the ceremony.