After-school enrichment offered at Salvation Army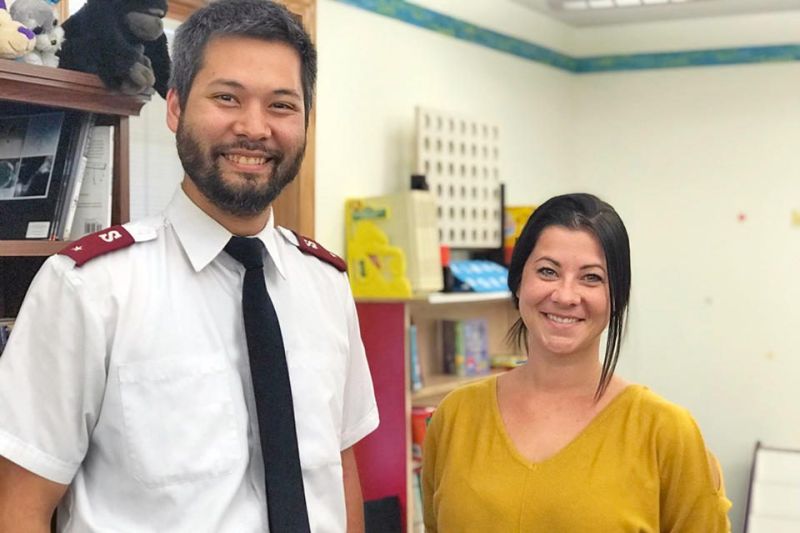 For the second year, the Salvation Army Dover-New Philadelphia Corps will offer an after-school enrichment program for area students grade k-5. The after-school program will begin Sept. 3 from 4-6 p.m. weekdays and continue through the school year.
"It's under our Learning Zone umbrella," said Andrew Allen, commander of the local Salvation Army post. "It's an extension of what we have been doing for our summer day camp. This year for the after-school enrichment program, we have arranged for transportation from all Dover elementary schools. We're very grateful to be able to work that out with them to have Dover kids transported for the program. We're in the process of finalizing similar plans with New Philadelphia schools. We'll have transport from West and South elementaries, and we're hoping to add Central also."
"We've been planning and sort of transitioning for the after-school program in recent weeks, moving from summer day camp to this," Allen said. "Kids will get a healthy snack, and then they will have some time for recreation to kind of burn off some energy from the day. We don't intend for it to be a 'second school,' but it will be fun, though there will be plenty of learning activities."
Allen said the staff is prepared to help with homework. "We recognize that both of many of the kids' parents are working long hours, and we're very happy to be able to provide area families with help and support in after-school care and in getting homework done."
Allen said the after-school enrichment program this year carries a Dr. Seuss theme. "We'll also have enrichment programs geared toward science, technology, engineering, art and math or STEAM activities. We might do science experiments, crafts or build structures from pool noodles. We think it needs to be fun and enjoyable for the students, but they'll also be learning something every day. If they don't really realize they are learning, that's a plus. They should feel like they're doing something fun after school every day."
The cost for the program is $25 for the registration fee and $25 each week per student. Part-time and full-time enrollment is available, but space is limited.
"We use a 14-seat mini bus for transportation, so we can take 14 kids from Dover and 14 from New Phila," Allen said.
Registration may be made by stopping at the Salvation Army building at 809 Emmet Ave. NW in New Philadelphia or by visiting the post's Facebook page at www.facebook.com/sadover. Alternatively one can email Allen at andrew.allen@use.salvationarmy.org.
"Last year we had maybe six or seven kids in the program," Allen said. "Then over this summer, our day camp program had 15 kids enrolled. We can really see this part of our community outreach growing bigger in the future, and we couldn't be more excited about that. The Dr. Seuss theme will be a lot of fun for the kids. There will be art projects, music, some cooking and other activities for them."
The Salvation Army website for the local corps offers information about the post's programs and activities available for the community. Find it at neo.salvationarmy.org/northeastohio/dover_newphiladelphia.