B-WISER summer camp exposes girls to science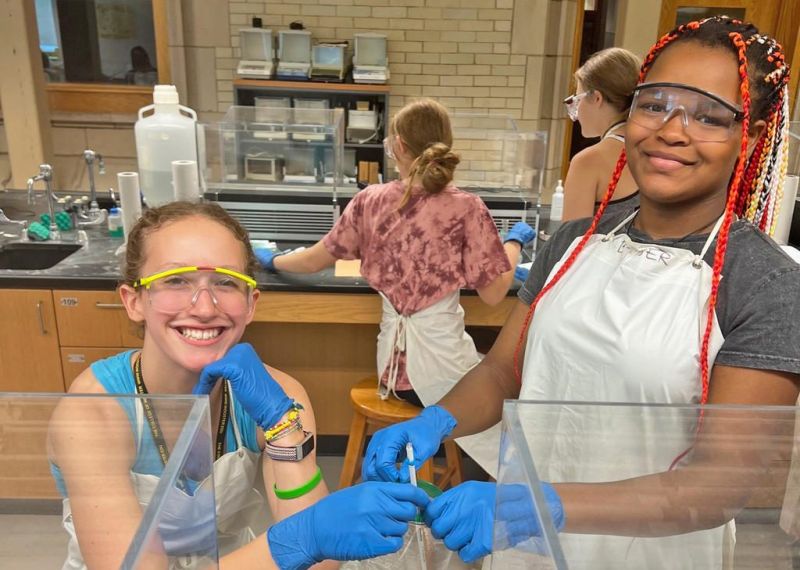 The Buckeye Women in Science, Engineering and Research summer camp, an educational partnership of the Martha Holden Jennings Foundation and The College of Wooster, will take place June 18-23 at The College of Wooster. This residential science camp invites girls completing seventh or eighth grade this year to apply with an application deadline of April 20.
Designed to encourage a demographic that is underrepresented in science, engineering and research, B-WISER pushes girls to pursue their interests in science throughout their education and career path by surrounding campers with like-minded peers and engaging them in hands-on experiments in a range of scientific disciplines.
Campers will complete a daily curriculum with classes in physics, chemistry, biology, geology, robot construction and engineering. Outside of classes attendees will continue to participate in science-based activities including hands-on projects and demonstrations in engineering, physics and chemistry.
"Getting the opportunity to participate in a week-long immersion in hands-on science will show these young women that the sciences can provide a very rewarding and meaningful approach to problem-solving," said Susan Godez, camp director.
The camp also will host career presentations that feature women with careers in science, engineering and research. Past speakers have included Dr. Summer Holmes Mason, an obstetrician/gynecologist at Wooster OBGYN; Rebecah Troutman, a natural areas biologist at Holden Forests & Garden; Denise Rafferty, an applied physics technology manager at The Lubrizol Corporation; and Julia Wood, Melissa Blischak and Anna Signorino, automotive engineers at Schaeffler Transmission Systems.
The teachers and counselors at B-WISER also have a special interest in promoting science among young women.
"The teachers, who are all females, understand what these young women need to foster their scientific inquiries. The counselors are all former B-WISER campers and are here because of what they gained from the program," Godez said.
The cost to attend B-WISER is $600, with scholarships available for students eligible for free or reduced-price school lunches. Acceptance to the camp is on a first come, first served basis. For more information visit the B-WISER website or email or call project coordinator Manon Grugel-Watson at mgrugel-watson@wooster.edu or 330-263-2105.