BCC students advancing to national conference in California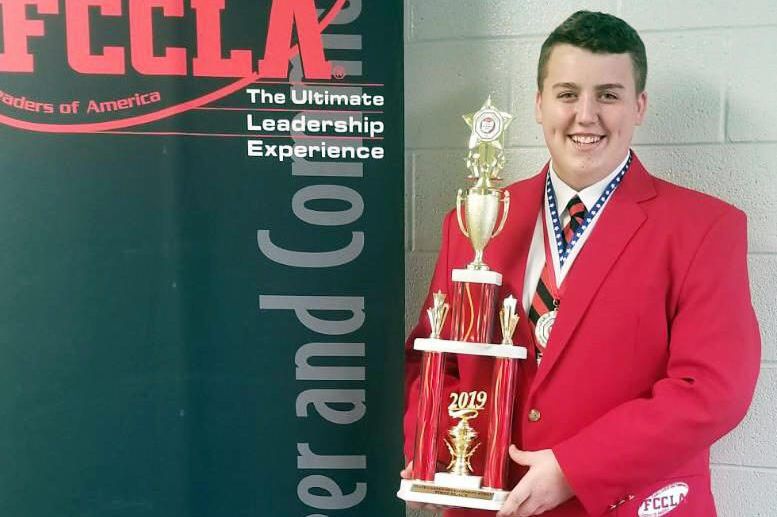 Three Buckeye Career Center students are advancing to the Family, Career and Community Leaders of America National Conference in Anaheim, California June 30 to July 4. The students all placed first in their respective categories at the Ohio FCCLA State Leadership Conference April 25-26 in Columbus.
The students going to nationals include Logan Kazelman (Dover/teaching professions) in advocacy and the team of Adrian Dotson (Garaway/teaching professions) and Angel White (Indian Valley/teaching professions) in illustrated talk. They are instructed by Melissa Long.
Kazelman's advocacy project focuses on preventing local teens from vaping. Kazelman gave informative presentations to his Dover and BCC classmates and collected statistics. He found vaping is a growing practice amongst teenagers.
"Vaping is becoming popular, and only about half of the students polled believed vaping is dangerous," Kazelman said. "That means the other half of them believe it isn't dangerous, and that's alarming."
Kazelman will present his findings at nationals in a 10-minute oral presentation.
White and Dotson's team project, "Speak Out," focuses on self-harm awareness. They presented to BCC students about the topic and had students complete a questionnaire about self-harm.
They also distributed resources. The two acknowledge the topic is hard for many to talk about. "Our goal is to help as many people as we can," Dotson said.
"We have had people thank us because it has encouraged them to get help," White said.
White and Dotson plan to present soon at the Dover Public Library and will speak about their topic on a local radio station in the coming weeks. At state the pair performed a hypothetical situation skit that featured a young girl in an abusive relationship. White played the role of the girl's bullying conscience. The two then spoke about self-harm, told personal stories and spoke about presenting to area teenagers. They will perform the same illustrated talk at nationals.
"It hasn't registered to us that we actually did this. We went from sitting in the hallway trying to get ideas to flying to California for nationals," Dotson said.
Meanwhile, Aaron Border (Indian Valley/culinary arts) also competed at state in the culinary grande manger competition. He received gold but will not compete at nationals.
FCCLA is a national career and technical student organization for young men and women in family and arts consumer sciences education.