Berlin students take time in 'sticking' it to staff members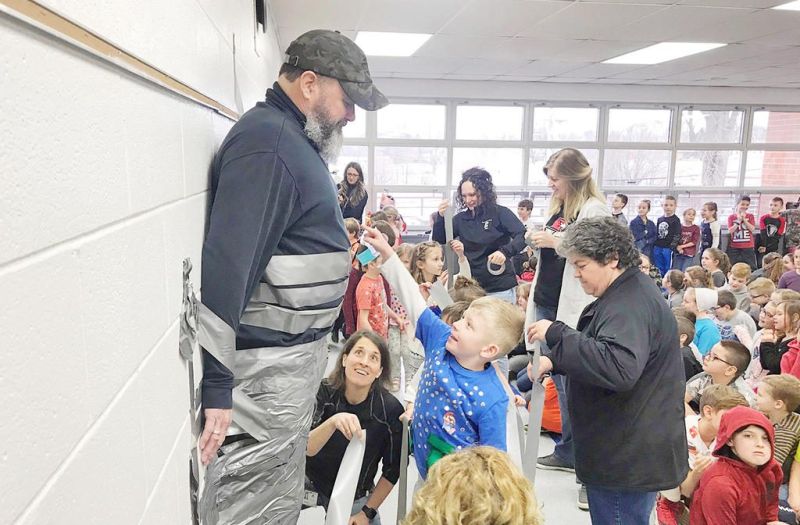 Piece by piece, roll by roll, students at Berlin Elementary took their time in duct-taping three staff members to the wall in celebration of their achieving a good-conduct goal in a recent fundraiser on Wednesday, Jan. 29.
With the event the brainchild of Berlin Elementary principal Darren Blochlinger, he joined teachers Troy Miller and Jack Armstrong in becoming the victims who would be taped to the wall.
In the fundraiser that took place in November for two weeks prior to Holmes County Share-A-Christmas, teachers' faces were put on a tub, and the top-three teachers in terms of money raised would be duct-taped to the wall at a date to be determined.
"We didn't do this in November because the kids were in the middle of earning points for their positive behavior. We eventually figured out that this day was going to be a good one because it was a late-start day and everything was already messed up," Blochlinger said.
Thus "doughnut and duct tape day" at Berlin Elementary arrived with much hoopla. Normally teachers encourage students to be quiet, behaved and respectful each day. On this particular day, the quiet part was tossed out the window as the students entered class by class to get a doughnut and take their place on the cafeteria floor.
As the student body count rose, teachers encouraged the students to chant and cheer for their favorite teachers. Cascades of Mr. M, Mr. A and Mr. B rang out loudly and often. It was a chaotic but organized celebratory event.
The fundraiser was done in conjunction with the positive-behavior points. Earlier this year the student body racked up enough points in good behavior to net them popcorn and juice. This time it was the doughnuts and fundraising efforts that brought everyone to the wall for some fun.
"The kids earned this opportunity, so we are here to follow through," Blochlinger said. "The next positive behavior will be for 20 minutes of extra recess, a little less harrowing for us teachers."
Blochlinger said he wasn't sure how long the process of giving each student a chance to add a piece of tape to each of the three teachers would take, but he didn't expect it would take as long as it did, even with other staff members pulling off a yard worth of tape as quickly as possible for each student at each of the three stops.
Students were asked to bring one roll of duct tape, and the wide array of colors made the "artwork" on the walls visually stunning. Each educator stood on a milk crate, keeping them about 1 foot off the floor. Once the taping was finished, the crates were removed to let all three hang for a few moments before the tape was removed.
"It was a lot of fun," said Miller, teacher of the Berlin 3B class, acknowledging he joked with the kids as they taped him up. "The kids really looked forward to this. They did a great job when they collected their money, and they were so excited when they came up here to tape us up. I just played along, and it was a blast. It was a great experience and a great fundraiser."
The word "fun" was not something Armstrong would attach to the experience, although the claustrophobic teacher did manage to keep a smile on his face the entire time.
"I felt trapped," Armstrong said after being freed from his sticky cage after more than 90 minutes of standing with his back to the wall. Throughout the fundraiser he heard his kids talk about taping up his rather lengthy beard. He didn't have to worry as the kids stayed away from all of the staff's faces.
"The whole time up here I kept thinking, 'OK Mr. B, this is not a good idea,' but it wasn't too bad. I made it through, and the kids had a blast," Armstrong said.
Armstrong said he tried to rig the contest so he wouldn't be among the top-three classes in the fundraiser, but that backfired as his kids went above and beyond, making his class the winning class, his 6B class bringing in $233. Miller was next with $217 while Blochlinger, who volunteered despite not having a classroom, took third with $152.
All told the students brought in $1,158.71, which they donated to Share-A-Christmas. While the day was a blast, the fundraising portion was what Blochlinger liked.
"This is all in fun, but we raised a lot of money for a wonderful cause that helped a lot of families in Holmes County, which was our main goal," Blochlinger said.
Perhaps, but the kids were more than happy with the events that took place as a result of their kind act.