Carrick Miller co-valedictorian at Ashland University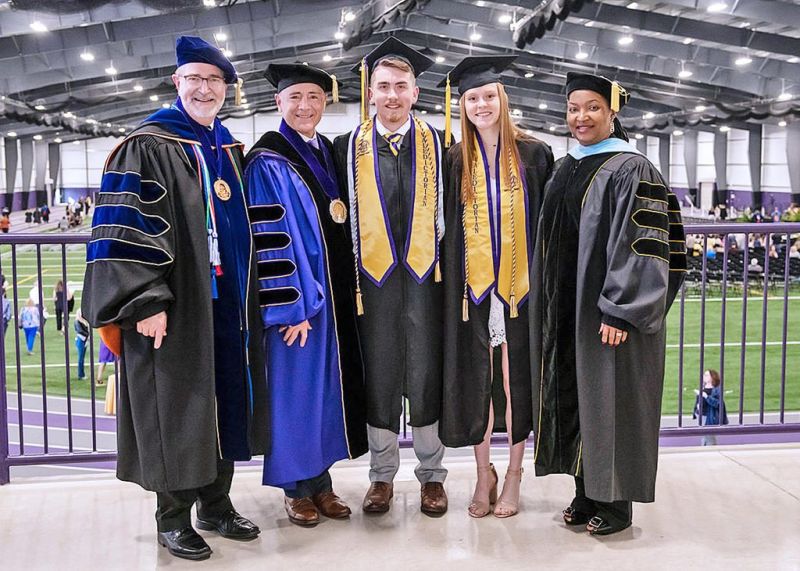 The co-valedictorians of the Ashland University Class of 2023 were Samantha Chable of Centerville and Carrick Miller of Millersburg. They were each recognized during AU's spring commencement ceremony on May 6.
Miller earned a bachelor's degree while majoring in exercise science and graduated summa cum laude. He earned membership into the Gamma Alpha Kappa — graduates who have taken all post-secondary courses at AU while maintain a 3.6 average GPA — honor society, as well as Alpha Lambda Delta (first year) and Phi Sigma Tau (philosophy). He was vice president of the Snow Sports Club and active in the Exercise Science Club, Fit Fest Challenge and Share-A-Christmas.
Miller, the son of Scott and Missy Miller of Millersburg, will continue at AU and pursue a master's degree in physician assistant studies.
Chable earned a bachelor of science degree while majoring in exercise science. She graduated summa cum laude and was a member of the Eagles' 2022-23 NCAA Div. II national champion women's basketball team, receiving numerous honors such as Great Midwest All-Academic Team recognition. Very active outside of academics and athletics, she served as a member of the Fellowship of Christian Athletes, the Student-Athlete Advisory Committee and Playersbox and volunteered for an annual Fit Fest Challenge that raised money for Project Outrun, a breakfast with Santa program, the Brethren Care Village and youth basketball camps.
During commencement Chable spoke on behalf of the AU Class of 2023. Inspired by the late AU track coach Jud Logan's saying, "What I had I gave; what I save is lost forever," she emphasized not letting any moment go to waste.
"Apply for that graduate school you have doubts about. Apply for your dream job, even if you think you need to start out small. Tell that girl on the side of the street that you like her hair. And live in a way that relentlessly pursues your passions," she said. "It is these little moments we have that make all the difference. Life is too short to doubt your abilities and not speak up for what you believe in."
Next, Chable will pursue an advanced degree near her hometown as she has enrolled in the Master of Physician Assistant Studies program at Kettering College.
"I was fortunate enough to work with Sam and Carrick in and out of the classroom. Their work in the classroom was excellent, and each ranked among the top 10% of their class," said Beth Patton, associate professor of exercise science and academic advisor to both. "They consistently demonstrated the ability to adapt to all situations. Sam exhibited remarkable leadership and service skills. Carrick interned with a physician assistant in vascular surgery and family care. They each maintained a high level of professionalism and are genuinely concerned about developing respect for the profession of exercise science."