Ellington takes on new role at Central Christian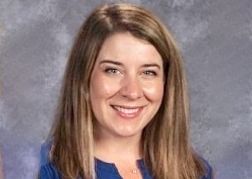 Last year Kristan Ellington worked as the kindergarten teacher at Central Christian under a one-year contract. They thought they would lose her once it was up.
Then she received a call from Central principal Craig Martin. "We found a way we could keep you," Martin told her.
It won't be in the same role, but Ellington has been hired as the new intervention specialist at the Kidron school.
Martin explained the intervention specialist position to her and how they would have some students coming in the 2021-22 school year with Individualized Education Programs. When she talked about the job opening to her husband, Matt, he said, "Special ed is your place."
Ellington taught a year in Chicago at a private school for autism, followed by two years at Dalton and then online schooling for 11 years.
Last year at Central was her first year back in the classroom. Teaching with a mask on, she realized she would need to be extra expressive to keep the students' attention.
"You felt like you were putting on a Broadway production every day," she said. "I tried to be so animated in my voice, in my inflection, in my face. I would jump around the room and even do cartwheels. You give your whole self. So some days it's harder. You come home, and you're tired because you've given 110% all day."
In her new position, she will work especially with students with IEPs. This program was formed to make sure children with identified disabilities can receive specialized instruction.
"The goal is inclusion and to have students integrated in the classroom at all times," Ellington said. "So I will be going into the classrooms and know what the teachers are doing, know what the lesson is going to be, and then specifically help the students that have an IEP so that they have access to the general education curriculum but with the supports that they need. I'll get to know all the (elementary) students and all the classes.
"I like to help kids who think a little bit differently. I think probably the best part of it is just the problem-solving it requires to help everyone reach their fullest potential."
Lisa Bischoff, another fellow elementary teacher, said, "(Kristan) embraces challenges and is not afraid to learn something new."
When Ellington had COVID-19 last year, she taught virtually while quarantined. To keep things interesting, she made a Flip Grid video of herself being Mrs. Wellington, Mrs. Ellington's sister, since Mrs. Ellington was sick. Her husband sat behind her and made it look like his hands were hers while she explained in a funny accent how to fold paper to make a fox. Some of the kindergartners knew it was her; others were convinced there actually was a Mrs. Wellington.
"Some of them still think Mrs. Wellington is out there; most of them know the truth," Ellington said.
Ellington's children attend Central too. One thing she appreciates about the school is the staff. "To know that the teachers care about them and their academic well-being but also their spiritual well-being means so much," she said.
The staff have weekly devotions, and the teachers have daily devotions with the kids. Last year in the Heart of Central program, all the juniors and seniors read to the kindergarten and first-grade students.
"All being in one building, I can look down the hall and see the high school kids and the middle school kids, and there is just a natural curiosity the younger ones have watching the older ones," Ellington said.
Even this past year when Central went through some major stressors, the staff stayed unified. "That's what I wish the parents would've been able to see," Ellington said. "I love the unpredictable nature (of kids) and just the life-giving energy they give just from being kids."