FFA fundraiser a night of fellowship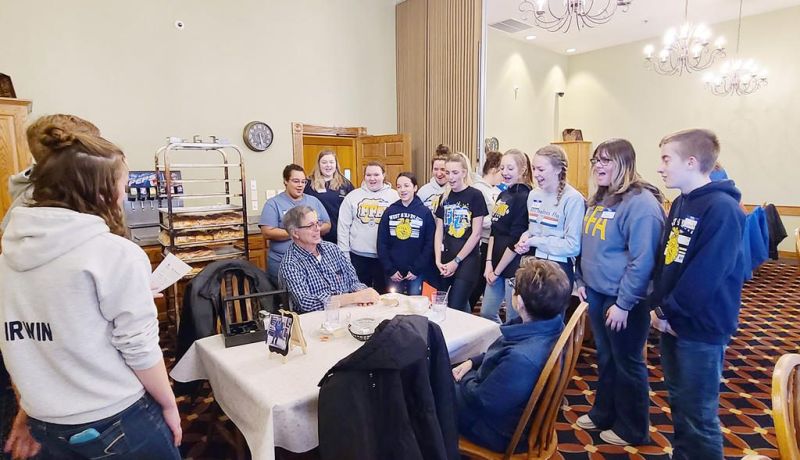 Last year a couple from out of town visited Berlin and stopped in to eat at Berlin Farmstead Restaurant. While waiting for a seat, the couple heard there was an FFA fundraiser in the west dining area, and as devoted FFA supporters, they decided to check it out and support the West Holmes High School FFA chapter.
Throughout the evening the couple learned plenty about the group as advisor Jaime Chenevey and several chapter teens were glad to sit down and give them a Holmes County welcome while filling them in on what the FFA had accomplished and its myriad activities.
While dining was the fundraising vehicle, sharing always becomes a critical part of this event.
The West Holmes FFA Farmstead Fundraiser will take place Monday, Feb. 6 from 4-7 p.m. in the west dining area of Berlin Farmstead Restaurant.
The FFA chapter invites everyone to come and enjoy a meal and an evening of fellowship in which the FFA members will become servers for the night.
A percentage of sales and all tips will go directly back to the West Holmes FFA Fund, which is instrumental in providing funds for a multitude of purposes.
"Over the years this event has helped fund trips, purchase awards, provided programming material, judging and classroom supplies, created sponsorships for the kids, meetings and more," Chenevey said.
In addition, this time presents a perfect opportunity for the FFA chapter members to share all the hard work they're putting in and the many projects, sales and judging contests in which they are involved.
"We are a busy group, and the kids have a lot to share with the people who come in to eat, so allowing them to promote the chapter and let people know what's going on is a big part of this," Chenevey said.
For anyone looking to add some vitamin C and a splash of flavor to their winter months, the FFA also is at the end of its annual strawberry sale.
The sale will end Feb. 10, and anyone can still order strawberries by contacting any member of the West Holmes FFA.