Free community teacher maker group forms in Wooster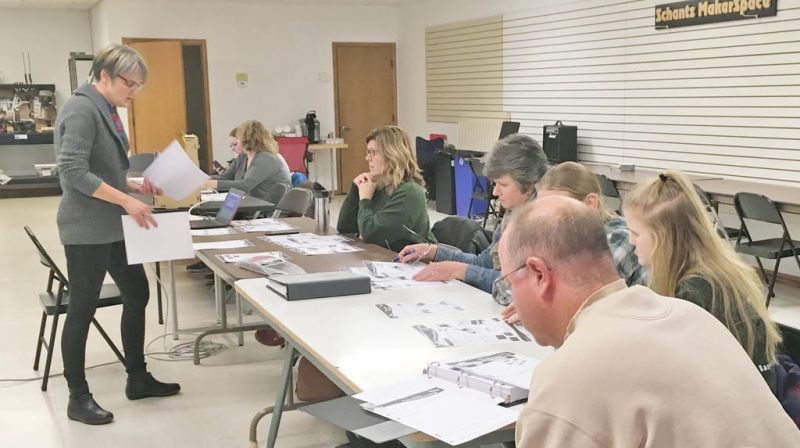 It's an opportunity for area teachers, librarians, homeschoolers and parents to gather, learn and share anything and everything about science, technology, engineering and math education, according to Robin Wisner. The free group meets the second Monday of every month from 6:30-8 p.m. at Schantz MakerSpace in Wooster.
Wisner, co-owner of Teaching Touches, a parent/teacher resource store, started the group in October in conjunction with the MakerSpace.
"Anyone working with students doing making or STEM education is welcome to come," Wisner said.
Although the group is focused on those in a role of teaching, nearly every meeting includes a make-and-take project interested parents and students also will enjoy.
"We have had a wide range of teachers from grade levels K through high school come to the groups," Wisner said. "They are from many of the area schools including Triway, Norwayne, Chippewa, Dalton and Northwestern." Parents and children of all ages also have attended.
So far the groups have been drawing over a dozen participants, and there is room for many more to attend.
The idea started with the store. "Teaching Touches is a store with supplies for teachers as well as a wide range of educational toys, games and books. For teachers it ranges from your usual bulletin boards and record books to materials for STEM experience," Wisner said.
With a passion for STEM education, Wisner works at keeping up on the latest trends. "We carry the products that will help teachers achieve the most success with the least amount of headaches," she said. "That's why we have some vendors you normally wouldn't see in a teacher store."
Shortly after the store opened, the Schantz MakerSpace moved in to an empty storefront next door. Wisner said, "We saw what Schantz is doing getting involved in the schools with STEM education, and it was a good tie in for us. They are passionate about it, and we are passionate about supporting teachers. Ultimately it's all about helping students be successful in the modern world."
Wisner said teachers of all levels are invited to come to the group to share what they are doing in their own classrooms. Although the actual make-and-take aspect of the group is geared for younger kids, the exchange that happens among teachers can be valuable for those in the upper grades as well.
"And for teachers of younger kids," Wisner said, "it's valuable for them to have insight into what is being done at the middle schools and high schools so they know what they are prepping their kids for down the road."
According to Wisner, student success hinges upon students' ability to adapt to a changing world and work place.
Wisner is as much of a resource for parents and educators as her store with a breadth of knowledge that reaches far beyond STEM. She assists customers with finding just the right aids for everything from reading to special education needs and beyond, and she is always happy to refer someone to an online resource or another store if Teaching Touches is unable to provide the needed materials or if something similar can be created just as easily with homemade resources.
Melinda Werstler is an eighth-grade science and automation and robotics teacher at Triway Junior High. She has been attending the teacher maker group. "Any ideas that we can take back and use in our program are great," she said. "We're trying to give kids a lot of those out-of-the-box problem-solving activities."
Werstler also appreciates the opportunity to connect with other teachers. "It's always good to bounce ideas off each other. We all have our strengths," she said. "And the group is fun."
Another aspect of the group important to Wisner is being sure any activities presented at the maker group are easily incorporated into the required teaching standards. "We discuss how projects can be graded and how this hands-on STEM making, engineering, design process fits with all of the things they are required to be teaching."
For more information regarding the teacher maker group, email Wisner at robin.4kids@yahoo.com.
Schantz MakerSpace is located at 5200 Cleveland Road, Wooster.