Hiland FFA teens play key role in SWCD's farm event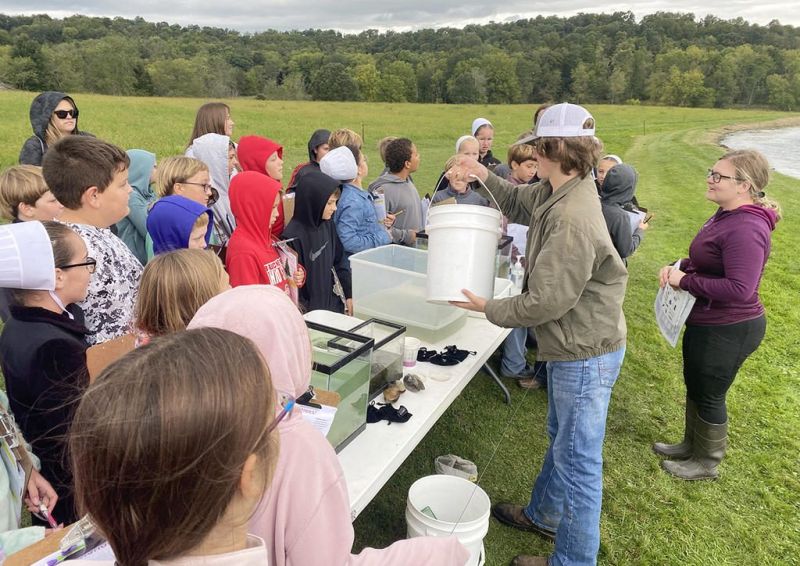 Hiland FFA advisor Jeff Blakley is all about giving his FFA students as many opportunities as possible to grow and build their confidence and leadership skills.
Thus, when the annual Holmes Soil & Water Conservation District Tom Graham 5th Grade Farm Tour arrives each fall, he knows he can present ways for his students to take the reins and help steer the event to a successful conclusion.
"This is such a valuable experience for these young people, not only to bring some valuable agricultural information to the fifth-grade students, but to also go through the various rotations and learn more about conservation themselves," Blakley said. "It's a message we need to continue to promote, and the students from fifth grade to my students are gaining some valuable knowledge they can take with them and pass along."
Throughout the day the Hiland FFA teens were on hand to talk to the fifth-graders about various conservation practices, from the different types of soil to outdoor life.
Having them take other key roles like serving as group leaders from station to station was another way they stayed involved.
Trevor Berger, Holmes County SWCD program administrator, said getting the FFA involved as presenter aides and tour leaders is critical because it helps build leadership qualities.
Blakley said his entire FFA officer team was on hand, along with 20 members who served as group and station leaders.
"It gives them a chance to step outside of their comfort zone and challenges them to stand up in front of a group of kids and speak publicly," Blakley said. "For some of them, that isn't a big challenge, but for others it can be difficult, so providing these types of opportunities to grow and come out of their shell can be priceless in ushering in more self-confidence and leadership skills, which is what FFA is all about."
The involvement of the FFA students is something the SWCD team doesn't take lightly. Berger said the FFA efforts are invaluable to the ongoing success of a program that has been going for 55 years.
"Without them we couldn't pull it off," Berger said. "They do a fantastic job of connecting with the kids, and it is not only a good teaching moment for the fifth-grade students, but also it is a valuable learning tool for the FFA kids."