New Towne Mall hosts Tusc For Teachers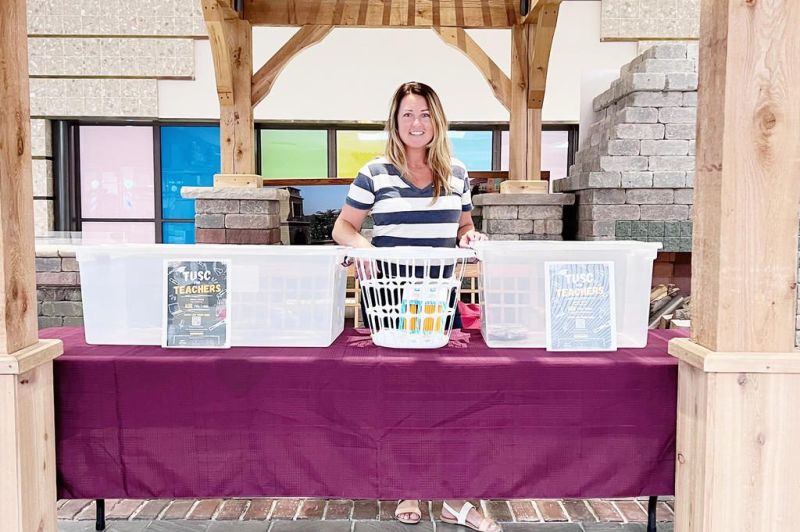 It is an unfortunate part of the job for teachers: Funding often runs short and their classrooms must be supplied throughout the school year, so many area teachers turn to purchasing everyday supplies using their own money.
A project underway at New Towne Mall hopes to bring a solution for this school year as it hosts the first Tusc For Teachers. School supplies are being collected at the mall now through Aug. 14. The event is in partnership with Newsymom.
"There are a lot of area organizations who provide school supplies for students at the beginning of every year," New Towne Mall general manager Tori Noah said. "We thought, 'What about teachers?' They need school supplies also, and once the school year is well underway, things get used up and supplies run out. There are many things they always run out of every year. We wanted to do something to help alleviate that for the coming year, so that's how we arrived at doing a supply drive for area teachers and their classrooms."
Noah said one key thing classrooms use up quickly is boxes of tissues. "We have worked with area schools and teachers to arrive at a good list of things that are needed," she said. "We reached out and got excellent feedback and learned quite specifically which things are in demand. Boxes of tissues is always a big one, and we are looking to collect 500 boxes of them. But there is always a need for pens and pencils and general classroom supplies."
All of the signage at the mall collection point features a scannable QR code that will provide a current list of needed supplies as the drive progresses.
Area teachers will be invited to come and collect supplies beginning Tuesday, Aug. 16 on a first come, first served basis.
"Of course, we will monitor pickups so we make sure things are fair," Noah said. "No school or teacher will be turned away as long as we still have supplies to distribute."
The collection point is a part of the B&H Landscaping display in the mall concourse near the fountain.
Beginning Aug. 7, maps will be available for shoppers to aid in finding needed school supplies to donate, which are available from New Towne Mall and other retailers. "We are also tying in with the tax-free weekend Aug. 5-7," Noah said, "so that's a good thing to keep in mind as well."
Supply drive partner Newsymom is a group offering support, resources and knowledge to moms in Ashland, Stark and Tuscarawas counties. The website at www.newsymom.com/tusc-for-teachers will have updates on progress as the event unfolds and supplies are received, as will the Facebook pages for both Newsymom and New Towne Mall.
Some of the other items needed for the drive are folders, colored pencils, batteries, paper towels, dry-erase markers, sanitizing wipes, hand sanitizer, glue sticks, Ziploc bags and paper plates.
"This should help in classrooms around the area," Noah said. "Class instructors shouldn't really be called on to supplement their supplies for the school year, and a drive for supplies may be a way to help. Since this is the first time we've done this, we're not sure what to expect, but we think the community will come out to help."
New Towne Mall is located at 400 Mill Ave. SE in New Philadelphia.