Public officials work alongside at-risk youth to curb food insecurity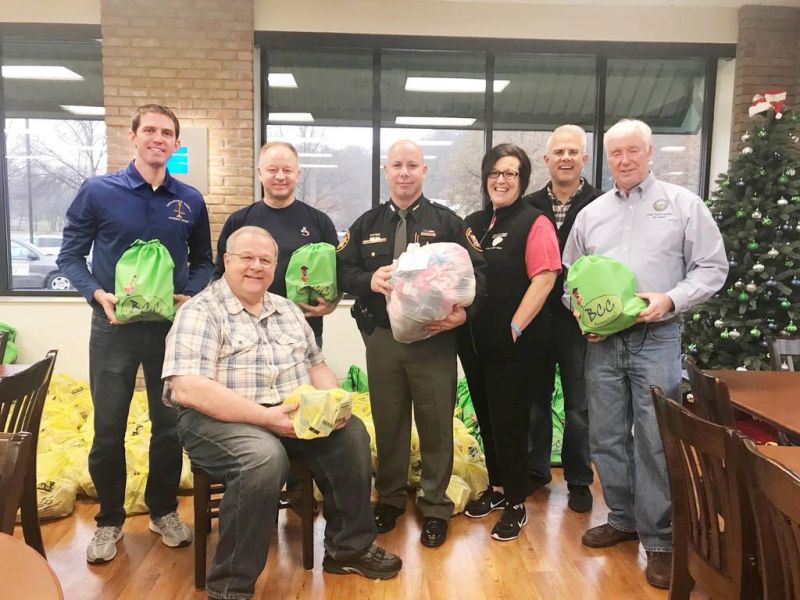 When Lessons in a Backpack, a program of the Tuscarawas County Health Department aimed at reducing food insecurity for area children, lost state funding in 2017, it looked like the entire effort would have to be scrapped. The program helped fill the weekend food gap for kids who receive school lunches during the week but may face a hungry weekend without such help.
"We were feeding about 200 kids under the old program," Tuscarawas County Juvenile Court Magistrate Adam Wilgus said. "Now we're feeding 400, and it could easily be more."
The new endeavor is called TUFF Bags, which stands for Tuscarawas United — Feeding the Future, and it is the joint effort of the court system, local businesses and government agencies.
In addition to helping food insecure children, TUFF Bags also helps at-risk young people who have come into the Juvenile Court system for any number of problems or infractions.
"Some are just unruly and have refused to go to school, some have had minor theft charges and some have been drinking underage," Wilgus said. "As court magistrate, I order that they perform community service, and they must come to our food bag stuffing sessions each Saturday."
The bags are filled at Buckeye Career Center in New Philadelphia, beginning at 8 a.m. Saturday mornings.
The kids are fed a good breakfast, followed by discussions with the program leaders. "The first Saturday they're here," Wilgus said, "we talk about the challenges in their lives, and then we talk the next Saturday about making better choices for themselves. They're given assignments, and we get to work filling the bags."
TUFF Bags is a coalition of partners in the community including the Tuscarawas County Health Department, Tuscarawas County Juvenile and Probate Court, Multi-County Juvenile Attention System, Tuscarawas County Sheriff's Office, United Way of Tuscarawas County, Tuscarawas County YMCA, Buckeye Career Center, Greater Dover New Philadelphia Food Pantry, and Adventure Harley Davidson of Dover.
"Adventure Harley Davidson provides and drives the trailer to get all this food," Wilgus said. "Everyone who is part of this effort has an important role to play, and we couldn't do this without them."
Wilgus said they are careful to make the young people filling the bags understand what they are doing is important and beneficial. "We want them to feel proud of what they're doing here, and they should. It's remarkable how few of these kids ever hear an adult say, 'I'm proud of you,'" he said.
TUFF Bags is entirely funded by community contributions. "And every single penny goes for the food, which we obtain very cheaply through the Akron Canton Food Bank and the Greater Dover New Philadelphia Food Bank," Wilgus said.
Wilgus said the program could help feed more kids. The problem is space. "Buckeye Career Center generously allows us to use space here on Saturdays, but we're still limited. With more space to receive food and process bags for delivery, we could order a full box truck filled with food and get it delivered. But we're limited right now by how much we can handle in the space we have," he said.
Andi Dominick is director of health education and grants at the Tuscarawas County Health Department. She plays a key role in the new TUFF Bags program.
"It's wonderful to see the change in kids who come through here. Just because they've been in trouble doesn't mean they have less value or we should write them off," Dominick said. "We were afraid the program would have to close, but so many people stepped forward to make it even better. It's amazing and helps us move closer to our goal of eradicating food insecurity in Tuscarawas County."
All three county commissioners were present along with incoming Commissioner Al Landis and Tuscarawas County Sheriff Orvis Campbell. All helped with the work of stuffing bags.