Tusky Valley speech team wins big at state tournament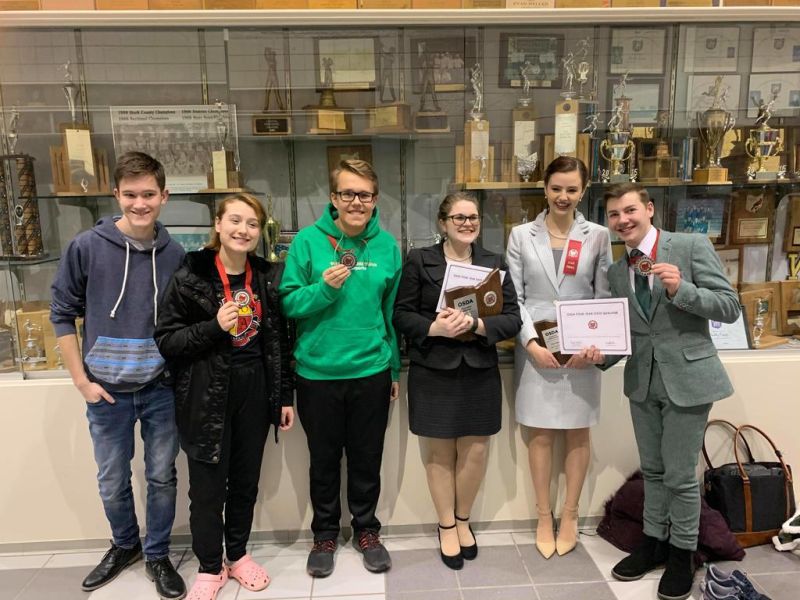 The Tusky Valley speech team brought home two big wins from the Ohio Speech and Debate Association State Finals March 6-7 at Wooster High School.
Brooklyn Fockler took first place in the Informative category, and Brianna Swinford took second in Humorous Interpretation. Both students had previously qualified for the National Speech and Debate Association competition this June in Albuquerque, New Mexico.
"This is Tusky Valley's seventh year in existence, and we now have had seven finalists at the state level," coach Carrie Spina said. "That means seven times a competitor from our school has battled their way against students from 90 other schools in Ohio and competed against an average of 65 students in their categories to make the final round. We've had four exemplary students reach this level of excellence from our team in the past seven years."
In addition to Fockler and Swinford, Spina is referring to previous students Aric Bird and Drake Spina, both of whom were in the finals at the state level.
Spina also said the Tusky Valley team performs exceptionally well for a team its size. "We are small but mighty," Spina said. "Most schools have from 30-50 students on their teams. Perry High School has over 100 students. We average around 15 students per year."
Until this year all of the Tusky Valley state finalists have competed in the Humor category. This is the first year someone has taken a state trophy in a different category with Fockler taking first place in Informative with her speech titled "To Bee or Not to Bee." The speech examines the possible coming extinction of honey bees and how such an event would affect life on Earth.
"This was a monumental moment for our team," Spina said. "Coaches Linsday Fockler, Drake Spina and Cierra Spina all helped me get her ready. Even alumnus Leda McConaha pitched in to help Brooklyn achieve greatness."
Spina credits Fockler's talent as an actress and her writing skills as factors that helped bring home the championship.
Swinford took second place in the Humorous Interpretation category with her speech from the musical, "Nunsense."
"Brianna is amazing," Spina said. "She's very hardworking, learns quickly and pours a ton of time and dedication into her speeches."
This is Tusky Valley's second-consecutive year having a runner-up in Humor. Last year Swinford's assistant coach, Drake Spina, also was runner-up.
"We are lucky to have Drake's expertise on the coaching staff this year," Carrie Spina said.
Tusky Valley also had three other students make it through to quarter and semifinals. Griffin McConaha made it to quarterfinals in Congressional Debate. Earning spots in the semifinals were Ellie Dorsey in Informative and Storm Waldron in Dramatic Interpretation. Jared Six, a Fairless student who is coached by Carrie Spina and who travels with Tusky Valley as Fairless does not have a team, also advanced to semifinals in Dramatic Interpretation.
"I'm completely in awe of my entire team this year," Carrie Spina said. "I want to thank the students, coaches, judges, parents and staff at Tusky Valley. We really have something to be very proud of with these kids."
See what you've been missing
Members of the public can see the state-qualifying speeches April 4 at the team's Spring Speech Showcase, a fundraiser to help raise money for traveling and other expenses. Tickets are $7 for the showcase, but a $10 ticket also will include a rigatoni dinner that will start at 6 p.m. in the Tusky Valley High School cafeteria with the showcase following at 7 p.m. in the auditorium.
Tusky Valley High School is located at 2637 Tusky Valley Road in Zoarville.