WCSD welcomes new staff for new year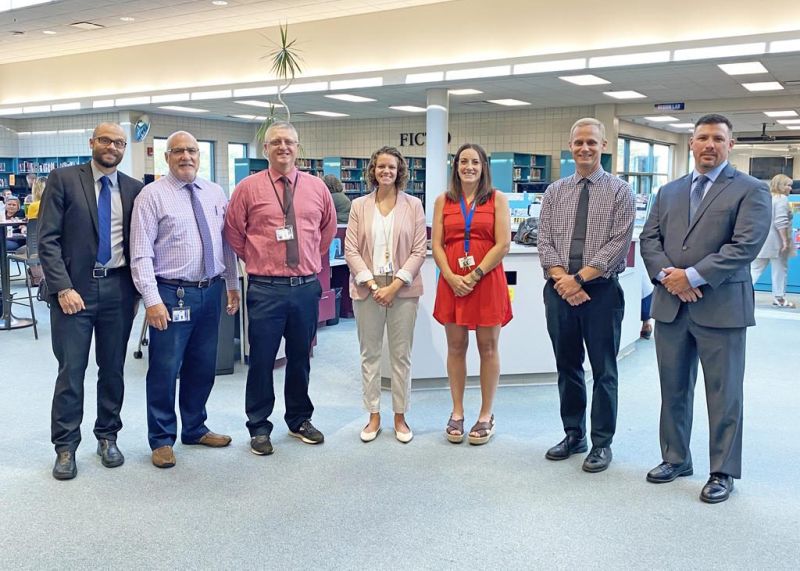 With more than 40 new hires for the 2021-22 school year, several administrative staff among them, it is fair to say Wooster City Schools is embarking on a new school year full of possibilities and potential.
"I am really excited for this school year. I think we've put together a great team," said Gabe Tudor, Wooster City Schools superintendent. "We've got a nice mix of people with a Wooster background and some others who we've brought in from other schools in the area."
Tudor said he's confident the new team has a proven record of meeting the educational needs of students and they are driven and skilled at their profession.
Tudor was just hired in May. He brings experience as a teacher, assistant principal, principal and assistant superintendent, mostly in Wadsworth. He replaced Dr. Michael Tefs, who moved to a position with the Revere School District.
Also at the top of the administration, Brian Madigan has been hired as the assistant district superintendent. He was formerly the principal at Cloverleaf Middle School. He assumes the newly described position that replaces the former director of secondary education with a more clearly defined position within the chain of command.
Amy Welty has become the new district treasurer.
At Melrose, Kevin Wolf is the new principal. He replaces former principal Kaylee Harrell, who took a position with another district.
Wolf was previously a principal in New Philadelphia, but he hails from Wayne County and is a Norwayne High grad. "My kids are Wooster students, so I'm a General through and through," he said.
Wolf said he is excited to have students back in the classroom five days a week this year, and he will do his best to keep them safe.
"I'm so excited to be working with the staff and the community at Melrose. I kind of know the background of that building, and I know it's a great site," he said.
John Deuber is the new Wooster High School principal. He has come out of retirement to take the reins for the year in Wooster for what he said will be a transition year sought by superintendent Tudor to evaluate the future needs in the position.
"This is just what I do," he said. "I know Wooster is a great place to be, and I'm very confident in our staff."
Edgewood Middle School will have a new principal in Charles "CJ" Spreng, an administrator from Hiland High School who lives in Wooster.
"I'm super excited to be a part of such a great school, community and staff. I've heard Edgewood is a tight family, and I'm going to do my best to support this community," he said.
Gabrielle Montgomery will become principal at Kean Elementary. She moves into the position from her job as an intervention specialist at Cornerstone.
"I am thrilled and honored," she said. "Everyone has been so welcoming and encouraging. It's really exciting to be starting a new school year. I have a lot to learn, so I am trying to soak it up like a sponge."
At Cornerstone, Brittany Grimshaw will be an assistant principal. She has worked in the district for 14 years and worked most recently as a behavioral specialist.
"I am excited to be able to take on this new leadership role and collaborate with what I already know is a great staff," she said.
Dozens of other newly filled positions will round out the Wooster City Schools staff.
"I'm certain we've got a great new team from top to bottom, and I know we're all very ready to get to work for this community," Tudor said.
As well as all the personnel changes, the district will continue its efforts to mitigate COVID through an indoor mask requirement, constant disinfecting and physical distancing where possible. The schools will continue to work closely with the local health department and be transparent with the community regarding all related developments.
The Wooster City Schools is the largest district within the tri-county area (Ashland, Holmes and Wayne) with more than 4,000 students.
Newly hired 2021-22 Wooster City Schools staff include the following:
Central Office: Brian Madigan, assistant superintendent; Gabe Tudor, superintendent; and Amy Welty, treasurer.
Cornerstone Elementary: Taylor Daugherty, first-grade teacher; Anne Oliver, library paraprofessional; Gabrielle Szydlowski, fourth-grade teacher; and Anna West, intervention specialist.
Edgewood Middle School: Hannah DeHart, specialized paraprofessional; Andrea Ellerbrock, English language learning tutor; Miles LeGros, intervention specialist; Brett Lepley, intervention specialist; Maureen McKeown, fifth-grade language arts teacher; Laurencia Powell, intervention specialist; Emily Price, specialized paraprofessional; Bonnie Spinder, specialized paraprofessional; Charles "CJ" Spreng, principal; Brian Teter, intervention specialist; and Elyse Wachsmuth, vocal music teacher.
Kean Elementary:Hannah Ayers, intervention specialist.
Melrose Elementary: Danielle Brugh, first-grade teacher; Pamela Chastain, cook; Christina Lorson, teacher paraprofessional; and Kevin Wolf, principal.
Parkview Elementary:Jayme Tucker, literacy coach; John Wengerd, fourth-grade teacher; Kiana Leppla, third-grade teacher; Jenna Wilson, third-grade teacher; and Hannah Oney, first-grade teacher.
Wooster High School: Caren Atanackovic, orchestra director; Tammi Bonner, specialized paraprofessional; Angela Copenhaver, cook; John Deuber, principal; Andrea Ellerbrock, English language learner tutor; Austin Holter, alternative placement teacher; Cordell Smith, guidance counselor; Elyse Wachsmuth, teacher, vocal music; Alexia Wengerd, intervention specialist; and Angela Zacharias, specialized paraprofessional.