West Holmes names third grading period honor roll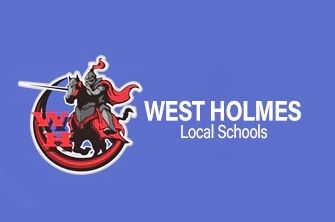 West Holmes announced its third grading period honor roll and merit roll recipients.
Merit roll
Freshmen: Breanna Arnholt, Rita Byler, Trinity Curtiss, Tim Donley, Landyn Dye, Tyler Eichelberger, Korben Felton, Summer Felton, Olivia Gerber, Isabella Gindlesberger, Kaylee Haddock, Hudson Keaton, Luke Lay, Kailey Marks, Sabastian Marks, Coleson Miller, Jared Miller, Bethany Miller, Pacee Miller, Marcus Miller, Mya Miller, Kelli Neville, Beau Norman, Zevin Proper, Viany Rodriguez Vasquez, Gavin Schlagenhauser, Bret Shearer, Gavin Thomas, Syrus Tish, Miranda Tressell, Lyle Wagler, Cassie Warren, Kasey Weber, Bryce Wengerd, Danica Whitman, Dylan Whitman and Zackariah Zickefoose.
Sophomores: Camron Arnold, Marissa Aune, Jason Brooks, Samantha Butcher, Katelyn Campbell, Noah Clark, Isaac Cochran, Dillon Cottrell, Mckaila Daugherty, Allyson Dawson, Madison Eaches, Fiona Erb, Cadence Frankart, Kenneth Friend-Hoover, Tayelynn Garbrandt-Bolon, Morgan Heflin, Brice Hunter, Grace Jackson, Tucker Kaufman, Bree Larimore, Micaiah Lowe, Ashlyn Lyons, Jasper McDougale, Sierra Parks, Devon Parsons, Marissa Patterson, Derrick Patterson, Trae Patterson, Skyler Renfrew, Vincent Rowe, Emma Russell, Frances Schlabach, Makayla Shackelford, Zachary Shaner, Chloe Shumaker, Nora Snow, Kailyn Snyder, Allisa Stapleton, Vince Strait, Willow Stroh, Dylan Strouse, Brandon Stutzman, Noah Tish, Mariah Trukovich, Michael Uldrich, Conner Varnes, Abigail Waers, Tori White, Jayzmin Wright, Taylor Yoder and Matthew Young.
Juniors: Cameron Ault, Natasha Averbukh, Brock Barbey, Thomas Brantley, Devin Brenly, Ryan Bridenthal, Brevin Bucher, Alex Camacho, Caiden Carter, Hannah Clark, Rhiannon Deutschle, Gavin Freeman, Lane Graham, Gavin Greer, Grant Harford, Kendall Harris, Cadence Hinds, Makayla Holcomb, Aubree Houin, Micah Humphrey, Thomas Johnson, Megan Jones, Timothy Kandel, Jessie Keen, Erik Marmet, Darek Martin, Kaden McCune, Corbin Miller, Johnathon Miller, Garren Miller, Michael Miller, Allison Mullen, Emmett Myers, Andrew Nicholson, Taylor Patterson, Jayme Pennell, Ashly Phillips, Tanner Schaad, Lillian Shamp, Andrew Shearer, Clay Shepler, Mackenzey Stewart, Izabella Strother, Keaton Sundberg, Mackenna Surber-Emick, Brady Taylor, Luke Vess, Cannan Wetz and Carson Yoder.
Seniors: Morgan Allen, Sidney Amos, Michael Arnold, Liberty Arnold, Brett Barnhart, Reis Boring, Ty Cline, Trinity Conn, Lance Doney, Sean Edmonds, Bryanna Fotta, Karlie Gallion, Madison Gallion, Hannah Goines, Jacob Goudy, Macin Hager, Kennedy Haston, Jasmine Knapp, Bryson Lane, Shae Larimore, Braxton Lint, Clayton Martin, Caleb McDougale, Megan McKenna, Megan Mellor, Cailyn Miller, Elizabeth Miller, Kathryn Morello, Jasmine Mossor, Zachary Myers, Margaret Oliver, Zander Proper, Ethan Reining, Chloe Roach, Miranda Robinson, Alex Schrock, Makenzie Shrimplin, Tierra Slaubaugh, Jordan Starrett, Timothy Stitzlein, Natalie Strouse, Saira Sutton, Logan Tullis, John Vales, Taylor VanSickle, Brigette VanSickle, Kendel Weber, Brody Weiser, Cody Whitman, Cael Woods and Elianna Young.
Honor roll
Freshmen: Daphne Alexander, Kenton Baker, Zane Baker, Ally Baker, Emily Beach, Griffin Boal, Chelsea Chupp, Bree Close, Camden Doty, Madalyn Duff, Robert Fendrick, Kiera Fields, Nicholas Ginsburg, Mia Halverson, Cadence Hershberger, Elizabeth Holcomb, Garrett Houin, Chloe Jones, Kellen Keener, Sydney Krownapple, Caleb Larimore, Kendall Miller, Austin Myers, Brenna Myers, Haileigh Paddock, Randy Parsons, Arizona Patterson, Alysa Pringle, Dakotah Ringwalt, Dylan Robinson, Isabela Rodriguez, Brook Rolince, Olivia Snyder, Julia Sprang, Adrian Strouse, Caleb Varns, Timothy Wade, Blake Wagers, Charlotte Yoder and Allyson Yoder.
Sophomores: Madison Baker, Bronson Birchfield, Elizabeth Brantley, Matthew Carter, Nathaniel Coen, Cora Crilow, Gwendolyn Dillon, Ty Dilly, Giovanni Dinardi, Ethan Feikert, Quinn Findley, Elayna Gallion, Rudy Hershberger, Kenna Howell, Paxton Lemon, Gage Marmet, Micah Martin, Danielle Miller, Julia Miller, Jerzey Morris, Jaxton Morris, Kinsey Patterson, Mateo Poventud, Sawyer Pritt, Leah Reining, Claire Reynolds, Blake Robinson, Broden Roth, Calihan Scherer, Destiny Shackelford, Sara Shonk, Katie Stitzlein, Elyssa Sutton, Matthew Weaver, Sharon Yoder and Sareal Zickefoose.
Juniors: Alicia Alexander, Eden Alexander, Brenna Barnes, Haley Britt, Zoe Clark, Reed Fendrick, Avery Frank, Kallie Frazier, Anistin Gallion, Kylie Graber, Taryn Grassbaugh, Kaedon Hawkins, Grayson Hay, Adam Hopkins, Claudia Hostettler, Andrew Jones, Lauren Jones, Samantha Kendall, Peyton McKinney, Madison Mellott, Rosanna Miller, Braden Myers, Callie Proper, Adriana Rodriguez, Hannah Rohr, Carolyn Rohr, Kaarle Spangler, Zachary Stair, Maggie Taylor, Luke Vaccariello and Kenna Warner.
Seniors: Cruz Alexander, Taylor Brooks, Ellen Byler, Callie Cline, Eleah Crayton, Jasmine Cronin, Alex Dodd, Destiny Hill, Caleb Martin, David Masters, Morgan Mellor, Lane Miller, Michael Miller, Sage Miller, Summer Miller, Hannah Parsons, Ciara Powers, Kylie Ramirez, Nadia Rouse, Joshua Sayers, Zachary Wigton and Brendon Yoder.
All A's
Freshmen: Brenna Barbey, Gracie Barkman, Kalie Barnes, Emily Beachy, Kennedy Burnison, Felicity Cline, Laney Duff, Brayden Franks, Bryce Franks, Zeke Galbraith, Griffin Galehouse, Jasmine Giauque, Olivia Hershberger, Sarah Irwin, Owen Jeffries, Veronica Lehr, Rosella McMillen, Brayden Miller, Carolyn Miller, Cierra Miller, Gennavieve Miller, Jessilyn Miller, Mathan Miller, Blake Norman, Casey Norman, Aiden Piatt, Anessa Poventud, Brynlee Reed, Isabella Roe, Olivia Sampsel, Brody Schaad, Rebecca Schuch, Jaret Snyder, Laci Snyder, Carmine Steiner, Maria Steiner, Addison Streer, Mason Taylor, Brianna VanSickle and Mason Wolfe.
Sophomores: Logan Barlow, James Barr, Trinity Conner, Rader Eastep, Hunter Eberhard, Hunter Ellis, Melanie Fair, Elleanor Heller, Hannah Hopkins, Camden Larimore, Morgan Loeber, Harmony Mast, Connor Miller, Blake Morrison, Allyson Ogi, James Parks, Victoria Perry, Olivia Sheldon, Brady Smith, Zachary Snow, Ashley Tate, Megan Westbrook, Mia Wiggs, Avery Yoder and Brock Zimmerly.
Juniors: Brandon Barkman, Emma Bergoon, Nathaniel Ginsburg, Katie Hershberger, Bailey Jeffries, Logan Kula, Matthew Lacey, Joy Latouf, Jackson Oliver, Nathaniel Rohr, Katrina Rolince, Joshua Shrock, Yasmine Spangler, Katie Sprang, Brogan Steimel, Dalton Thorp, Cade Wagers, Curtis Wagner, Alexis Weiss, Jack Welsh, Haeden Wolfe, Addison Yates, Caden Zeigler, Jessie Zheng and Clayton Zimmerly.
Seniors: Grant Baker, Drake Barnes, Kayleigh Bowles, Ava Close, Kadyn Evans, Colin Graebner, Jacob Hammond, Kaylin Martin, Monica Nally, Breana Rose, Hudson Sorensen, Derek Straits, Walker Uhl, Keri Westbrook and Madison Woods.