WHHS finds unique way to send seniors into next phase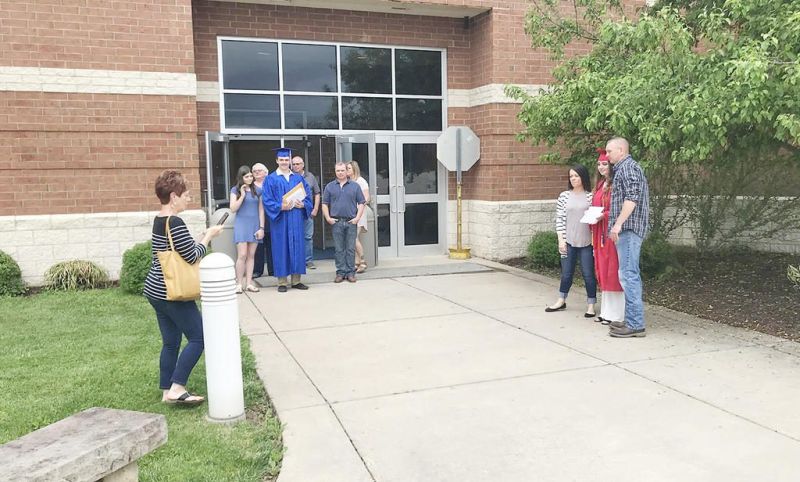 Preparing for a graduation ceremony is always a tough challenge with all of the pomp and circumstance surrounding that special moment leading up to each graduate's final high school event.
However, this spring's graduations were thrown for a loop when COVID-19 made the normal graduation ceremony impossible, meaning schools had to find new ways to send their graduates off to the next phase of their lives the right way.
For West Holmes High School, that meant recreating graduation day as closely as possible without the fanfare of having loads of people gathering together.
The district put heads together, following guidelines set by the Ohio Department of Education and the Ohio Health Department, at first leaning toward a virtual graduation ceremony before eventually finding a more personal answer. Eventually the school settled on a drive-thru graduation ceremony that focused on a family in-person graduation with no more than 10 people in the gymnasium at a time.
From Thursday, May 21 to Saturday, May 23, graduates could sign up for a time slot that took them into the school gymnasium on the east side, where either Superintendent Aaron Kaufman or principal Tyler Renner greeted them. From there they walked with no more than six family members to the front of the gym, where the school had recreated the actual podium and stage for graduation that it normally sports.
Parents were able to present their child with a diploma, and the entire entourage then headed out into the cafeteria where Sara Sponseller-Uhl took professional photos. Inside the gym, 2006 WHHS graduate Michael Myers took video and the entire group would eventually leave through the cafeteria doors, congratulated by either Kaufman and Renner as they celebrated a monumental milestone in a way nobody had ever pictured before 2020.
"This was a lot more work than a regular graduation," Kaufman said. "We actually talked to a lot of other schools. We discussed what to do with Triway first and connected with almost all of the schools in our league. It was a matter of getting as much input from others as possible, then coordinating everything with the health department."
The whole procession was spearheaded by teachers and senior class advisors Melissa Rodhe and Jeremy Westbrook, who also served as the announcers for the video, which included words from Kaufman and outgoing Superintendent Bill Sterling, as well as musical performances from the West Holmes choir and band.
Westbrook said he used Sign-up Genius, an online site that allowed the students to pick and choose what time they wanted to come in for graduation. He said they got 147 out of 169 seniors to sign up, a number they felt very good about.
"We are really excited about how this process has gone," Westbrook said. "People are taking it very seriously. There have been a lot of tears and plenty of happy people. These seniors have been through a tough time, and they deserve to have the very best we can offer them for graduation."
Not only was Westbrook one of the people in charge, his daughter Keri was one of the graduating seniors, so he got to experience the procession from that end of the spectrum as well.
"I got pretty teary-eyed seeing her make the walk, and she appreciated it, like just about everyone who has come through has," Westbrook said.
Rodhe too said she saw emotions that ran the gamut for students and family members. She said the experience was one the seniors will share later in life, and it also is one she would prefer never to have to do again.
"We probably started putting it together three weeks ago after we decided not to do the virtual one," Rodhe said. "The process has made it easy for families to get in and out. It has been a lot of work, but our seniors have had something taken away from them in missing the final months of school and all that goes with it, so we wanted to create something special for them for graduation. It's been meaningful and emotional for a lot of the families and kids coming through."
With graduation day now come and gone, the students will look forward to one more worthwhile effort by the school, that being a video of graduation that includes graduation speeches from valedictorian Zach Wigton and salutatorian Grant Baker, who delivered their speeches at the podium, albeit in front of a nearly empty gym.
The school amassed more than 19 hours of raw video footage that was condensed down into a graduation ceremony.
"The whole goal was to create a video that would be as close to a normal graduation as possible," Kaufman said. "We have had to be very creative, but I think our staff did a tremendous job of pulling this together."